News
Here is the list of Five Best Theme Restaurant for the Foodies of Hyderabad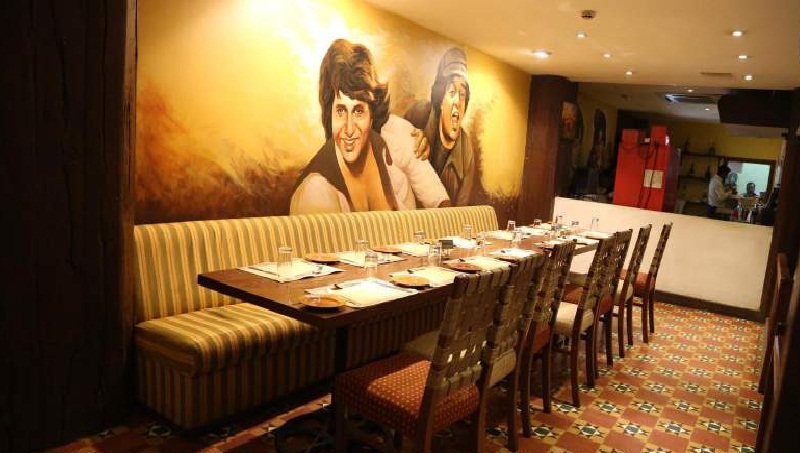 Hyderabad, the city of Nizams, has come a long way with its increasing cosmopolitan populace. A number of theme restaurants with surreal, retro, nostalgic, historical and trendy settings as well as décor have made Hyderabad a happening destination for foodies. Here are five best theme restaurants where you can spend some quality time your family and friends over food in Hyderabad.
Eatmore 70mm
One of the most popular theme based restaurants in Hyderabad City, Eatmore 70mm is a micro picture of Bollywood in its theme. The interior of the restaurant is done up with the posters of Hindi films from different eras of Bollywood, which will make you feel nostalgic over the memories of your favorite Bollywood actors and actresses of yesteryears. Visiting Eatmore 70mm restaurant in Hyderabad is like riding Time Machine back to the days of Bobby, Don, Diwar, Coolie, Amar Prem, Guide and other evergreen Bollywood films. A meal for two costs Rs. 1500 approximately.
Village – the Soul of India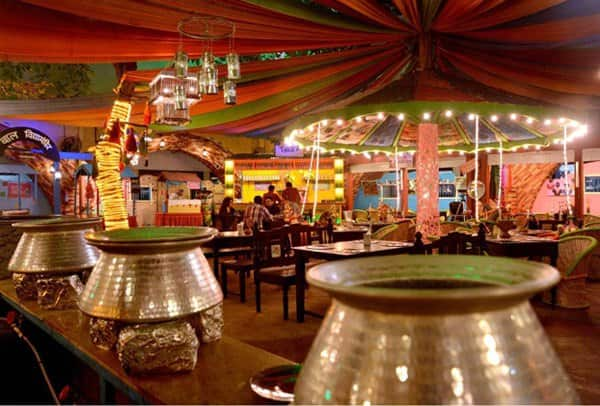 The Village is not just one of the best theme restaurants in Hyderabad but also one of the best budget restaurants. Life in rural India is the theme of the restaurant's interior décor which reflects the essence of a typical north Indian village. You will find a fortune teller, a bangle seller, a tea seller on a bicycle, a mehendi wallah, a betel shop, a puppeteer, a prison inmate selling a hot snack, an auto on stand, etc. The restaurant houses various quirky attractions like a tailor shop, a barber shop, a well to draw water from, a village school, etc. The ambience of the Village restaurant in Hyderabad throbs with regional music of Rajasthan, Punjab and Gujarat.
Silver Metro
Indian Railways is the world's largest railway network. It is a heritage of India. It has inspired many writers and artists with various themes. The theme of one of the restaurants in Hyderabad City has been inspired by Indian Railways, too. It is Silver Metro restaurant with a railway platform. The interior décor of Silver Metro captures the life and ambience in compartments of a passenger train. Just imagine how wonderful dining inside a train-like cabin is. Silver Metro in Hyderabad serves authentic dishes from the Mughal, Continental and Indian cuisines. A meal for two costs approximately Rs. 750 here.
1857  
The year 1857 is reminiscent of a very important chapter of British Raj in India. The Rebellion of 1857 was the first landmark event in the colonial history of India when the British were in power. British Raj is the theme of the 1857 restaurant in Hyderabad. The meticulous interior décor of the restaurant reflects the unmatched sophistication of British colonists. The 1857 restaurant is popular not only for its theme but also location and food. The restaurant looks over the beautiful Hussain Sagar Lake, a tourist place in Hyderabad, and serves continental, Thai, Chinese and Mediterranean food. It offers outdoor seating with serene ambience too.
Sholay
Hyderabad seems to be fond of Bollywood. One of the best theme restaurants in Hyderabad is not only themed but also named after Sholay, a Bollywood classic starring Amitabh Bachchan, Jaya Bachchan and Hema Malini. Decorated with pastel posters of Sholay, the restaurant will make you live the moments of this timeless Bollywood film while serving succulent tandoori dishes to you. The interior is done up with amazing artworks depicting some unforgettable scenes in Sholay. A meal for two people costs approximately Rs. 900 here.
These are five best theme restaurants in Hyderabad offering good dining experience in quirky, offbeat, extraordinary settings so that your visit to them becomes a memory.