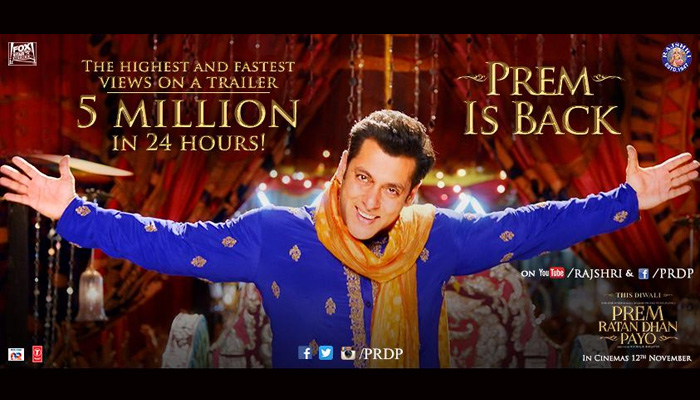 Every movie has its lucky charm and similarly an unlucky charm too. For ages Showbiz is considered to be the industry where luck factor matters the most. People from the industry have all sorts of superstitions. Here is a list of three things about Prem Ratan Dhan Payo which are not so lucky.
Salman Khan and Diwali
Yes you have read it right. Salman Khan is certainly the biggest superstar in bollywood, but he is known as King of Eid. And if you look back into history you will see all the Salman films released on Diwali has faced loss, let it be Janemann or Mr. aur Mrs. Khanna. And if we go by the luck factor this might bring trouble for the movie. But this year there is only one big release this Diwali, so we hope everything changes for Sallu Bhai this time.
Salman & Sonam Jodi
The last time they were seen together on screen was Sanjay Leela Bhansali's Saawariya. And that too was a Diwali release. More importantly Sonam Kapoor has only one quality hit to her name, i.e. Bhaag Milkha Bhaag where she played a cameo. Most of her films were big disappointment and hardly mattered at the Box Office. Hope this time she gets lucky.
Neil Nitin Mukesh
The one notable rather the only hit of his career is New York, which had John Abraham, Katrina kaif and Yash Raj Films in major roles. All his other films were a big flop. He has played the hero, the anti-hero and also tried to do action but none were hits. From working as a solo hero to working in a multi-starrer nothing favored him. Hope this Diwali brings some happiness for him.