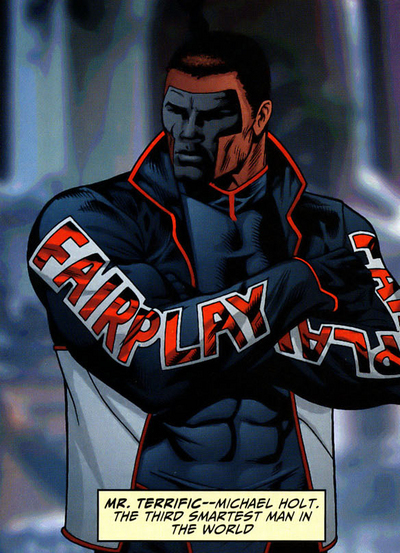 A new character Mister Terrific will be making its debut in Arrow Season 4. Michael Holt "version of Mister Terrific" has been chosen to play him in the show, he is one of the most bad ass characters in the DC comics Universe. It's most likely going to be an origin story for his character. He has appeared before in comic books, animated TV shows and has been a part of both Justice League and Justice Society of America. He is also the full-fledged member of All-Star Squadron. He is actually the second Mister Terrific who donned the mantle to fight crime and injustice. Terry Sloane was the original Mister terrific, a vigilante, a child prodigy, a gold medal winning Olympic level athlete, a master martial artist, a self-made millionaire as he possessed natural aptitude for learning, a brilliant mind and a superhero in DC Universe.
Michael Holt or modern Mister Terrific wears a suit brandished with the motto "fair play" as a tribute to Terry Sloane who created a fair play club to combat juvenile delinquency. Most of his scenes are likely to be with Felicity at Palmer Tech, helping her fight a big baddie Damien Dark. He has an uncanny ability to learn very fast, acquire new skills or absorb complex ideas in no time. He calls himself invisible to all technology, the mask that he wears has nanites (microscopic robotic device small enough to enter living cells and perform numerous tasks) embedded in them which aids and cloaks him. A major part of his character in the comics is that he is an atheist, but the show is not likely to tread in that direction. He is expected to get substantial air time, as much as Ray Palmer, as he is shifting to a spin off show "Legends of Tomorrow".
The new season of Arrow will air on 7th October, 2015 on CW network.