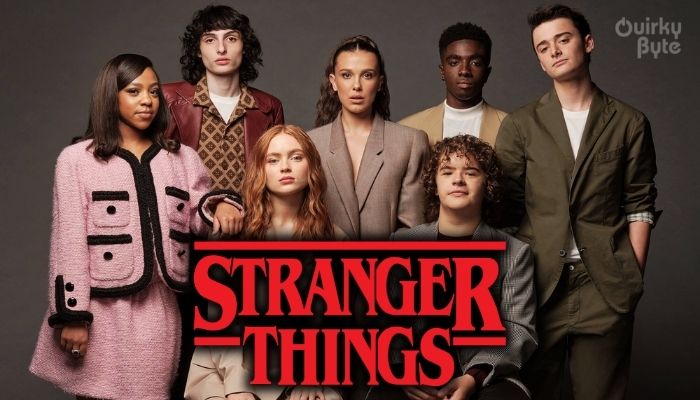 Netflix's Stranger Things introduced a bunch of kids in a universe filled with real-life demons from the "Dungeons and Dragons" game. When the show began, most of the kids were the same age as the character they played. But as the show proceeded, the gap between their ages kept increasing. While 6 years passed in the real life, the show only moved by 3 years. Now, with season 4 right around the corner, 6 years after the first episode aired, here is the real age of Stranger Things cast as compared to the characters they play:
1. MILLIE BOBBY BROWN – ELEVEN
Millie Bobby Brown is a young English actress who got her first big break as Eleven when she was just eleven years old. That makes sense, right?! This was back in 2015 when the filming began. Now in 2022, she is 18 years old and going strong as an actor with her line of make-up products. As for her character in Stranger Things, Eleven debuted as a twelve-year-old kid with telekinetic superpowers. Now after 4 seasons and a three-year gap between the first and fourth season, she should be 15 years old. This new season will see her as a high school freshman, so it makes sense.
2. FINN WOLFHARD- MIKE WHEELER
A little older than Millie, Finn Wolfhard, born in December 2002, was 12 when he was cast in his well-received role of Mike Wheeler. And 13 when the first episode aired. As of now, he is 19 and will soon be 20 later this year. Now his character who was around 12 years old when the show started, will be 14, closing in on 15 as he starts high school. This is, of course, based on the Stranger Things comic book series where Mike's birthdate was April 1, 1971. However, the comics are yet to be confirmed canon, so we can't say for sure.
3. GATEN MATARAZZO- DUSTIN HENDERSON
And then comes our favorite kid, Gaten, aka Dustin Henderson, who, like Wolfhard, is 19 at the time. He was born on September 8, 2002, and will be 20 years old in no time. By this date, he would have been 12 years old when he entered production for the first season, where his character was 12, as his friends. Now 3 years later in the show's universe, he will be starting high school with the rest of them, except Will and El, of course. Feeling old yet?!
4. CALEB McLAUGHLIN- LUCAS SINCLAIR
The oldest among the lead cast, Caleb McLaughlin was born in October 2001 and was 14 when the first episode came out. Now after 6 years and 3 mind-blowing seasons of Stranger Things, McLaughlin is 20 and will turn 21 by the end of this year. And this will mark his entry on the list of actors who played teenagers while in their 20s, given he will be playing the 15-year-old version of Lucas Sinclair. Like others from his group, he was probably born in 1971 and will either be or on the verge of turning 15 in Season 4.
5. NOAH SCHNAPPS- WILL BYERS
Now that we are done with the oldest, here comes the youngest. Even younger than Millie, born in February of 2004, Schnapps was born in 2004's October. Unlike him, his character is among the oldest in his group. According to his birthdate which was revealed in Season 2, Will was born on March 2, 1971. And since we know season 4 will follow the kids in their spring break, this means that Will will probably already be 15.
6. SADIE SINK- MAX MAYFIELD
She might have appeared later than most of the cast, she became a mainstream character in no time. Born in April of 2022, she recently turned 20 and will soon be on the same list as Caleb McLaughlin. Her character, Max, debuted in season 2 when all of the kids were in the 7th grade at 12 years old. Now in season 4, she will be 14 years old, and on the verge of turning 15. Turns out that the age of Stranger Things cast has some big gaps with the age of the characters they play.
7. PRIAH FERGUSON- ERICA SINCLAIR
The first cast for season 2, Ferguson really got the space to explore her character in season 3. Born in October of 2006, she was 10 years old during the filming of the second season. And between 11-12 when she became everyone's favorite in season 3. Now, at 15 years old, she is expected to return to her goofy and fun-filled character in season 4. And considering that her character is 3 years younger than her older brother, Lucas, she might be playing the 12- year old version of the character.
8. NATALIE DYER- NANCY WHEELER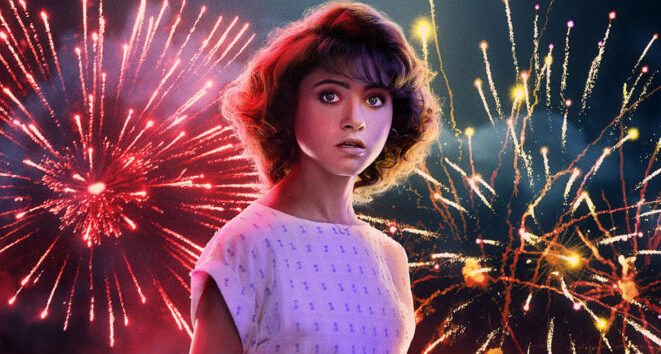 Natalie has been a series regular from the beginning, where she played Nancy, a high school freshman. She bagged this role back in 2015 when she was already twenty. Now in season 4, she will, most probably, be playing a high school senior, with adulthood right around the corner. As for the actor in real life, she's 27 years old, giving her 7 years over her most popular role. But as unbelievable as it might be, it's not the largest gap!
9. JOE KEERY- STEVE HARRINGTON
Debuting, in the Stranger Things, as the high school sophomore stud Steve Harrington, Joe Keery was born in April of 1992. And that makes him 30 years old, playing a 19-year-old on a Netflix series. Can't say it's the first time, right?! This is, of course, based on the fact that Steve passed high school before Nancy and her boyfriend, Jonathan. Steve is a fan-favorite character who has been a regular from the first season and has gone through some major character developments. The age gap between his character and himself is also one of the most interesting things as it is the highest amongst the young adult club.
10. CHARLIE HEATON- JONATHAN BYERS
Charlie Heaton took on the responsibilities of playing the elder brother of Will Byers when he was 21. So playing a high school freshman might not have felt like a big thing. But as time flew by, he turned 28 in the real life while Jonathan Byers only aged by 3 years. So now he is a 28-year-old man, playing an 18-year-old boy. The real age of Stranger Things cast makes us feel old right? For your reference, Jonathan is the same age as his girlfriend, Nancy.
11. MAYA HAWKE- ROBIN BUCKLEY
The latest addition to the young adults' group, Maya Hawke's Robin Buckley is a very likable character. One of the most interesting things to know about her character is that she is the first character to represent the LGBTQIA+ community in Stranger Things. Set in the '80s, this is a big deal as at that time, people were not aware and supportive as they are today. But Keery's Steve Harrington supported her like my chair supports my broken-ass back. As for her age, she is the youngest in the young adults' group, as she is 23 years old (soon to be 24), playing Robin who is still in high school, and probably a senior. So, she only has a 5-year gap between herself and Robin.
So, did you already know about the real age of Stranger Things cast? Which character is your favorite in this series? Let us know your answers down in the comments.
Follow us on Facebook, Instagram & Twitter for more content.
Also Watch: