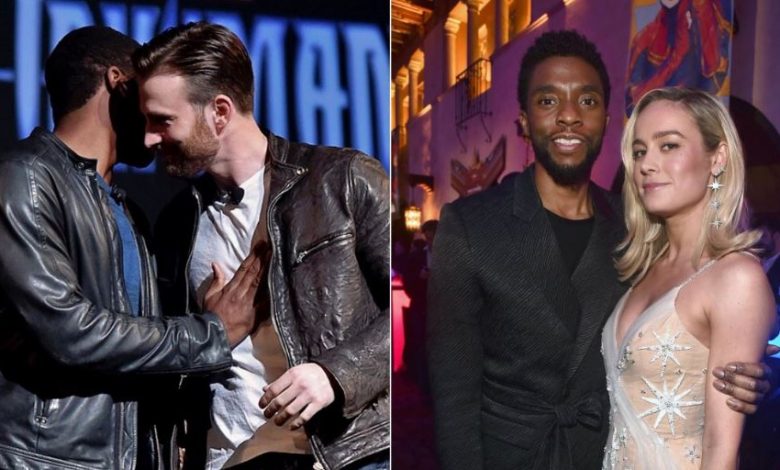 The world has been shook by yet another loss of a great talent. This year just keeps getting worse, and now we're all left to mourn in Chadwick Boseman's absence. Hollywood is grief-stricken, and so are all his fans. Black Panther may have been his biggest role but he starred in multiple other biopics which will only bring tears to our eyes once we rewatch them. Boseman inspired so many people, not just the ones who're out of the Hollywood fraternity, but also the ones who are a bit part of it.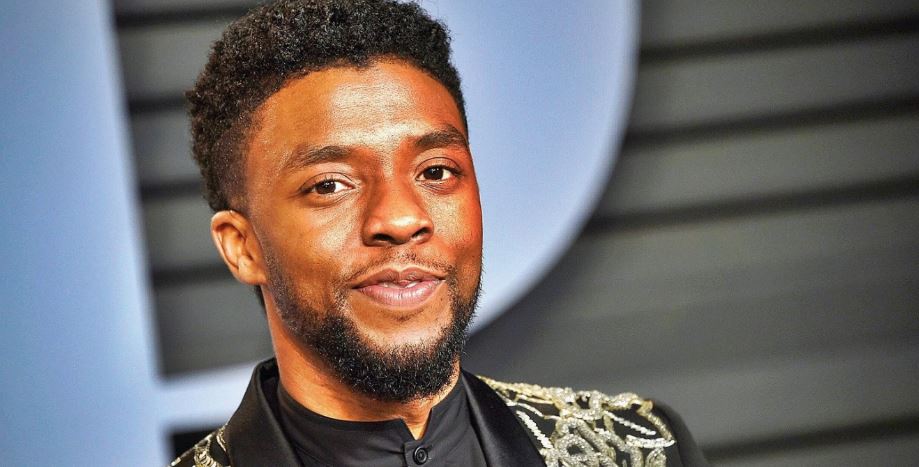 After his family issued a statement, so many others took to social media forums and expressed their grief over the loss of the 43 year old actor. He was a true fighter and a very sincere actor. People all across Marvel & Hollywood have united to pay their tributes. Here's what Marvel Studios President Kevin Feige had to say about his tragic demise:
"Chadwick's passing is absolutely devastating. He was our T'Challa, our Black Panther, and our dear friend. Each time he stepped on set, he radiated charisma and joy, and each time he appeared on screen, he created something truly indelible. He embodied a lot of amazing people in his work, and nobody was better at bringing great men to life.

He was as smart and kind and powerful and strong as any person he portrayed. Now he takes his place alongside them as an icon for the ages. The Marvel Studios family deeply mourns his loss, and we are grieving tonight with his family."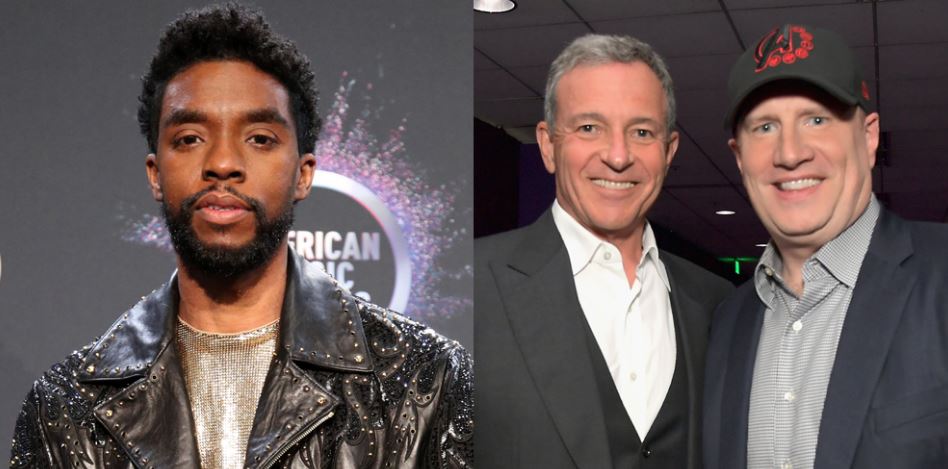 Former Disney CEO and current chairman, Bob Iger wrote on twitter:
"We are all heartbroken by the tragic loss of Chadwick Boseman — an extraordinary talent, and one of the most gentle and giving souls I have ever met. He brought enormous strength, dignity and depth to his groundbreaking role of Black Panther; shattering myths and stereotypes, becoming a long-awaited hero to millions around the world, and inspiring us all to dream bigger and demand more than the status quo. We mourn all that he was, as well as everything he was destined to become.

For his friends and millions of fans, his absence from the screen is only eclipsed by his absence from our lives. All of us at Disney send our prayers and heartfelt condolences to his family."
Several other celebrities, movie stars & guilds took to twitter in order to pay their respects to the late actor:
Dwayne Johnson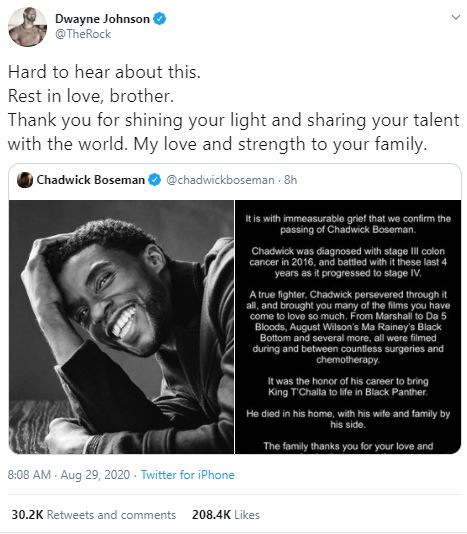 Mark Ruffalo

Don Cheadle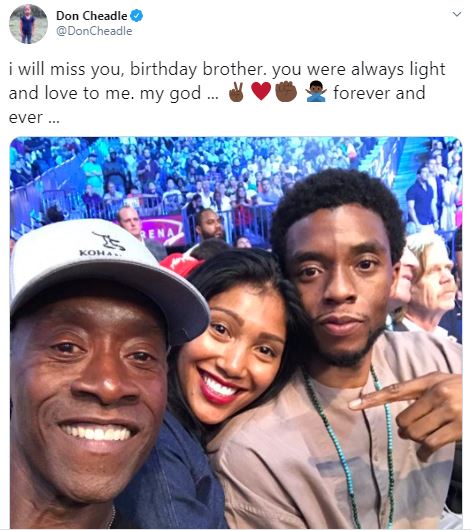 Ryan Reynolds

Chris Evans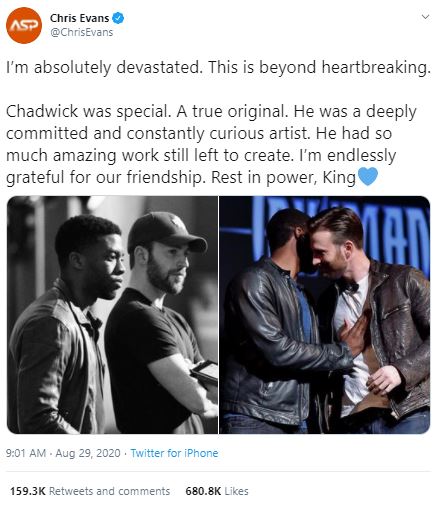 Jeffrey Wright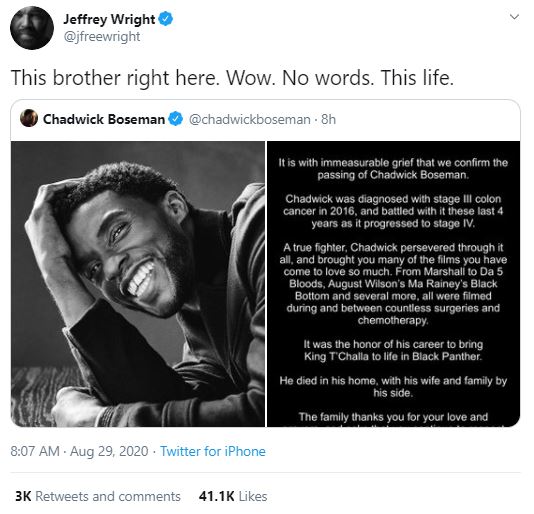 Brie Larson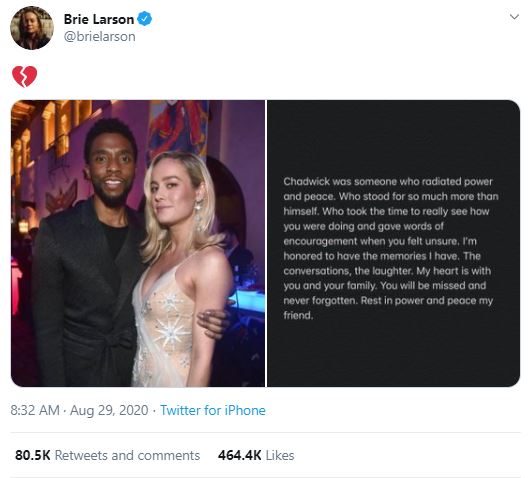 Jordan Peele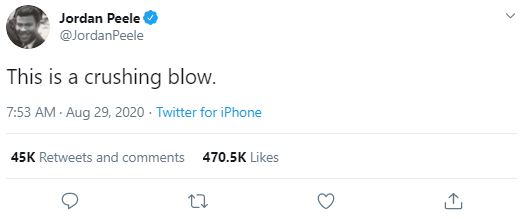 Ava DuVernay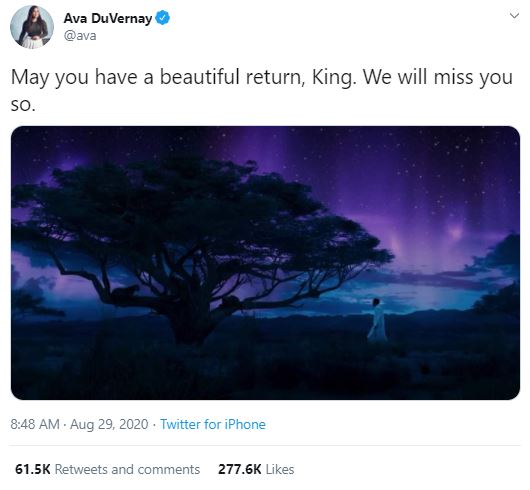 Dave Bautista
https://twitter.com/DaveBautista/status/1299534313885761537
Chris Pratt
My prayers go out to Chadwick's family and loved ones. The world will miss his tremendous talent. God rest his soul. #wakandaforever https://t.co/j5JWSeiqd5

— chris pratt (@prattprattpratt) August 29, 2020
Marvel Studios
Our hearts are broken and our thoughts are with Chadwick Boseman's family. Your legacy will live on forever. Rest In Peace. pic.twitter.com/DyibBLoBxz

— Marvel Studios (@MarvelStudios) August 29, 2020
The Academy
An immeasurable loss. From "Black Panther" to "Da 5 Bloods," Chadwick Boseman brought strength and light to the screen, every time. pic.twitter.com/vRXxYU8Tbr

— The Academy (@TheAcademy) August 29, 2020
We just cannot digest the fact that he was taken from us so soon. The world will always see him as a hero and his kindness will not be forgotten. He really did his bit in trying to make the world a better place for millions of people. For that, we're forever grateful. And now he may rest well in power as he truly died a legend and a King.
Wakanda Forever!