Movies
New Avatar 2 Concept Arts Received Major Backlash from Fans on Twitter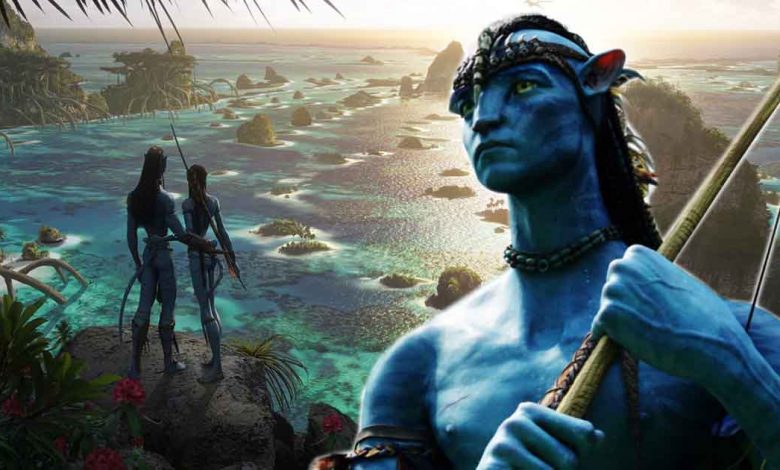 Avatar 2 New Concept Arts:
Avatar 2 is a good two years from us. Well, not exactly 2 years now, but you do get the point. James Cameron & co have been hard at shooting 4 of the upcoming Avatar sequels. The development of these sequels took about a decade as the previous Avatar movie came out back in 2009. But in the next 8 years, we're going to get 4 major Avatar sequels & that's a very good thing. Disney/Fox will slowly keep marketing the film throughout 2020 & 2021. We've got the first-ever look the new concept arts from the Avatar sequels and they're beautiful. Take a look:
[adinserter block="1″]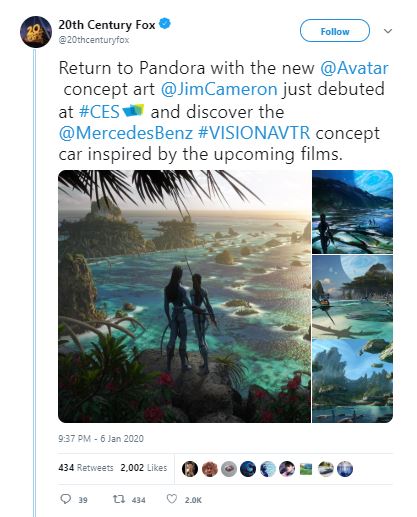 This film will bring us back to Pandora years after the first movie. All the destruction that was caused in the previous films will now have become old news as we'd get to witness the beauty of Pandora once more. The aforementioned concept arts are really quite awesome. But, since the previous film came out so many years back, people don't really seem to care enough now. Here are some of the reactions on twitter which tell us what people think now.
[adinserter block="2″]
James Cameron is starting to make Avatar 2

Everyone trying to remember Avatar 1: pic.twitter.com/LdvJyh4Aq6

— itsallrealitv (@itsallrealitv) January 7, 2020
[adinserter block="3″]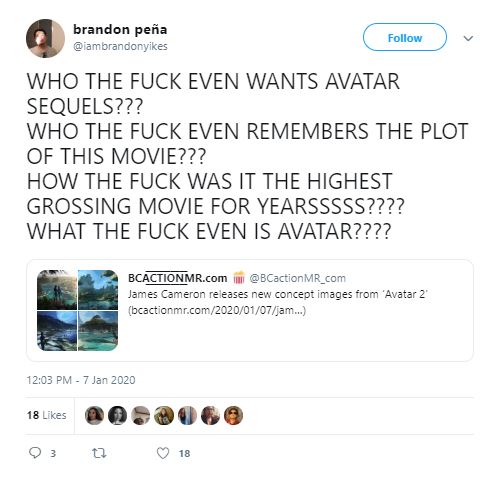 [adinserter block="4″]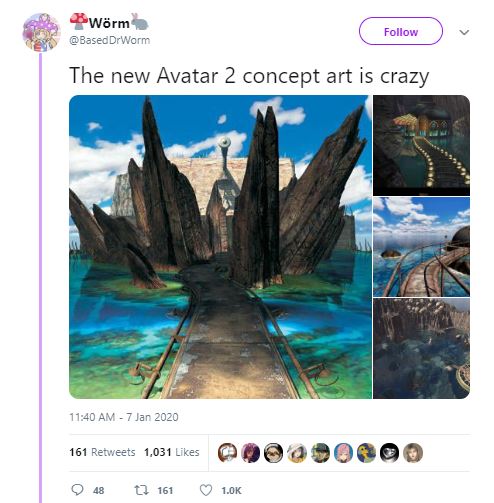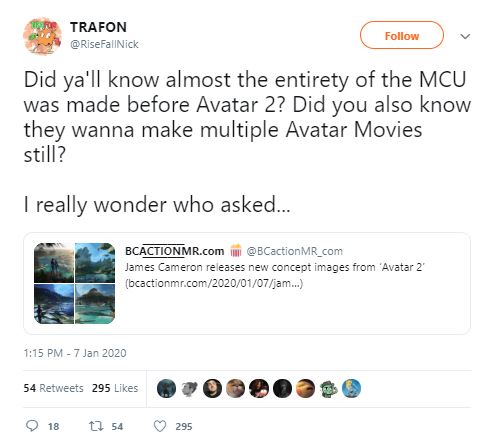 Well, the fans are right about it. We live in an era where people get bored and forget very easily. The society is moving very fast as everyone's trying to offer the next best thing. So, people aren't really on board yet. They've moved on from so many things. Terminator, dead! Star Trek, needs a renewal. Transformers, almost dead. Since the first Avatar movie is so back dated, people may not want to give the sequels a fighting chance.
[adinserter block="5″]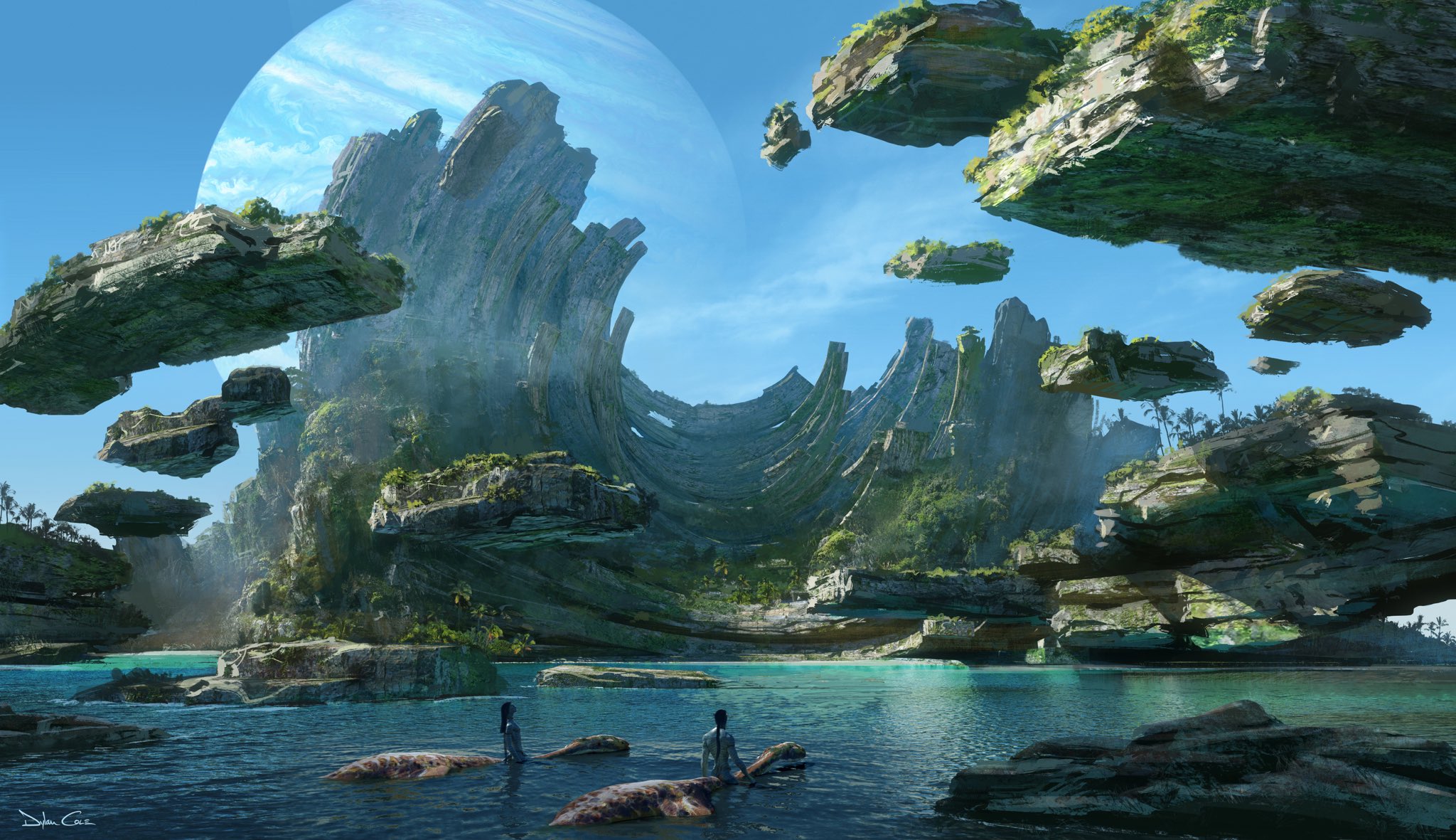 But we have to consider one more aspect. James Cameron isn't making just one sequel that will get buried by competition. His decade worth of development has gone into making 4 films. If Avatar 2 is even equally as good as its predecessor, then people will definitely be hooked. And that would return the franchise to its former glory. Avatar 2 arrives on December 17, 2021. Followed by that is Avatar 3 – December 15, 2023, Avatar 4 – December 19, 2025 and Avatar 5 – December 17, 2027.
[adinserter block="51″]