Movies
Avengers: Endgame First Reactions Hail This Film as a Masterpiece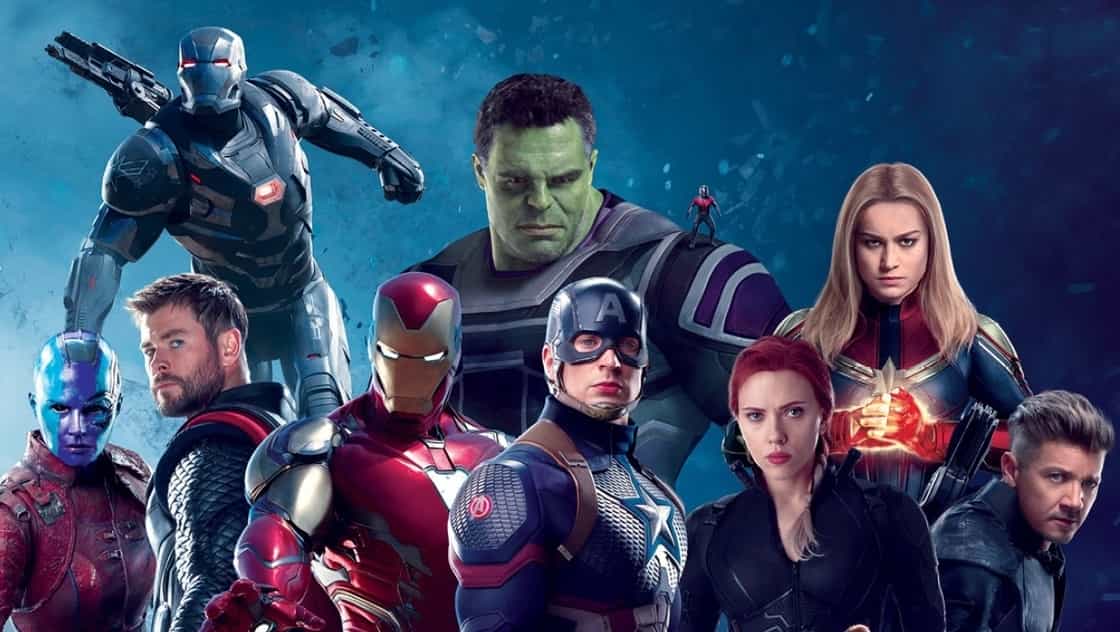 Avengers: Endgame First Reactions –
Endgame is just 3 days away and the world premiere of the movie has already taken place. Various people who got to attend the premiere saw the film and we finally have our first reactions upon how this film is. Those of you who were worried that Marvel just might screw it up a little bit with so much in play, there's good news for you guys as they haven't. Kevin Feige, the Russos and writers Christopher Markus and Stephen McFeely have come through with so much that you didn't even expect.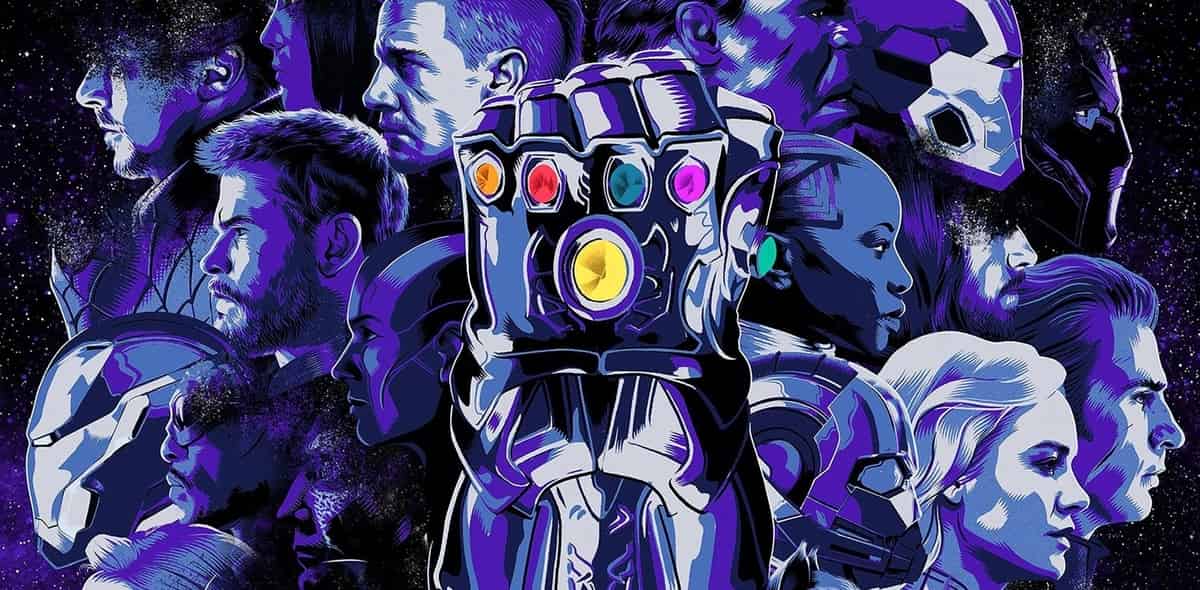 The first reactions are in and the Rotten Tomatoes Score will be released in a few hours. But we seriously don't need the critics' verdict upon this as the fans have already spoken. With the way that fans have reacted, this film is going to come through big time! It has the potential to dethrone Avatar and it just might! Avengers: Endgame will become a worldwide phenomenon and there's just so much to unravel with it.
Some reports suggest that Avengers: Endgame could open with $300 Million domestically and while those are extremely outrageous but not impossible, the more realistic ones have given $265 Million to be the number. Well, whatever it is going to be, we know it for a fact that it will beat Avengers: Infinity War's $257 Million for the opening weekend. What's crazy is that this film could actually come very close, if not break the $1 Billion mark by April 28.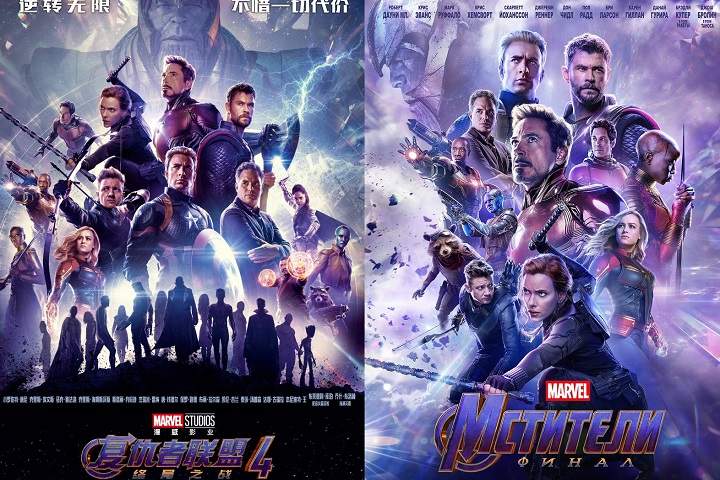 Chief analyst of Boxoffice Shawn Robbins spoke to Comicbook.com last week and he said:
"It's [Box Office] unprecedented territory. The numbers that are out floating around out there no matter where you look, it's on a level that I don't even think the most optimistic and/or sort of expected. It feels pretty reasonable, if there is such a thing, to say that it'll set a new record at this point."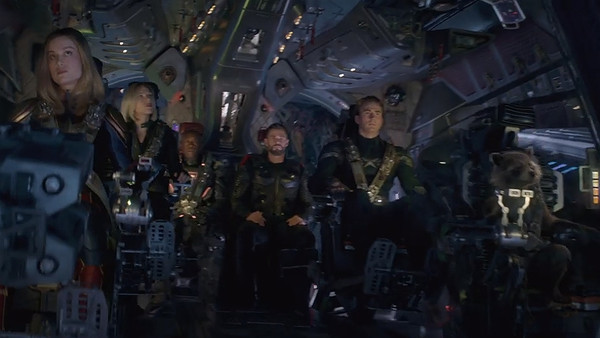 Well, it's entirely possible as the fans will certainly make it happen. This is the grand finale event and every one of us are going to Assemble! Here are the first reactions of the fans coming right after they saw the world premiere: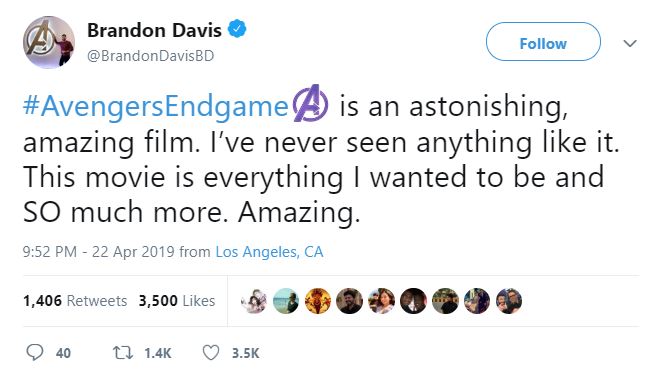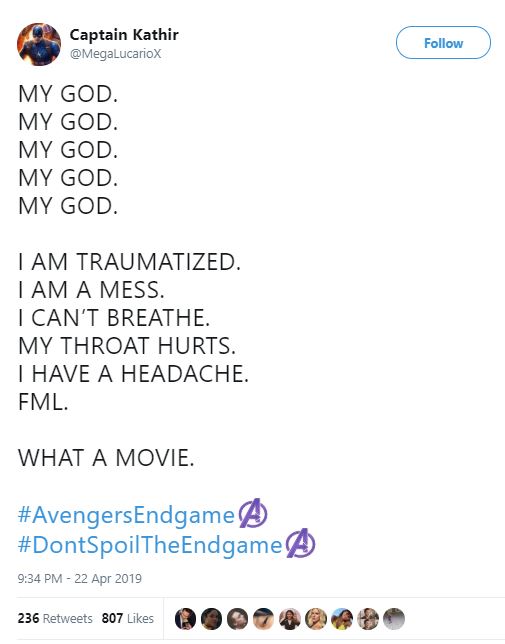 #AvengersEndgame is a masterful epic – a true culmination of 22 films that not only concludes the story, but expands upon it. You'll learn more about the other movies while this one unfolds. If Infinity War is the brawn, Endgame is the brains. And wow, what an ending! pic.twitter.com/94ttBUQKJ0

— Erik Davis (@ErikDavis) April 23, 2019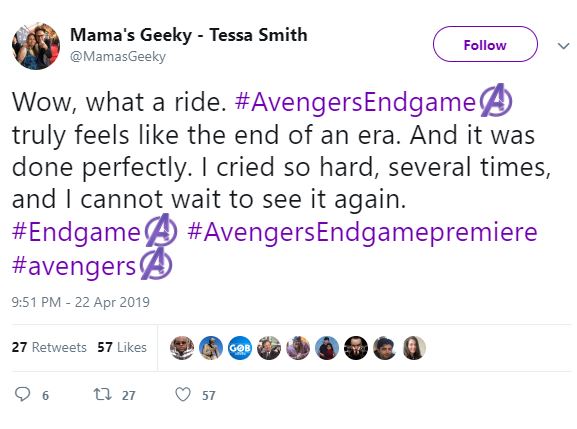 People really haven't got the hang of it with just one viewing. This film will require our attention multiple times and that's also why it's going to break the $2 Billion mark with ease!
#AvengersEndgame is every bit the masterpiece it deserves to be. It's extraordinary. It is a conclusion worthy of the greatest cinematic saga of all time! Congratulations to everyone who had anything to do with this film, or the 21 films before it. I am emotionally spent. pic.twitter.com/2Yiu3ZIimC

— Sean Gerber (@MrSeanGerber) April 23, 2019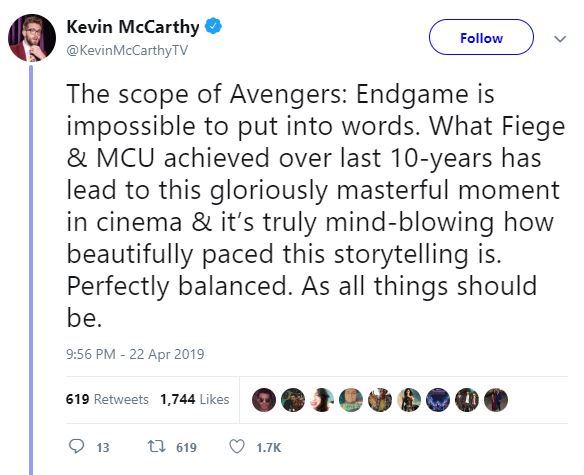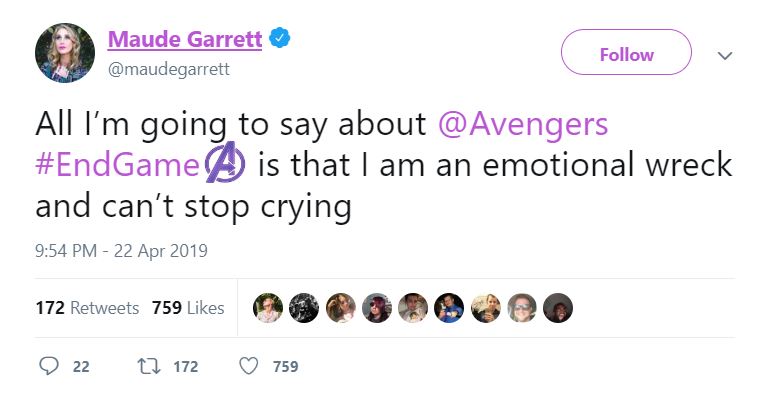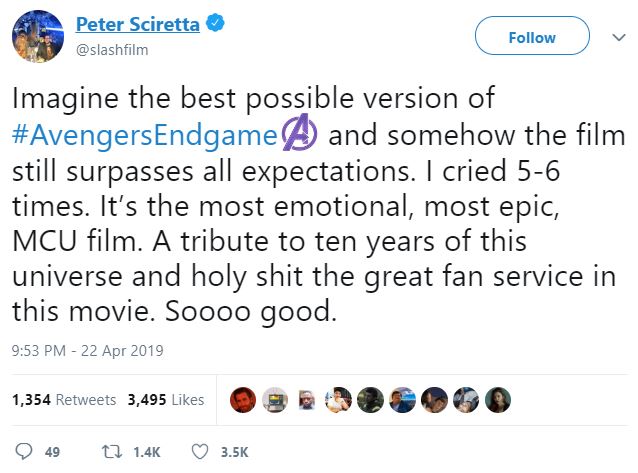 Avengers: Endgame is going to leave us emotionally sad and happy at the same time. People are going to smile, they're gonna scream and they're gonna cry, but most importantly, they're going to rejoice this end of an era together!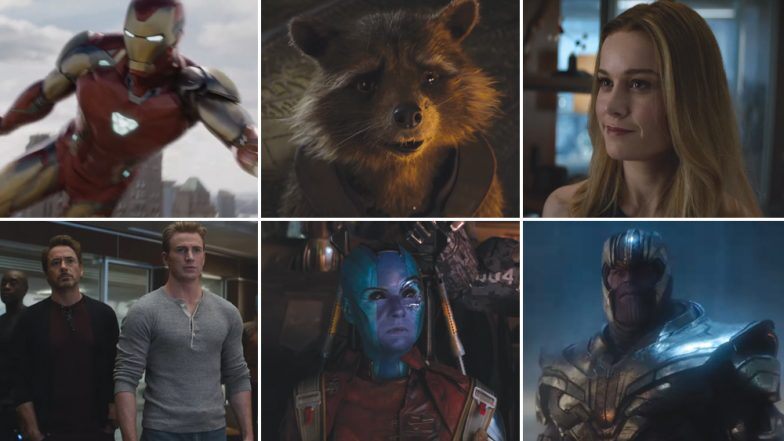 Directed by Joe & Anthony Russo, Avengers: Endgame will open on April 26, and it'll presumably star Robert Downey Jr., Chris Hemsworth, Mark Ruffalo, Chris Evans, Scarlett Johansson, Benedict Cumberbatch, Jeremy Renner, Don Cheadle, Tom Holland, Chadwick Boseman, Paul Bettany, Tom Hiddleston, Idris Elba, Danai Gurira, Peter Dinklage, Benedict Wong, Elizabeth Olsen, Anthony Mackie, Sebastian Stan, Gwyneth Paltrow, Benicio del Toro, Josh Brolin, Pom Klementieff, Karen Gillan, Dave Bautista, Zoe Saldana, Vin Diesel, Bradley Cooper, Chris Pratt, Paul Rudd, Samuel L. Jackson, Cobie Smulders, Tessa Thompson, Evangeline Lilly, Aaron Taylor Johnson, Cate Blanchett, Michelle Pfeiffer, Michael Douglas, Tilda Swinton, Jeff Goldblum, Katherine Langford, Stellan Skarsgard, Ava Russo and Brie Larson.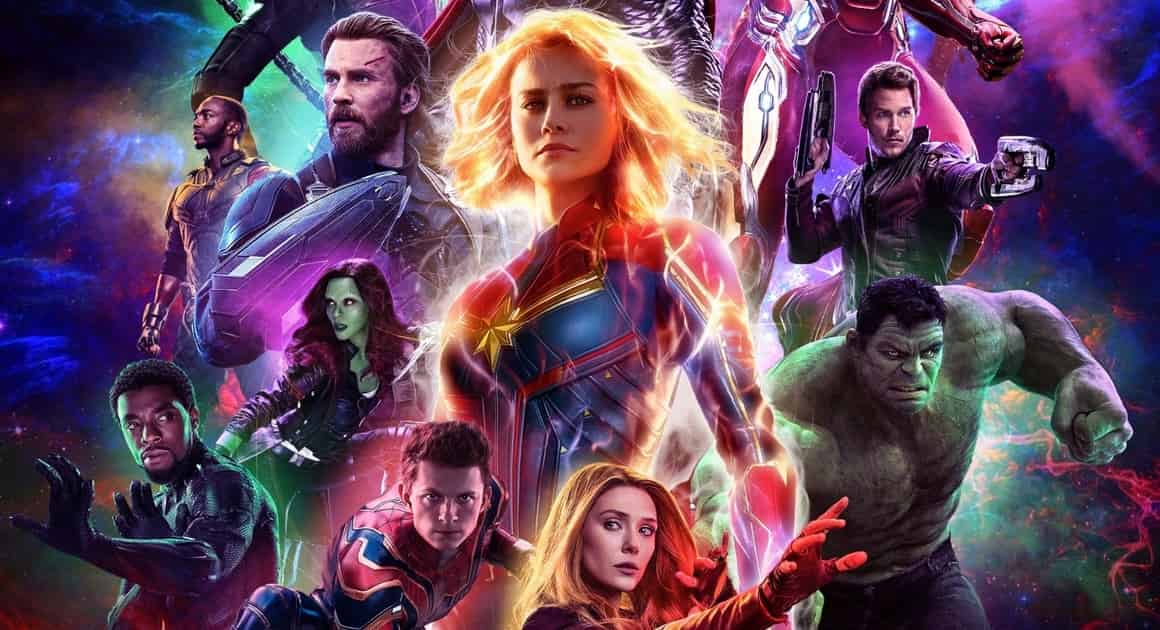 Here's the new synopsis of Avengers: Endgame:
"Thanos snapped his fingers in Avengers: Infinity War, and half the life in the universe instantly dissolved. Now a ragged group of surviving warriors, including Captain America, Black Widow, Iron Man, Thor, and the Hulk works to counteract the Mad Titan's genocidal action.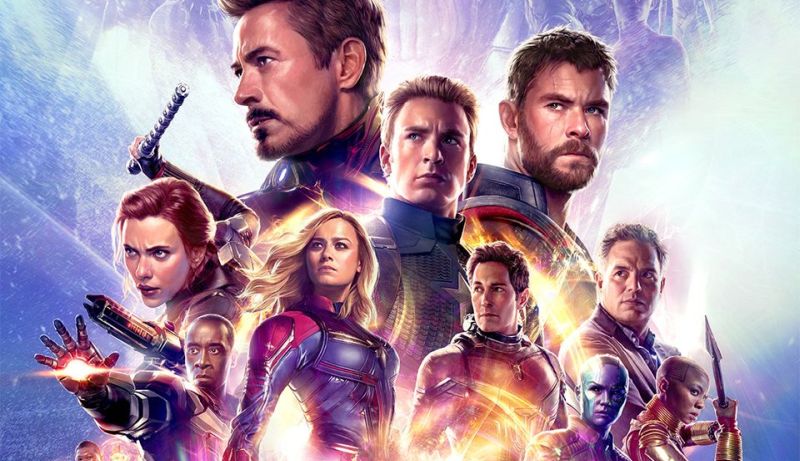 Since our heroes couldn't stop Thanos the first time, what makes them think they can win in a rematch? The answer may be in overwhelming power, thanks to Captain Marvel, or in the tiniest spaces between atoms accessible to Ant-Man. Avengers: Endgame will rewrite the Marvel Cinematic Universe as we know it. When it's all over, nothing will be the same."