Television
Marvel Fans Furious Over Netflix Price Hike After Cancelling Daredevil And Other Shows
After canceling Marvel shows like Daredevil, Luke Cage and others, Netflix has apparently increased its price and subscribers are furious as hell. But the biggest question in the minds of subscribers is that, who is running Netflix at the moment because all the decisions they've made in recent times are really dumb and this one is extremely hilarious as well as irritating.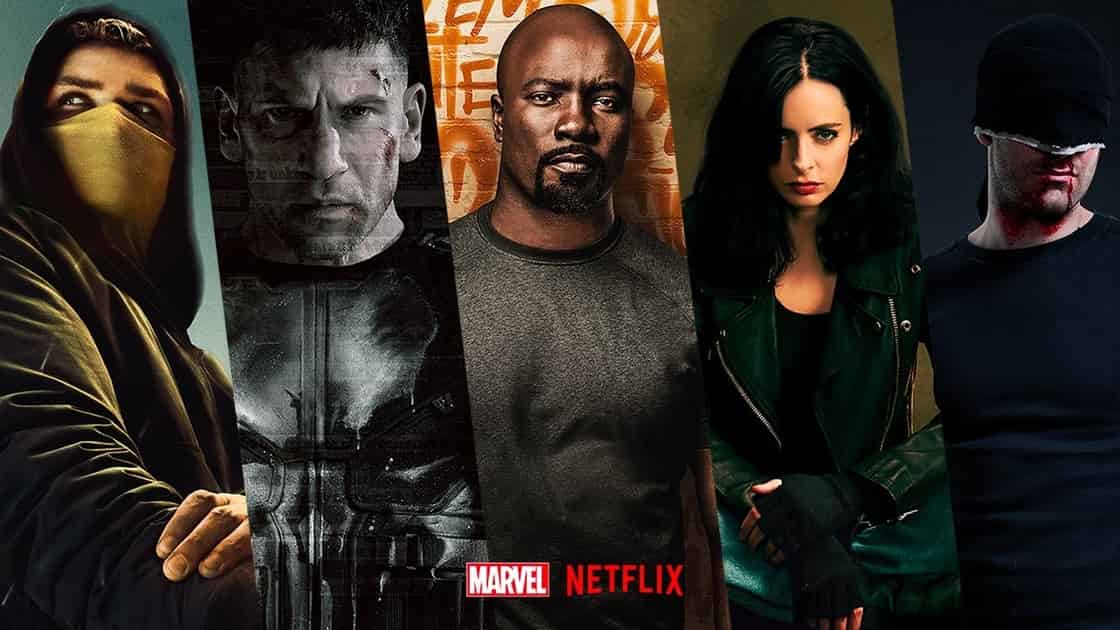 One of the biggest reasons why people were on Netflix was because of the Marvel shows which used to air exclusively on the streaming service but now as we all know that a lot of famous and popular shows have been canceled by Netflix, subscribers aren't able to understand the reason behind their price hike decision which as per the announcement is going to bring its biggest price increase ever in the near future.
The hike is going to push the monthly rates to a hefty eighteen percent. On one side, the stockholders are quite happy and having all sorts of parties in their offices as a lot of money is going to come their way but, on the other side, subscribers are having a tough time as they also know that the news of the cancellations of The Punisher and Jessica Jones is going to be next after the cancellations of The Defenders, Luke Cage, Daredevil, and Iron Fist.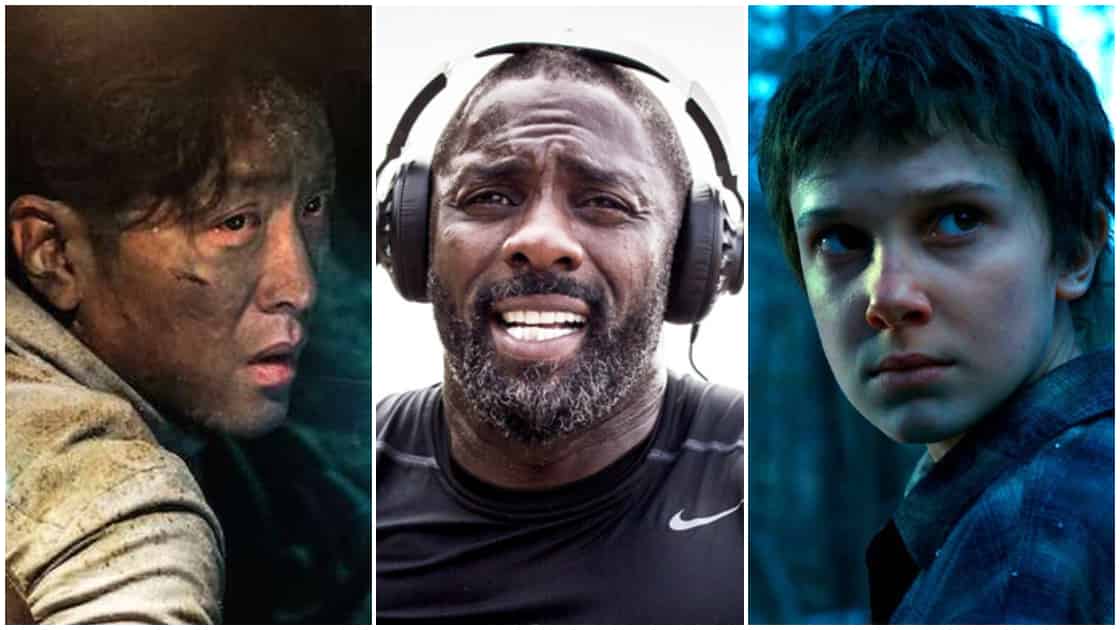 So, this is becoming a big irritating concern for Marvel fans who came to Netflix with the interest and love for their beloved Marvel shows but now after seeing their exit one after the other, it has become rather a sad journey for them as they still they want to be with Netflix because they started liking some other Netflix Originals and other content on the streaming service.
But, now seeing this price hike, it is quite an unpalatable thing for Marvel fans who don't have the shows they wanted to see and are paying much higher for the shows and things which were secondary for them once upon a time. So, this is the reason why a lot of Marvel fans are angry and in fact, didn't shy away from voicing their thoughts on the internet. Some of the best reactions are down below.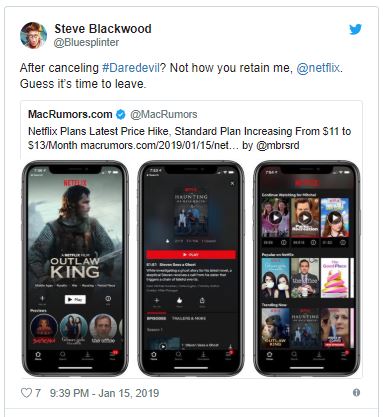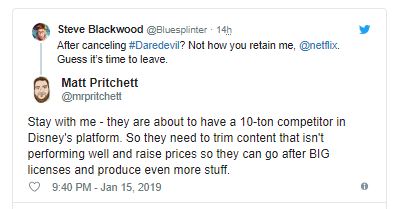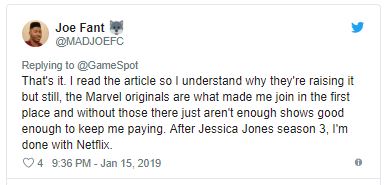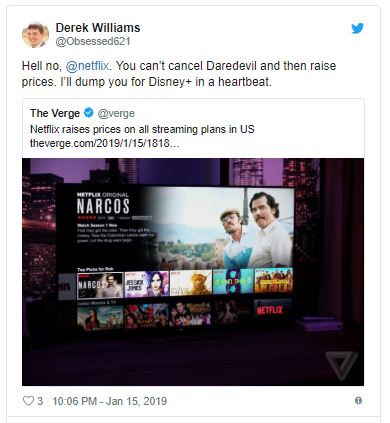 Well, talking about the statement, the strategy of the company in the line of Netflix original movies has been discussed by the Chief of Netflix, Scott Stuber who was up for an interview with the New York Times. During the interview, a lot of things were revealed by the man himself.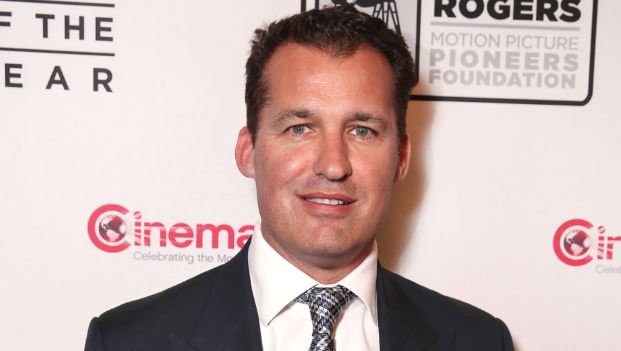 Stuber revealed that the original film operation of Netflix is ready to supply a number of 55 Original films in a year, and a total of 90 by adding animated movies and documentaries to it also. There are clear chances that some of the movies will have a budget close to $200 million but it hasn't been revealed yet that which movie is going to get that tag.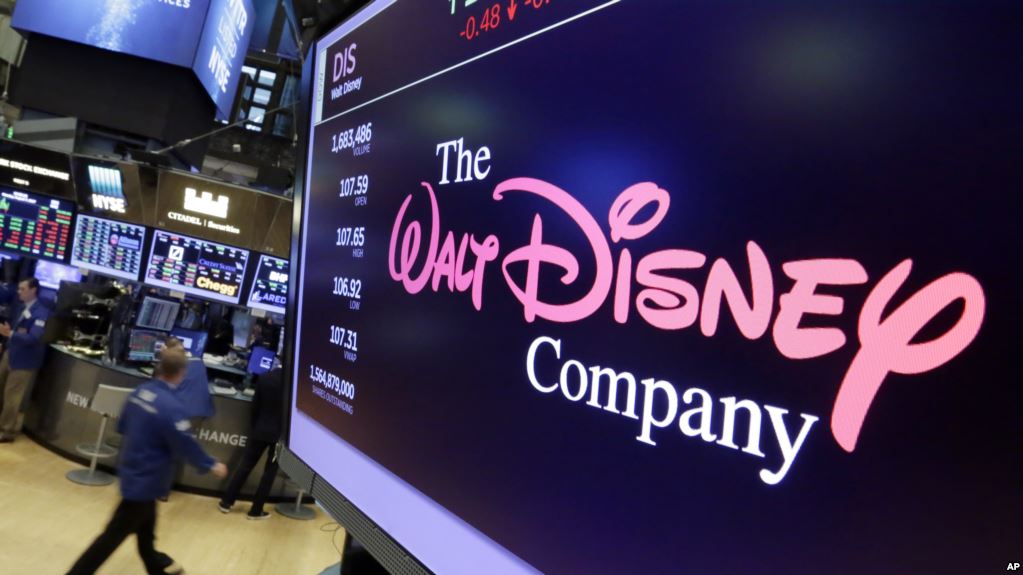 Talking about the the competitors of Netflix, Universal Pictures are the ones who are regarded as one of the most prolific names in this category but they have also just reached the mark of 30 movies in a year, with Warner Bros. being able to bring only 23 movies in a calendar year, and their future competitors Disney only 9 movies a year.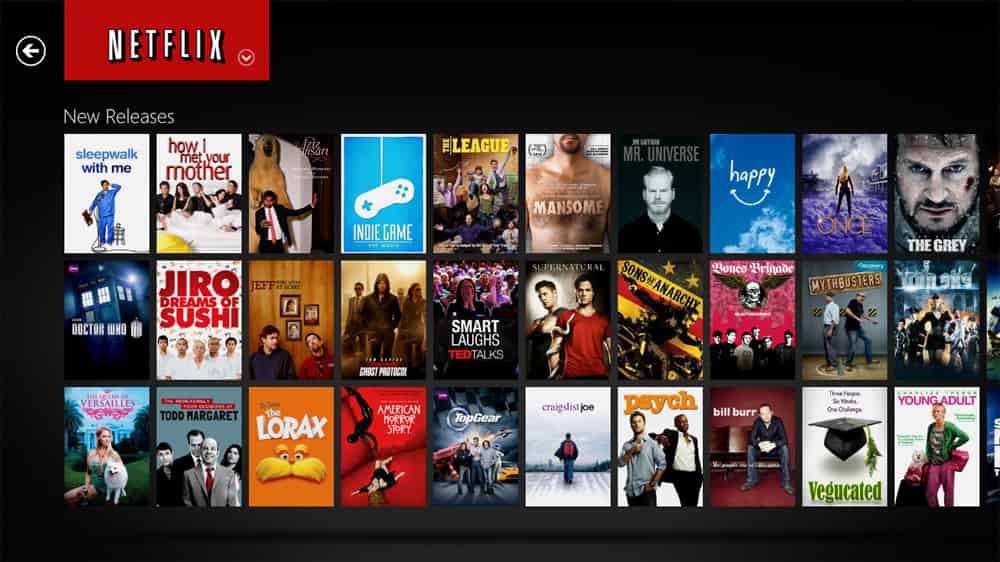 So, we can clearly see that the bar Netflix is aiming to reach is quite high and if they'll reach this goal then it is going to be really tough for its competitors to keep pace with them because releasing 90 movies a year seems to be like an impossible task. But, we can put out bets on Netflix because they're the king of streaming services for a reason.
Also, the CEO of Netflix Ted Sarandos talked about many things regarding the streaming service's plans and stated,
"Even in [Russell's] successful career, he's never had that many people see one of his movies in the first week ever. That's a testimony to what we can bring to the market for storytellers today that we couldn't have ten years ago. If every one of those [20 million streams] was a movie ticket purchase, that's a $200 million opening week," Sarandos stated. "Even movies that go on to $1 billion don't typically do that in the first week."
What are your views on the price hike by Netflix? Tell us in the comments section down below.