Television
The Flash Season 5 Official Poster Shows Scarlet Speedster In a New Suit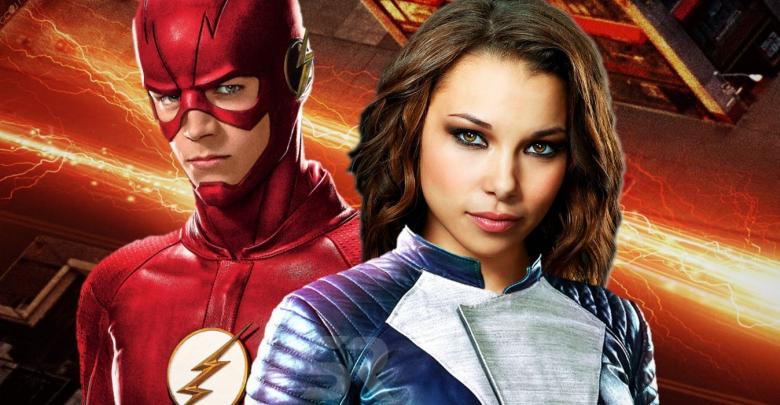 After defeating the Thinker, The Flash and his friends are now moving forward with their lives and they will be facing new challenges this season as it has been confirmed that DC's Cicada will be the big bad who will be taking on the Scarlet Speedster. He will be joined by Spin who will have recurring appearances on the show. But other than these two villains Barry and his wife Iris West Allan now have a new challenge to face as the mystery girl from Season 4 turns out to be their daughter Nora Allan from the future.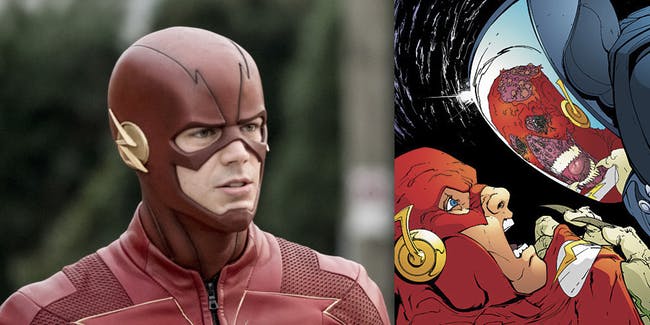 Now we are ready for the fifth season to give us new adventures of the Team Flash along with a temporarily added member to the team, Nora. Till now, we have just got a trailer for The Flash which was released at Comic-Con last month. Just yesterday, Grant Gustin shared a photo of him posing in his new suit, and it does seem that he had to shoot a scene where the Flash is worn out from battle. Have a look: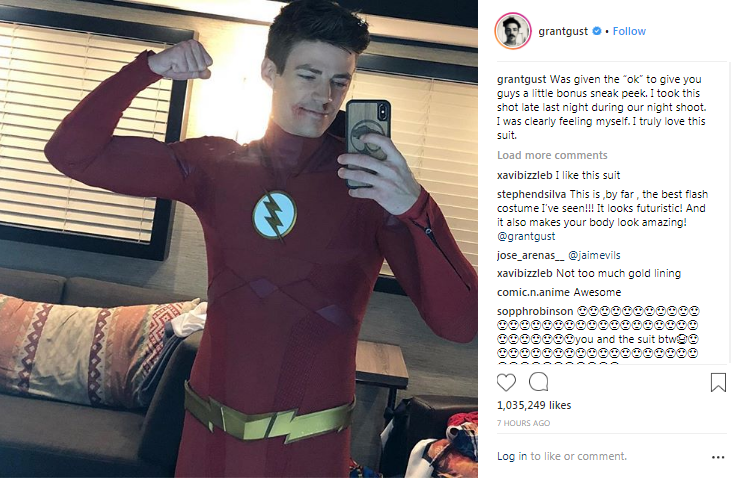 If you look at the suit clearly, it looks much sleeker and has a crisp look to it having lost the Golden design that ran throughout the suit in the previous season. It seems that the suit has lost its leather material from the previous seasons which make this suit look just perfect now. It fits the physique of Grand Gustin really well and this is how the suit should have been in the first place. While this was just a sneak peak, Grant has now given us an official first look at the Flash's new suit for Season 5. Have a look: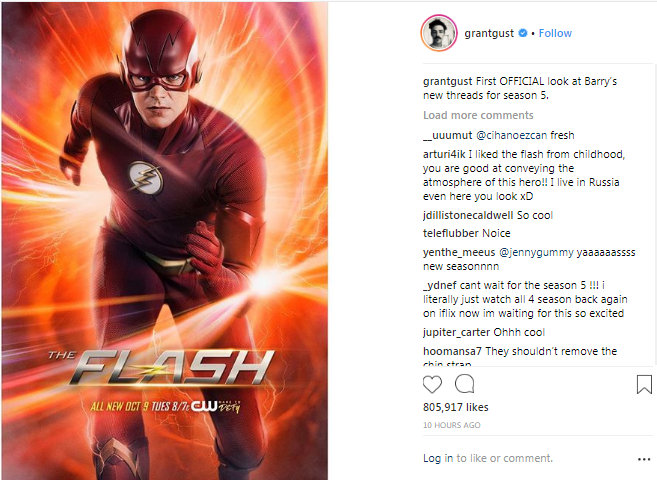 The new suit is bringing subtle changes and the major change you can notice here is the cowl which has an altered shape as the chin piece is now missing. We did like the chin piece earlier but it is good to have a change every now and then, so this would work perfectly fine once we get used to it. This will probably be the suit that comes with the future tech where the Flash can fit his suit within a ring! This was teased in the trailers so that probably gave it away.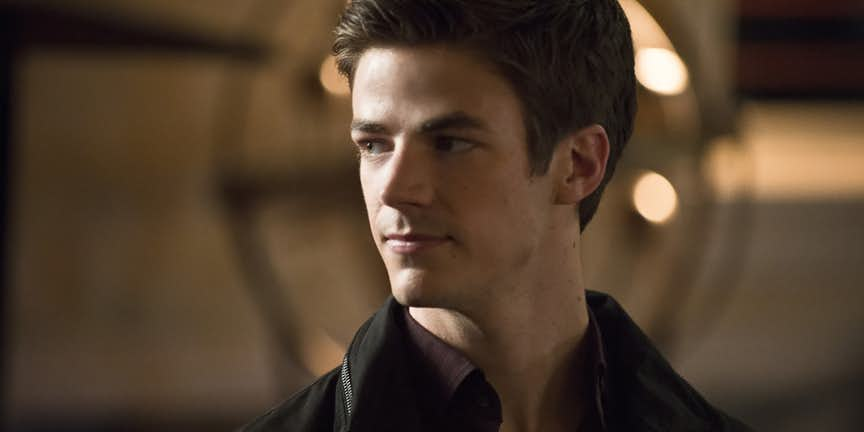 Gustin has been pretty vocal about his views on the Social media, and he wrote back to the criticisms of Body shamers who have still not accepted the lean physique of this version of the Flash. Here's what Gustin wrote on his Instagram post: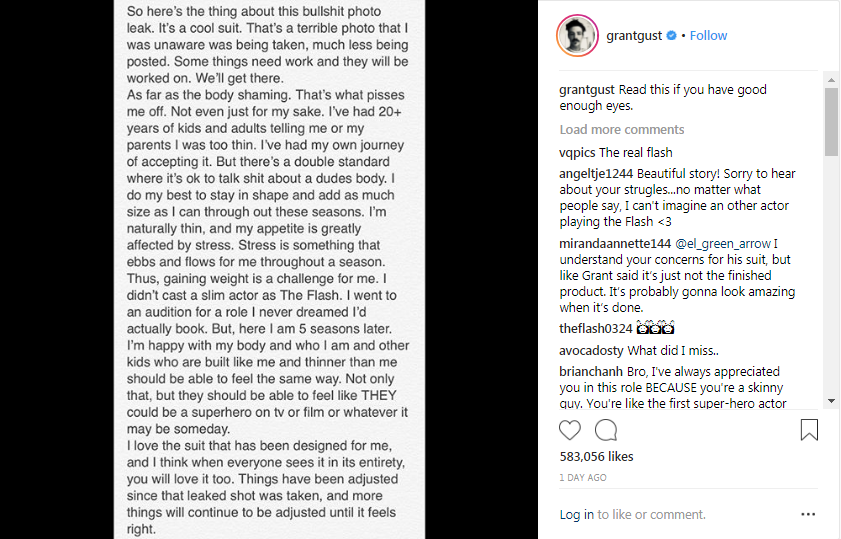 "So here's the thing about this bullsh*t photo leak, It's a cool suit. There's a terrible photo that I was unaware was being taken, much less being posted. Some things need work and they will be worked on. We'll get there. As far as the body shaming. That's what pisses me off. Not even just for my sake. I've had 20+ years of kids and adults telling me or my parents that I was too thin. But there's a double standard where it's OK to talk sh*t about a dude's body."
"I do my best to stay in shape and add as much size as I can throughout these seasons. I'm naturally thin, and my appetite is greatly affected by stress. Stress is something that ebbs and flows for me throughout a season. Thus, gaining weight is a challenge for me."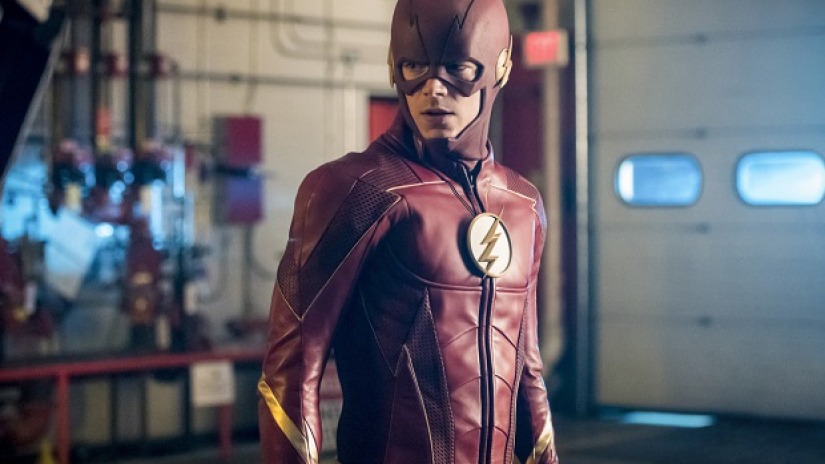 "I didn't cast a slim actor as The Flash. I went to an audition for a role I never dreamed I'd actually book. But, here I am 5 seasons later. I'm happy with my body and who I am and other kids who are built like me and thinner than me should be able to feel the same way. Not only that, but they should be able to feel like THEY could be a superhero on TV or film or whatever it may be some day."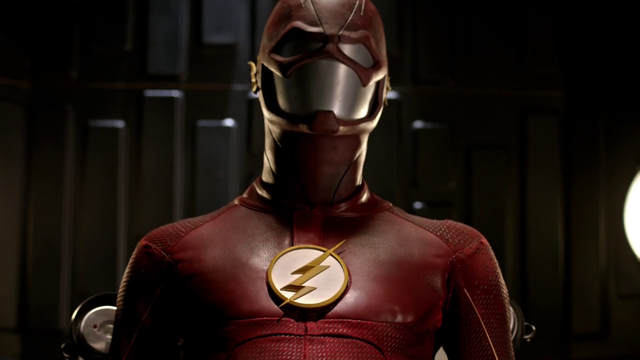 "I love the suit that has been designed for me, and I think when everyone sees it in its entirety, you will love it too. Things have been adjusted since that leaked shot was taken, and more things will continue to be adjusted until it feels right."
The Flash will return to CW on Tuesday, October 9th.