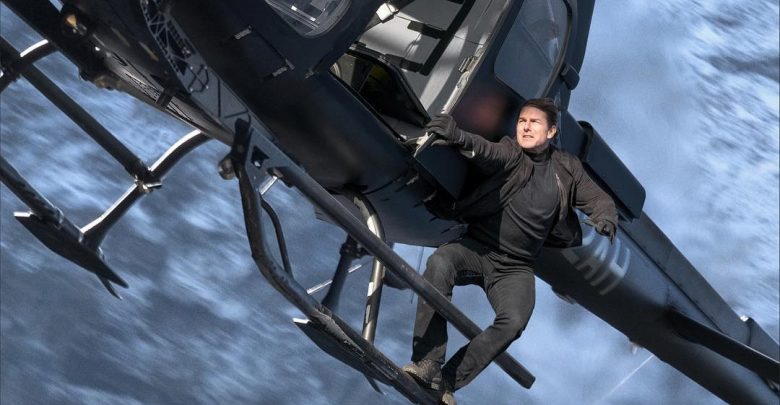 The Mission Impossible franchise is one of the most successful and entertaining action franchises in Hollywood. Tom Cruise was always a great actor, but Mission Impossible series turned him into a megastar. He is famous for performing daring stunts without a stunt double. With each passing movie, he has raised the stakes, in MI 4: Ghost Protocol, he climbed the world's tallest skyscraper Burj Khalifa in Dubai, while in Rogue Nation he was literally dangling outside an actual plane. The stakes for the Mission Impossible 6, this one are going to be even higher.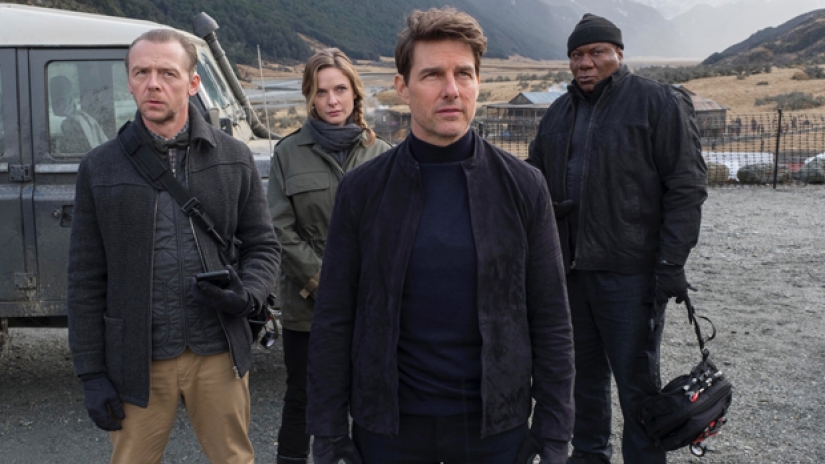 David Ellison (the producer) recently revealed that the upcoming Mission Impossible 6 movie will feature the biggest stunt of Tom Cruise as he will be flying a chopper on his own and also hanging outside of it while nobody is piloting it! The first trailer for Mission Impossible: Fallout showed us that the movie has in fact upped the ante this time around, and we are going to get an action-packed movie with a great story since the Fallout of all of Ethan's good intentions is coming this fall.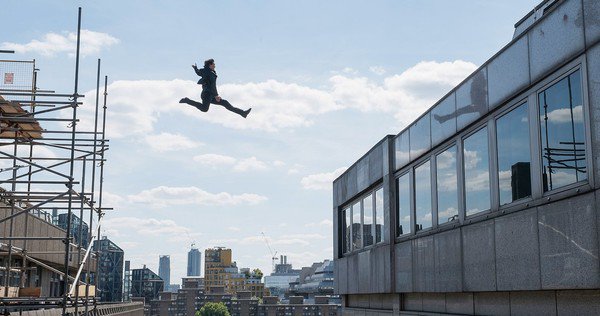 The movie finally wrapped up production just last month as the filming of the movie Mission Impossible 6, got delayed, because the valiant Tom Cruise, broke his ankle doing a stunt in the movie. His ankle was severely broken, and still, Cruise has recovered and shot the movie side by side. This is what we all love him for. His bravery and awesome acting combined together always gives fans the chills. The amazing thing is, that the shot he delivered right when his ankle was broken is in the movie. Which means that he delivered this stunt in one take, and while fans should not be surprised by that (because he's Tom Cruise), it's still fascinating to think about how determined and bad-ass he actually is!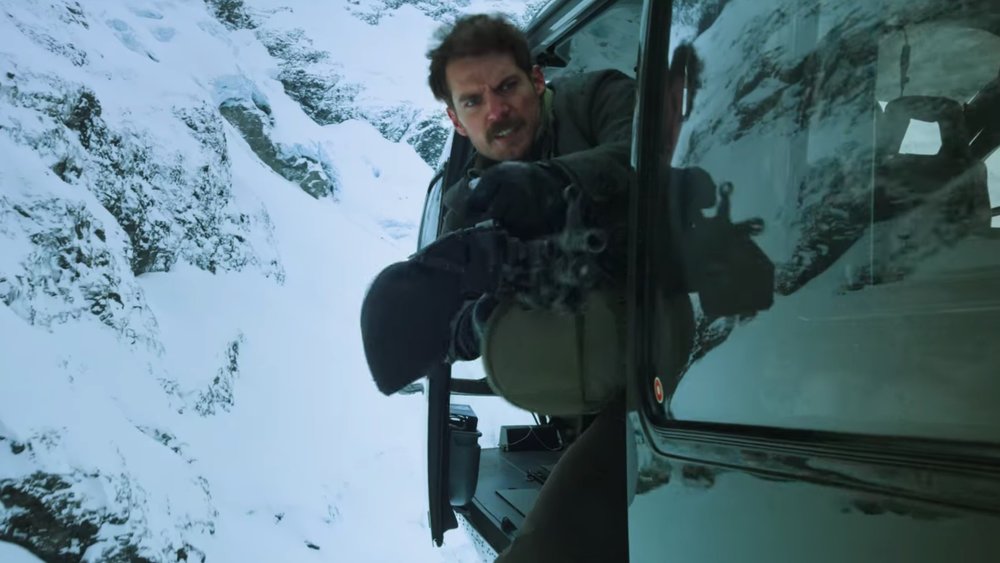 The first trailer for the movie Mission Impossible 6, came out at this year's Super Bowl, and the fans totally loved what Christopher McQuarrie (Director) and co have made for us. This time around, we don't have Jeremy Renner as Agent Brandt, instead, we have got another big gun with Henry Cavill who is rocking the mustache that ruined Justice League in this one. Honestly, he looks pretty amazing in the trailer as well, and we can't wait to see more from this movie.  What a trade made by Paramount, as they have exchanged Superman for Hawkeye.
Now, a new series of behind the scenes photos of the movie has hit the internet, and the fans love it. Here' check this one out.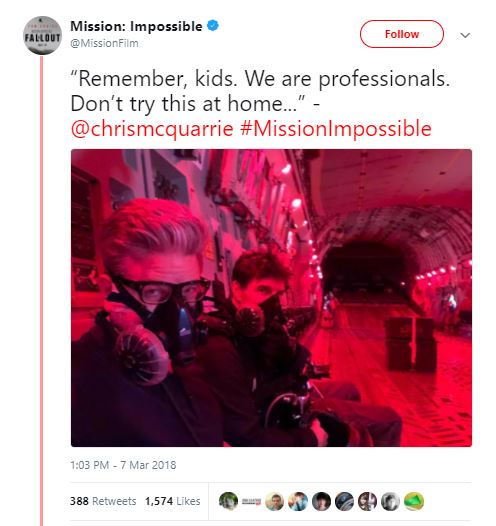 This tweet shows director of the movie Christopher McQuarrie along with Tom Cruise himself, wearing breathers on a plane. The follow up to this photo shows possibly what is going to happen next, as by the looks of it, Tom Cruise is plausibly going to jump off the plane. Here's the photo saying that Mission: Impossible – Fallout "Droppring in Summer 18", and simultaneously showing Tom Cruise dropping out of the plane as well.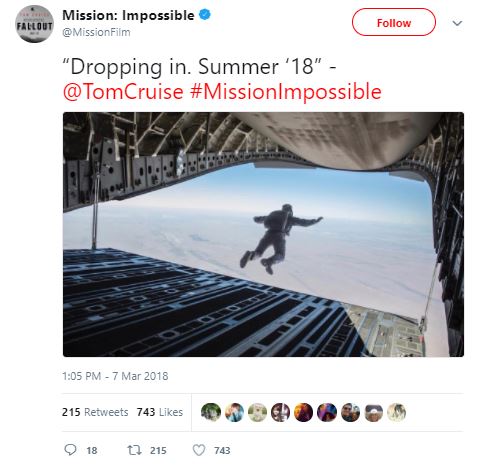 Well, think about it, take this scene, along with a bike chase sequence, a car chase, a rooftop foot chase, a freakin' Helicopter chase and the numerous fight scenes showed in the trailer, this movie could be the most action-packed Mission Impossible flick of the entire franchise. Not just the action, this movie will tell a great plot as it will show who Ethan Hunt actually is. 5 movies into the franchise and we still don't know about Ethan's backstory. Gladly this movie will focus on that.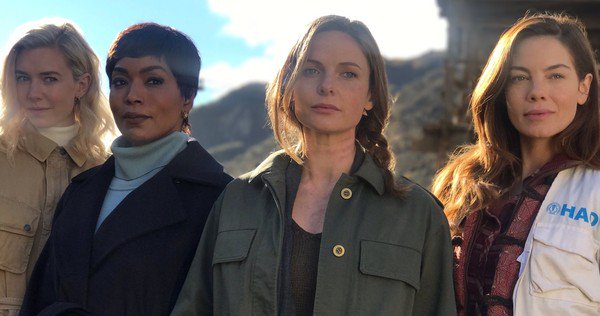 It is bringing in an all-star cast with many familiar actors returning from the previous Mission: Impossible movies. Along with them, we will see the new faces of Henry Cavill, Angela Bassett, Vanessa Kirby and Wes Bentley. The old cast returning in this movie is Rebecca Ferguson as Ilsa Foust, Simon Pegg as Benji, Ving Rhames as Luthor, Sean Harris as Solomon Lane, Alec Baldwin as former CIA Chief Hunley, Michelle Monaghan as Julia Meade and obviously Tom Cruise as Ethan Hunt. Here's the synopsis of the movie:
The best intentions often come back to haunt you.  MISSION: IMPOSSIBLE – FALLOUT finds Ethan Hunt (Tom Cruise) and his IMF team (Alec Baldwin, Simon Pegg, Ving Rhames) along with some familiar allies (Rebecca Ferguson, Michelle Monaghan) in a race against time after a mission gone wrong.  Henry Cavill, Angela Bassett, and Vanessa Kirby also join the dynamic cast with filmmaker Christopher McQuarrie returning to the helm.
Mission: Impossible – Fallout will hit the theatres on July 26, 2018.
Don't Miss: Here's How SPOILER Could Return From The Dead In Black Panther 2