News
10 People Who Rose To Fame After Going Under The Knife
We have accepted that whatever looks good always sells and in order to stay popular we have to look good and smell good no matter what. As people strive to look good, making changes in appearances through cosmetic adjustments is common. Now it is hard for them to even accept their own features. Dissatisfied from their own looks and in the race to get popular, they go under the knife to become highly successful without knowing that consequences on their well-being. Now it seems like it was for good, but not anymore for these ten people who became a celebrity after they went under the knife to change their appearances.
 1. Pixee Fox
Pixee Fox got a little foxy in order to use weight. She wanted to look like a Barbie doll. In order to look like the Disney princess, she has had 100 cosmetic procedures. And the most notable surgery of hers was when six of her ribs were removed from her body, just to get a perfect hourglass shape.
2. Martina Big
Martina Big was not satisfied with her skin color and that;s when she decided to get herself colored with brown. She used tanning injections to get herself tanned. 
'I love the contrast of my bright blonde hair and my dark, crispy brown skin.I love seeing the reactions of people. I can see their big eyes when I walk past and their shocked faces, thinking "how is this possible?" she said in a report filed by Dailymail.

Yes, I have the skin of an African girl," she added.
3. Susan Sykes
Susan Sykes looks normal until you see her breasts. They are huge and but they are strong too. She can smash things from her breasts including a watermelon.That's insane. And that's what she does for her living….Crushing things with breasts can give a lot of bucks sounds crazy. Guess what? She bought an island from her earnings.
4. Rodrigo Alves 
Well, it seems like Rodrigo Alves wanted to be a fictional boyfriend of doll Barbie and made his dream come true following 50 surgeries and 100 aesthetic treatments to achieve the perfect look of a Ken Doll. And you would be stunned to know that he earned half a million dollars on his overall treatment. He was featured in Botched, an American TV series. Following several botched nose jobs, he was warned that if he would go for another one his nose would fall off.
5. Donatella Versace
Donatella Versace seems like an epitome of some kind of a sophisticated wax work. She looked more natural in the 90s and now she is totally a different person. She looks like a person stuffed with creams and artificial things.
"I'm not like this genetically.I use tonnes of cream and take care of my hair and skin," she said in a report filed by Huffingtonpost.

"My style is not that big, I wear heels, tight pants and I wear diamonds," she added.
6. Brian Zembic 
Brian Zembic is one of craziest cases of botched surgeries. He spent $100,000 to get boobs transplant following a bet.
'It was about 1997-ish I was in some restaurant in Europe and I was with two friends and his girlfriend at the time was flaunting her boobs and I said to my friend: "If I had boobs like hers I could get just as much attention as she would,"' he said in a report filed by Dailymail.

"He came up with $100,000 and I shook his hand and that was it, it was a bet," he added.
7. Jordan James Parke
Jordan James Parke is obsessed with Kim Kardashian that he decided to look like her and made it to the Botched TV show.
'I was 21 when I got my lips done. I went in there and I was like, "You know you need to make me look natural. I want just a little bit of definition." And they just got bigger and bigger,' Jordan said in a report filed by Daily Mail.

'Sometimes filler can leak out of the sides. It's quite scary. They need fixing. I'm worried if they keep leaking I'm going to end up with small lips again, and that wouldn't be me. My lips have really changed me as a person and I'd be so normal and boring without them,' he added.
8. Vinny Ohh
Vinny Ohh from Los Angeles, California, US, wanted to be an extra-terrestrial sexless alien.
"I want to be a sexless alien being, I want my outside to reflect how I feel on the inside. The overall image I want to do is an alien. I want to be a hybrid, not male or female," said Vinny Ohh in a report filed by The Mirror.

"So far, I've had $50,000 in skincare and procedures including two rhinoplasties, facial fillers in my lips, cheeks and brow bone all to look extra-terrestrial," he added.
9. Valeria Lukyanova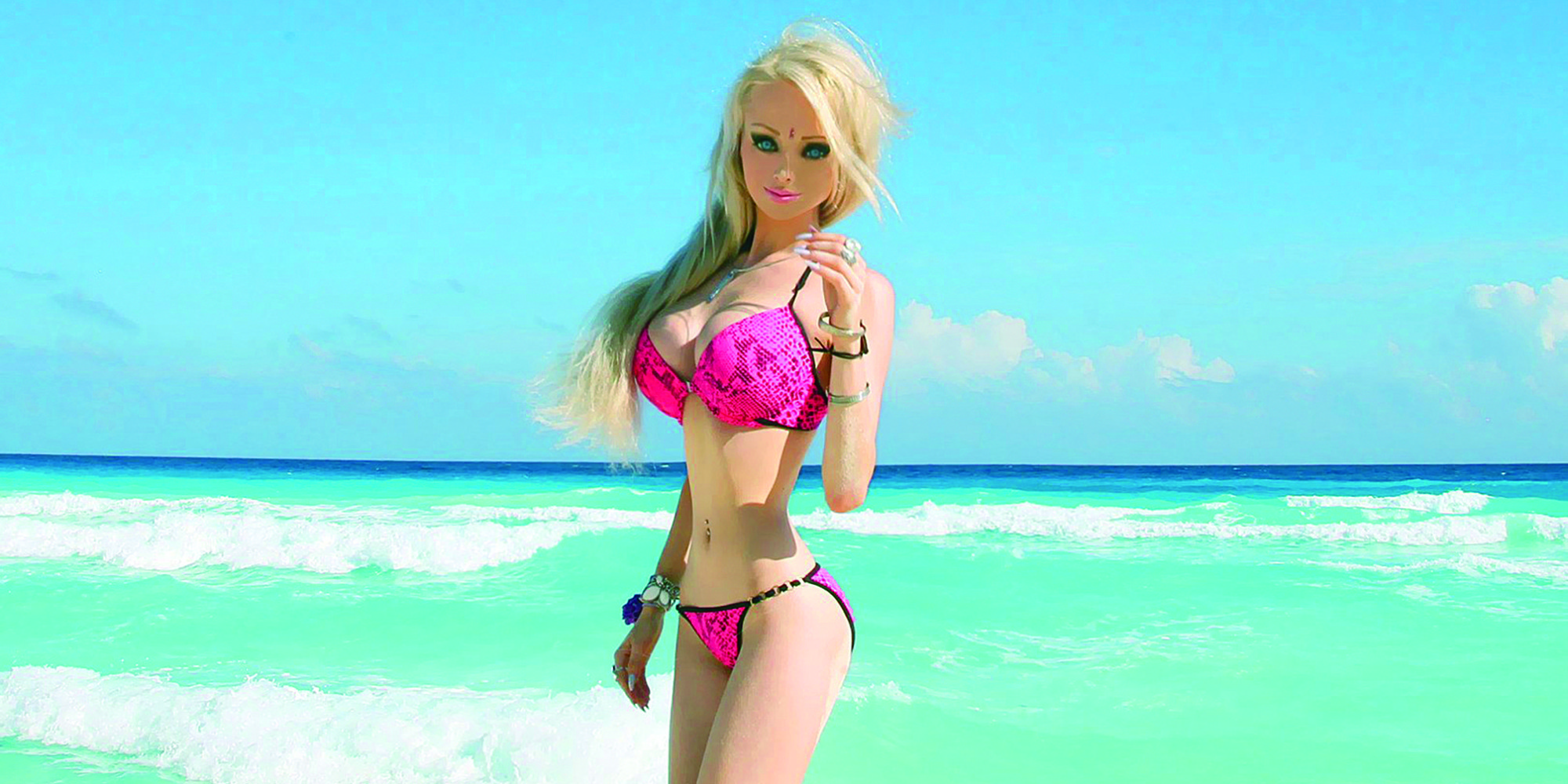 The Ukrainian model, Valeria Lukyanova, is known as the human Barbie. In one of her interviews, she said that as soon as she wakes up she applies makeup, which takes about an hour.
"In the future, if I require it for my body, then of course," TooFab reported her saying when she was asked about going under the knife again.

"I am not against surgery, but for now there is nothing I need to do," she added.
10. Nadya Suleman
Nadya Suleman always wanted to look like Angelina Jolie. According to a plastic surgeon, Angelina and Nadia's eyebrows and forehead are almost identical.
"I admire her. She saves children's lives,' she said in a report filed by Dailymail.

"I get that we both have a lot of kids, but I don't think I look anything like her," she added.
Don't Miss: 10 Celebrities Who Look Hotter Than Their Daughters