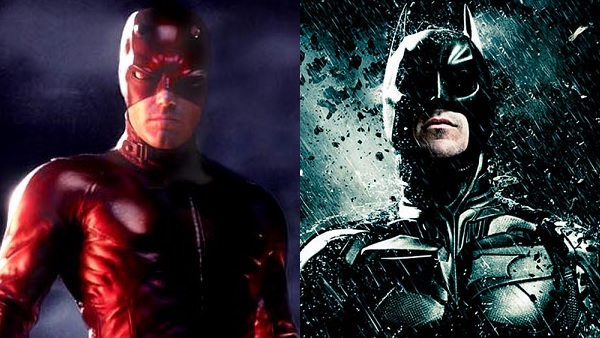 Ben Affleck is one of the few actors to have two major superheroes on his resume [Daredevil, Batman]. Like Ryan Reynolds and Chris Evans before him, it was his second try that finally brought him a success only a few have tasted. That being said, Affleck seems to have no regrets about his previous role as Daredevil for a very good reason.
In his interview with the New York Times, Affleck talked about how Daredevil  influenced  his decision to take on the role of Bruce Wayne/Batman:
"That's the movie [Batman V Superman: Dawn Of Justice] I want to do.I want to be a part of that.. Part of it was I wanted for once to get one of these movies and do it right – to do a good version. I hate Daredevil so much. It frustrated me."
Daredevil was a role which both Affleck and Daredevil fans would like to forget, given the bad execution of the hero's story. But Netflix's Daredevil was a great inspiration for the actor, especially when it came to the upcoming DCEU movie The Batman.
"The Netflix show does really cool stuff. I feel like that was there for us to do with that character [Daredevil], and we never kind of got it right. I wanted to do one of those movies and sort of get it right."
It should be pointed out that during the time of the first Daredevil movie, superhero movies were not the critical hits they are today. Many films, including the X-Men often went for the box office numbers than sticking to the source material. It took Christopher Nolan's Batman series to finally acknowledge how audiences were ready for a dark, grittier portrayal of superheroes while staying true to their sources. MCU has proved time and again that commercial and critical success is possible. Hopefully, Affleck will deliver a great story for the Batman canon that is unlike his previous Daredevil experience.