Thor Ragnarok is one of the most anticipating Marvel movies and its marketing campaign is really generating a lot of buzz in the superhero market. The main cast includes Chris Hemsworth (Thor, God of Thunder), Tom Hiddleston (Loki), Anthony Hopkins (Odin) and Idris Elba (Heimdall) who are set to reprise their roles.
Recently, the Marvel studio announced the ensemble cast for the upcoming superhero movie which has raised eyebrows across the board – it includes big names such as two-time Oscar award winner Cate Blanchett (Queen Elizabeth, Blue Jasmine, Carol etc) as the powerful new villain Hela (leader of Doomeo i.e Asgardian Hell); Jeff Goldblum (Independence Day, Jurassic Park) as the eccentric grandmaster who is an elder of the universe, he possessed the mind-gem until Thanos took it away from him; Tessa Thomson (Creed, Selma) as the classic hero Valkyrie who may play Thor's love interest; Karl Urban (Lord of the Rings: Return of the King, Star Trek trilogy) as Skurge who is a powerful warrior and an Avenger Mark Ruffalo (Avengers, Foxcatcher, Spotlight) as Bruce Banner/ Hulk. He will definitely be involved in gladiatorial games organized by the Grandmaster (Jeff Goldblum) which is part of the Planet Hulk storyline from the comics. In Marvel comics, the story is about how the Hulk crash-lands to a different planet ruled by a tyrant (Loki) who forces him to fight against powerful creatures of the realm.
But he is not the only Marvel superhero who is going to appear in Thor 3. A picture has been released which points to the possibility of Dr. Strange showing up in the movie. A few days ago Benedict Wong (playing Wong) tweeted that he wrapped up filming for Dr. Strange when it was over months ago. Apparently, they may be shooting scenes for Thor Ragnarok and it seems Thor will travel to Sanctum Santorum in Greenwich village, New York to learn more about Infinity stones. Also, there is a speculation that at some point in time Thor (God of Thunder) will need to find the "ultimate weapon" (which could be a reference to an Infinity gem/ gauntlet).  It is also possible that he needs to know how to travel through realms something which Dr. Strange has mastered through magic and mystical arts.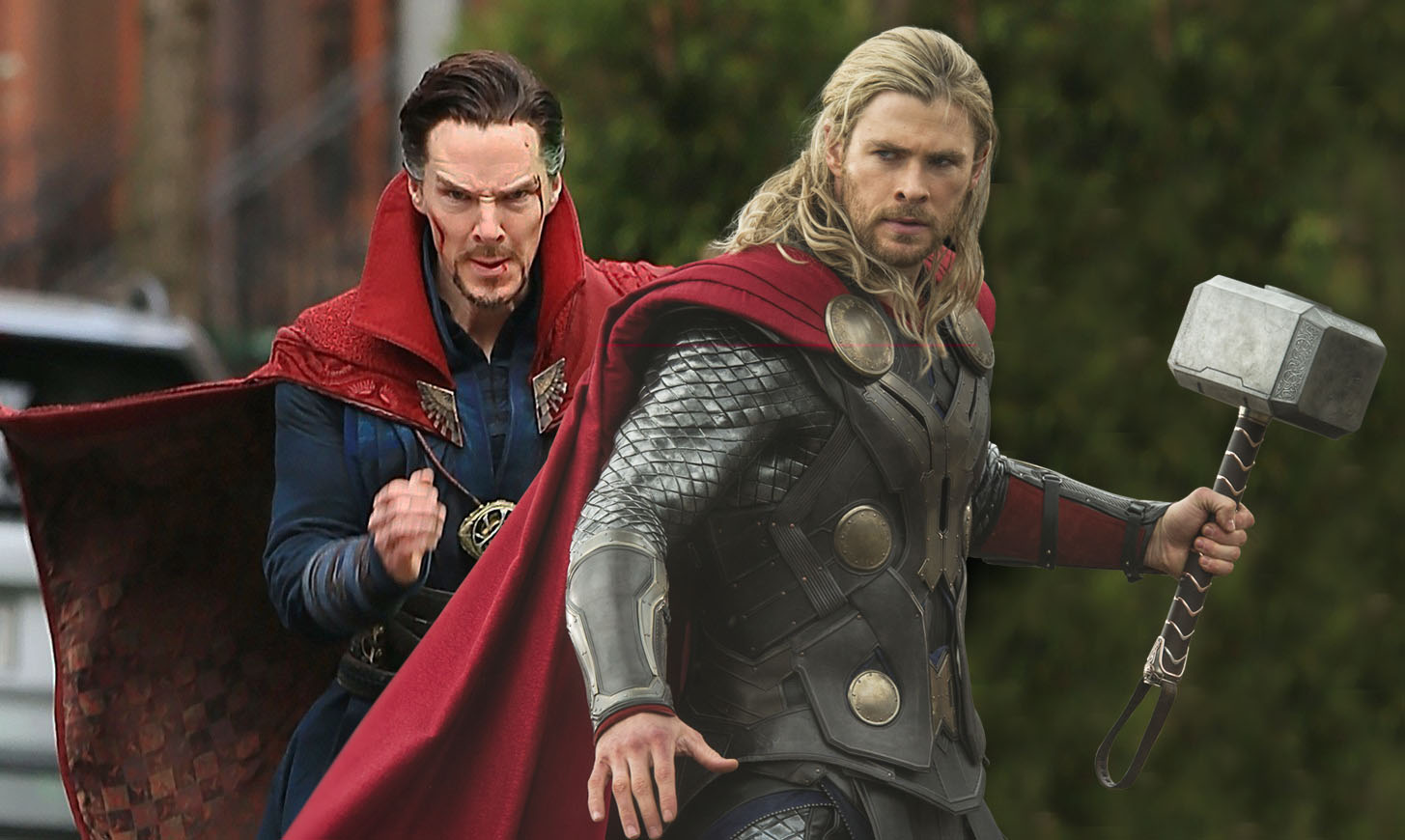 Thor Ragnarok is expected to hit the theatres on November 3, 2017.