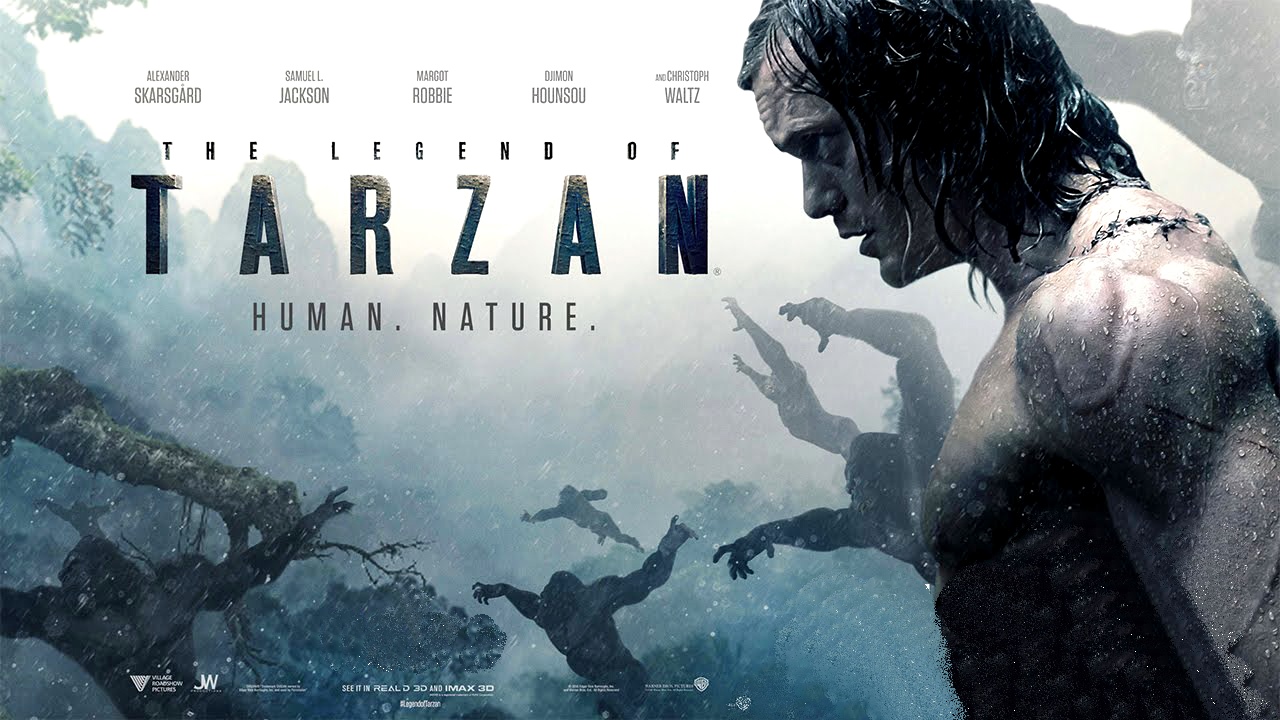 After the fun ride with Mowgli in The Jungle Book, it's time to travel to the jungle once again and this time it's with Tarzan. The fictional character of Tarzan was created by the legendary writer Edgar Rice Burroughs. David Yates, the director of the last four films of the Harry Potter film series is the director of the film. Alexander Skarsgard plays the role of Tarzan and other casts include Samuel L. Jackson, Margot Robbie, Djimon Hounsou and Christoph Waltz.
As we all know, Tarzan is an ape loving guy raised by the apes in the jungle. He is the King of the jungle and loves to swing around the vine trees. But it's all his past. Now he is John Clayton, a civilized English gentleman residing in London. He is married to Jane (Margot Robbie), an American woman. But, how long could he play the role of a gentleman? He is Tarzan guys. He is forced to go back to the jungle and it happens as planned by the venomous villain, Captain Leon Rom (Christoph Waltz). The African tribes are being enslaved by the Belgians under the instruction of their Captain Leon Rom and as expected, Tarzan will fight for his country and people.
Alexander Skarsgard succeeded in portraying the character of Tarzan to a certain extent and when it comes to the physical appearance or the physicality of Tarzan, he is just perfect. Christoph Waltz is an actor who always does wonders and in this movie, he once again recreates the magic. He has immense talent and potential in handling any type of characters, especially the negative ones. But the surprise factor in the movie is George Washington Williams, the character played by Samuel L. Jackson. We have Tarzan who swings around the vines, yells and controls the animals. But we can't find fun in any of these situations and at times we could see the movie getting more dramatic. There comes Samuel L. Jackson, who overpowers everyone with the 'fun factor'. His character has three main intentions. The first intention is to give a fun, the second to give more fun, and the third to give fun fest!
David Yates is a director who has given us some of the finest Harry Potter movies and no one can complain if anyone expects something great from this film too. But unfortunately, The Legend of Tarzan is not that great as expected. It's fine at parts and there are certain things which require special applause, especially the fight sequences and the CGI. Hardcore Tarzan fans would find the movie appealing in many ways. But for the neutral audience, it's just an average fare enjoyable at parts. Overall, it failed to entertain the audience who expected a fun ride like The Jungle Book.