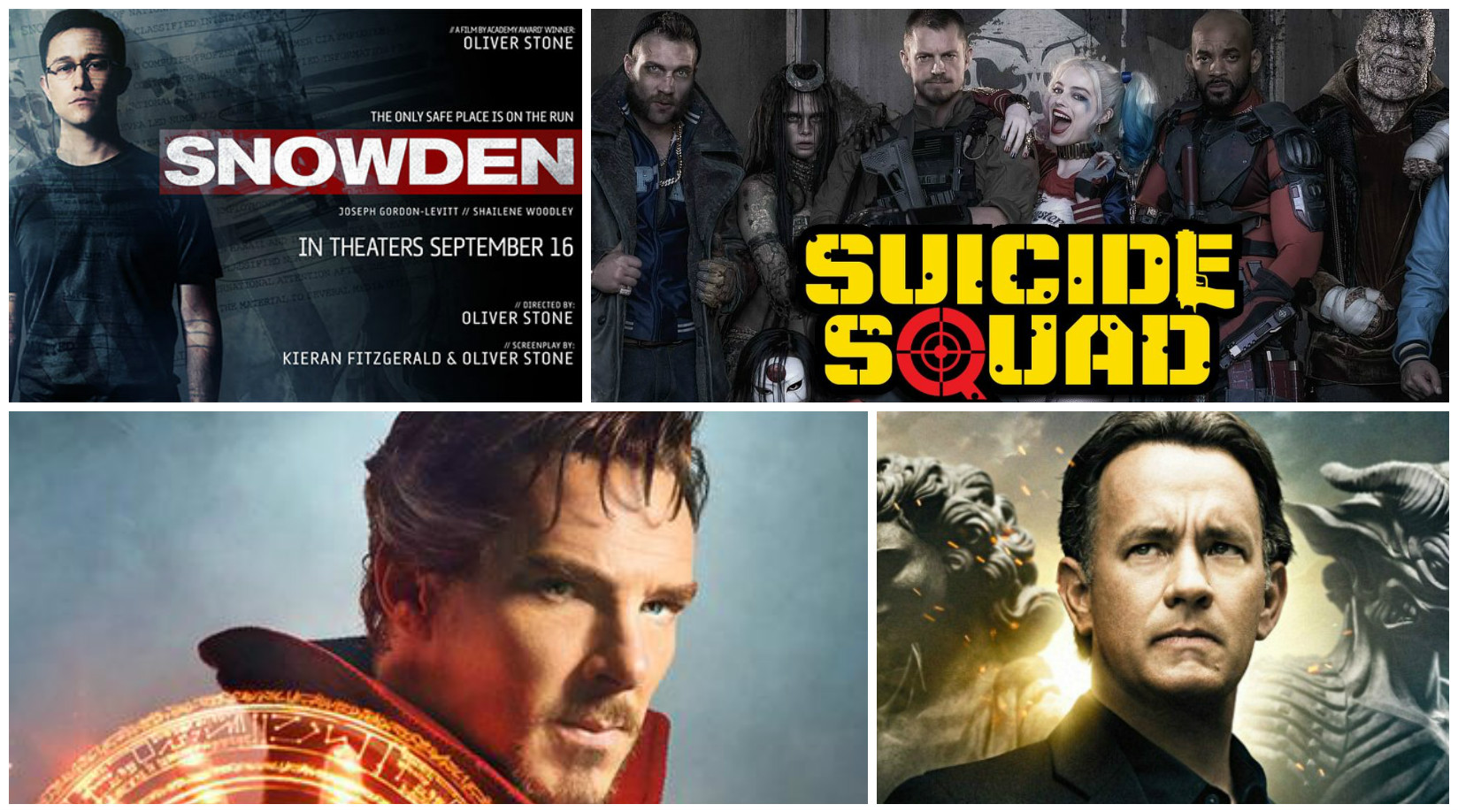 The excitement levels aren't dropping anytime soon as the second half of 2016 has some exciting Hollywood movies to offer. Here are some of these.
Doctor Strange
Doctor Strange is an upcoming American superhero film featuring the Marvel Comics character of the same name, produced by Marvel Studios and distributed by Walt Disney Studios Motion Pictures. It is intended to be the fourteenth film of the Marvel Cinematic Universe (MCU). The film is directed by Scott Derrickson, who wrote the screenplay with C. Robert Cargill from a story by the duo and Jon Spaihts, and stars Benedict Cumberbatch, Chiwetel Ejiofor, Rachel McAdams, Benedict Wong, Michael Stuhlbarg, Benjamin Bratt, Scott Adkins, Mads Mikkelsen and Tilda Swinton. In Doctor Strange, surgeon Stephen Strange learns from the Ancient One after a career-ending car accident.
Various incarnations of a Doctor Strange film have been in development since the mid-1980s until Paramount Pictures acquired the film rights in April 2005 on behalf of Marvel Studios. Thomas Dean Donnelly and Joshua Oppenheimer were brought on board in June 2010 to write a screenplay. In June 2014, Derrickson was hired to direct the film. Cumberbatch was chosen for the eponymous role in December 2014, and at the same time, Spaihts was confirmed to be rewriting the script, while Cargill joined Doctor Strange to work on the script with Derrickson. The film began principal photography in November 2015 in Nepal before moving to the United Kingdom and concluded in New York City in April 2016.
Doctor Strange is scheduled to be released in the United States on November 4, 2016, in 3D and IMAX 3D.
Inferno
Inferno is an upcoming 2016 American mystery thriller film directed by Ron Howard and written by David Koepp, based on 2013 novel of the same name by Dan Brown. The film is the sequel to The Da Vinci Code and Angels & Demons, and stars Tom Hanks, reprising his role as Robert Langdon, alongside Felicity Jones, Omar Sy, Sidse Babett Knudsen, Ben Foster, and Irrfan Khan.
Filming began on April 27, 2015, in Venice, Italy, and wrapped on July 21, 2015, in Budapest. The film is scheduled to be released on October 28, 2016, in 3D, 2D, and IMAX formats.
Snowden
Snowden is an upcoming American biographical political thriller film directed by Oliver Stone and written by Stone and Kieran Fitzgerald. The film is based on the books The Snowden Files by Luke Harding and Time of the Octopus by Anatoly Kucherena. The film stars an ensemble cast including Joseph Gordon-Levitt, Shailene Woodley, Melissa Leo, Zachary Quinto, Tom Wilkinson, Scott Eastwood, Logan Marshall-Green, Timothy Olyphant, Ben Schnetzer, LaKeith Lee Stanfield, Rhys Ifans, and Nicolas Cage. Filming began on February 16, 2015, in Munich, Germany.
Snowden had a screening at Comic-Con on July 21, 2016, and is scheduled to be released in North America on September 16, 2016, by Open Road Films.
Suicide Squad
Suicide Squad is an upcoming American superhero film based on the DC Comics antihero team of the same name, distributed by Warner Bros. Pictures. It is intended to be the third installment in the DC Extended Universe. The film is written and directed by David Ayer and stars an ensemble cast featuring Will Smith, Jared Leto, Margot Robbie, Joel Kinnaman, Viola Davis, Jai Courtney, Jay Hernandez, Adewale Akinnuoye-Agbaje, Ike Barinholtz, Scott Eastwood, and Cara Delevingne. In Suicide Squad, a secret government agency led by Amanda Waller recruits imprisoned supervillains to execute dangerous black ops missions in exchange for clemency and saving the world from a powerful threat.
By February 2009, a Suicide Squad film was in development at Warner Bros. Pictures. Ayer signed on to write and direct in September 2014 and by October the casting process had begun. Principal photography began on April 13, 2015, in Toronto, Ontario, Canada with additional filming in Chicago, Illinois, and ended in August that year.
Suicide Squad is scheduled to premiere in New York City on August 1, 2016, and be theatrically released on August 5, 2016, in 2D, 3D, and IMAX 3D.