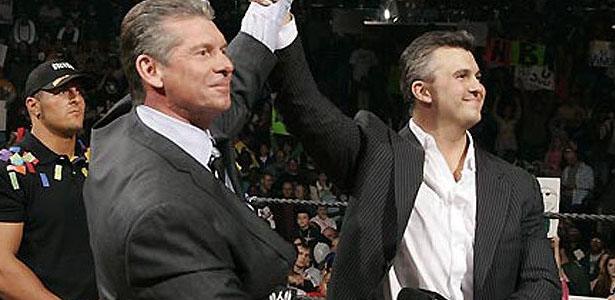 No matter how many times WWE wants to prove a feud between Shane McMahon and Vince McMahon, we all know that the show is scripted but relationships aren't. Family matters to everyone and so is the case with the McMahon's. Here are three instances in WWE which concludes the love between the father-son duos.
Shane started his career as a commentator in the special segment 'Heat'. Big daddy had planned for a dream debut of the son, but all that Shane could manage was SHOUT. He was wooden on the microphone and lacked the charm. He made an awful commentator. Vince rightfully took his son out of the commentator's seat and much like any dad, buried this incident. The WWE never mentioned this side of Shane. No father wants his son's failure to be in focus, and so Vince with all his power disappeared 'Shane the commentator' from WWE archive.
Back in 2006 Shawn Michaels and Vince McMahon were having a stiff time with each other. Shawn left no chance to beat the hell out of Vine. But on each occasion, Shane showed up and saved his father. In the later days both the McMahon's formed an alliance to beat up Michaels. From street fight to super grudge match they fought everywhere. The chemistry between the McMahon boys was evident on each occasion.
In Early 2009 Randy Orton turned his heels against the authority, especially against Stephanie. Randy alongside Legacy (Cody Rhodes and Ted DiBiase) rebelled against the authority. Vince decided to fire Randy and hence confronted him. But Randy viciously attacked him and left him badly injured. On the next episode of RAW McMahon, the daughter was confronted by Randy and he literally forced her to fire him. However Stephanie left it to her brother and Shane took the charge. He confronted the Legacy and Randy and single-handedly avenged the assault on his father.