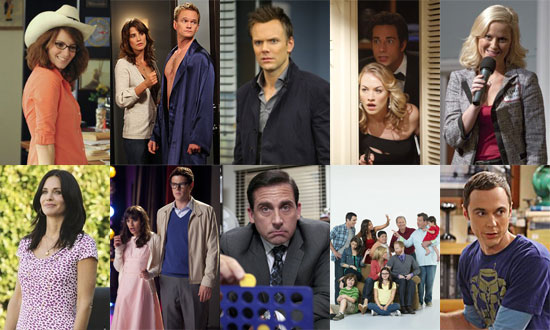 You may have a list of comedies that you would have watched. You may also think that you have the most awesome comedy collection. But let me stop you there. You can only say that only when you have watched the following:
F.R.I.E.N.D.S:
This classic 90's show is the best comedy series that you can ever come across. You may have a different choice, but once you start watching this, your opinion is bound to change. This series was nominated for 62 Primetime Emmy Awards and won the Outstanding Comedy Series in 2002 for its 8th season. If there is one phrase that describes the show very well it is "You will die laughing!" And if you are still not convinced this was ranked no. 7 on Empire Magazine's The 50 Greatest TV Shows of All Time.
How I Met Your Mother:
This is a sitcom and revolves around the life of 5 friends. The entire series is narrated by one of the 5 friends to his children. He tells them the tale of how he met their mother. This show has ROFL sort of humor. And in addition this show was nominated for 28 Emmy Awards and won 9 of the awards. In 2012, this show also won the People's Choice Award for Favorite Network TV Comedy. And in addition to this I'm sure you would have heard of Neil Patrick Harrison. It's a legen-wait for it- dary series.
The Big Bang Theory:
The Big Bang Theory is one of the best comedy shows you can ever see. It revolves mainly around the lives of 5 close friends whose circle later on expands to become 7. The story of 4 nerdy and geeky boys and one hot blonde girl who is trying to become an actress. Apart from the super cool star wars and star trek references all through the series, the show has been nominated for 39 Primetime Emmy Awards. Jim Parsons won an Emmy Award for the Outstanding Lead Actor in a Comedy Series and also a couple of other Awards. This show has won 7 Emmy Awards in total. In 2010 this show also won the People's Choice Award for the Favorite TV Comedy.
Family Guy:
It's an animated series centers on Peter griffin who is trying to provide for his family consisting of wife, two teenagers, a smart dog and a baby, despite his good intentions he makes huge mistakes. It is created by Seth McFarlane for FOX, it is ranked ninth greatest TV cartoon of all time by TV Guide. You should definitely check it out.