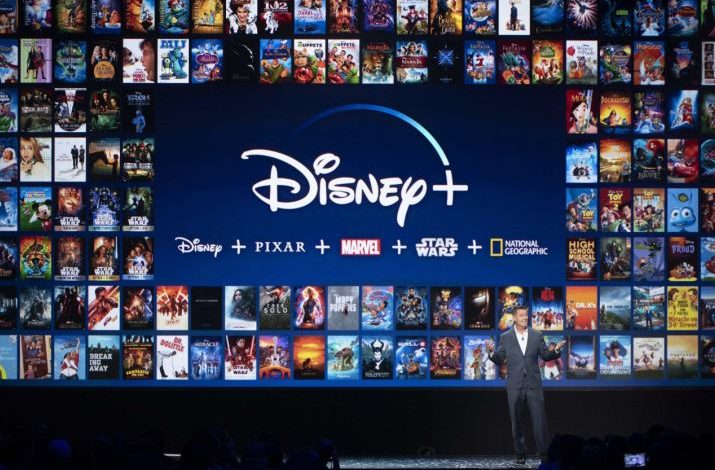 On Thursday, the world witnessed Disney's Investor Day event and it was clearly a massive load of information breaking down into new series, movies, cast reveals, and basically whatnot. The event went on for hours because they had a list that was big enough to cover the very floor. The event saw a special emphasis on the streaming service, Disney+ and had some serious updates on Disney's catalog, and ended up pleasing every niche.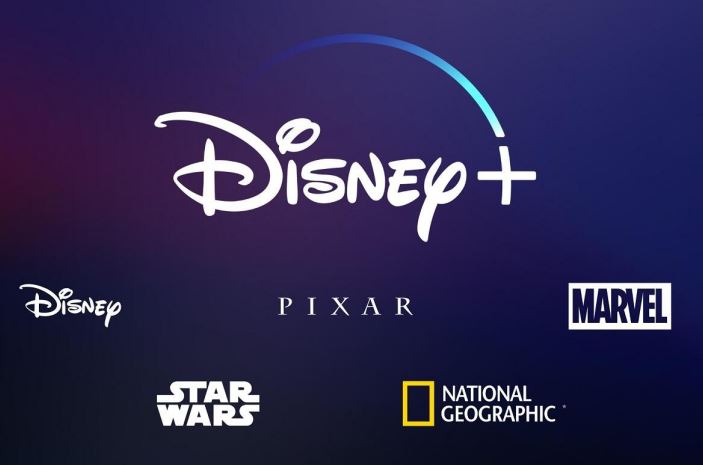 Talking about updated, we don't think that anything was left aside. From little details such as an increase in pricing of only 1$ for Disney+ applicable in The United States from next spring, we got the announcement for Star and Star+ for the international market. Apart from that, we got updates from movies to television series, across Hulu, FX on Hulu, Disney+, National Geographic, Lucasfilm, Disney Animation, Pixar, and yes, Marvel Studios, we got final confirmations on same major cast reveals such as Bale playing Gorr the God Butcher in Thor: Love and Thunder, and Patty Jenkins upcoming Star Wards film, Star Wars: Rogue Squadron. 
Below, we have every detail in order as announced, summed up in a nutshell for our views to read as there was a lot of information on the event to digest in its raw sense. 
DISNEY ANIMATION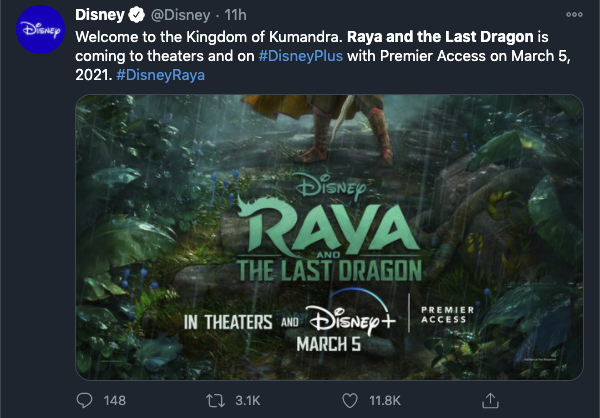 Raya and the Last Dragon Simultaneous theatrical and Disney+ release. Disney has announced that Raya and the Last Dragon will be available in theatres and on Disney+ Premiere Access on March 5, 2021.
Along with this, Baymax!, Zootopia +, Tiana, and Moana were also announced. The latter will appear as a series in 2023, and the rest in 2022.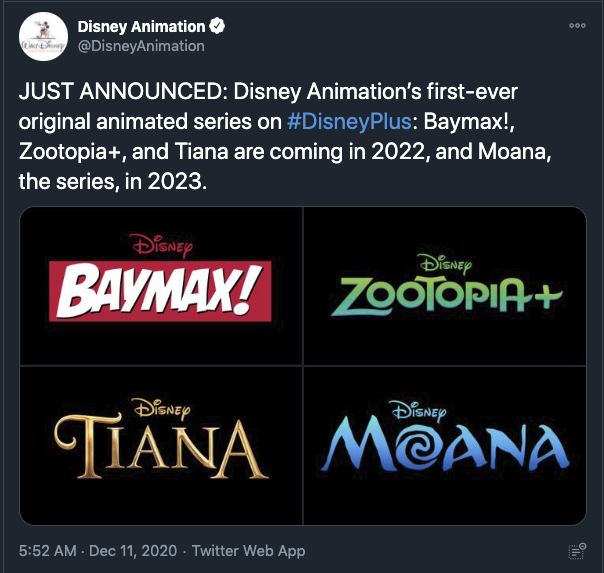 For the first time, Disney is collaborating with Kugali, a Pan-African entertainment company, for Iwájú.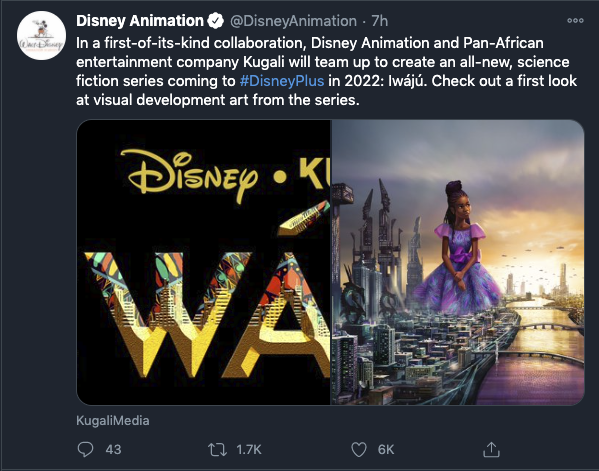 This fall, we will also get to see an all-new film called Encanto.
This Fall, Walt Disney Animation Studios' all-new film Encanto takes you to Colombia, where a magical family live in a magical home. Directed by Byron Howard and Jared Bush, co-directed and co-written by Charise Castro Smith, and music written by Lin-Manuel Miranda. pic.twitter.com/bdxag3SzPv

— Disney Animation (@DisneyAnimation) December 11, 2020
HULU AND FX ON HULU
A retelling of James Clavell's saga Shōgun.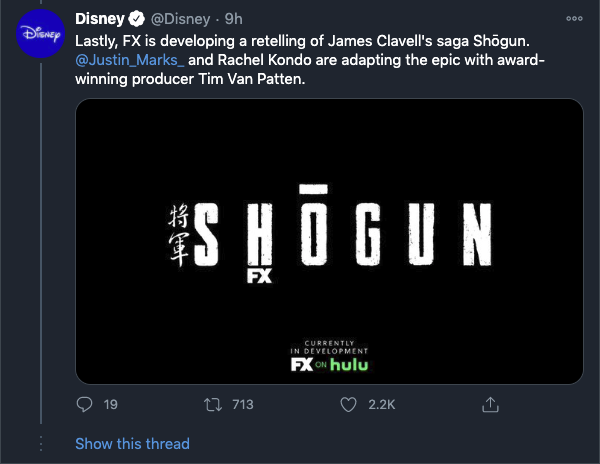 Alien is currently in development at FX Networks and is the first TV series based on the classic film series.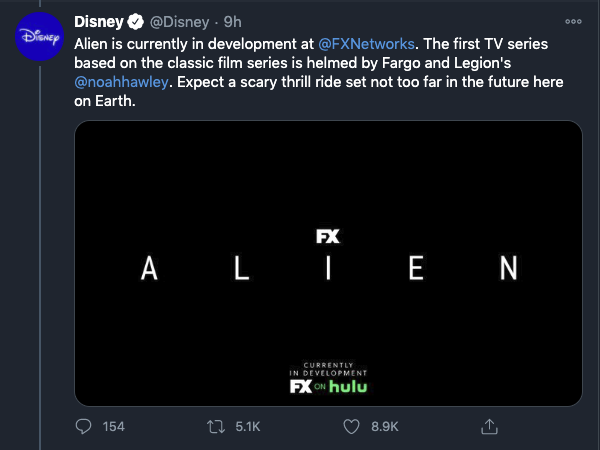 Y: The Last Man is a drama series based on the acclaimed comic book series of the same name written by Brian K. Vaughan and Pia Guerra.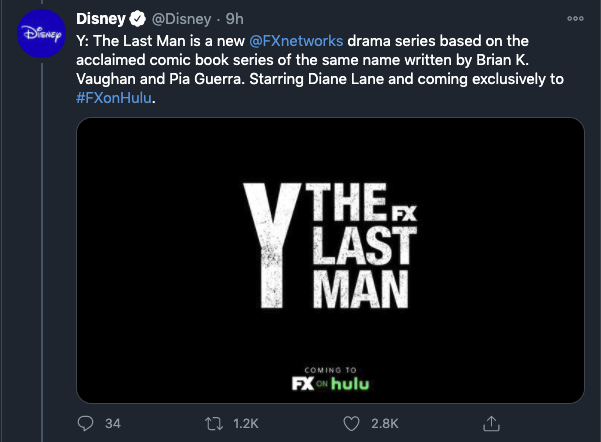 Reservation Dogs is a new half-hour comedy series about four Native American teenagers growing up on a reservation in eastern Oklahoma.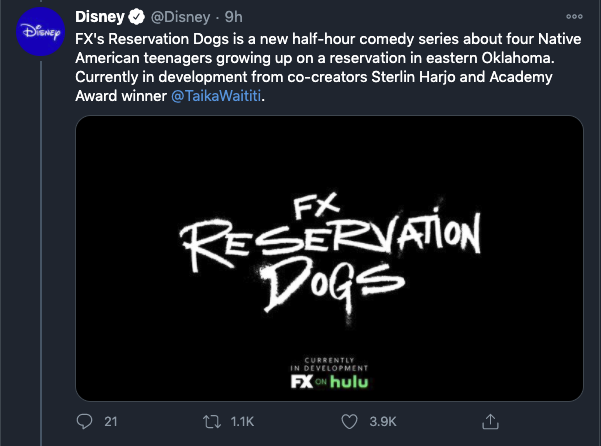 An innovative scripted anthology from BJ Novak, called Platform.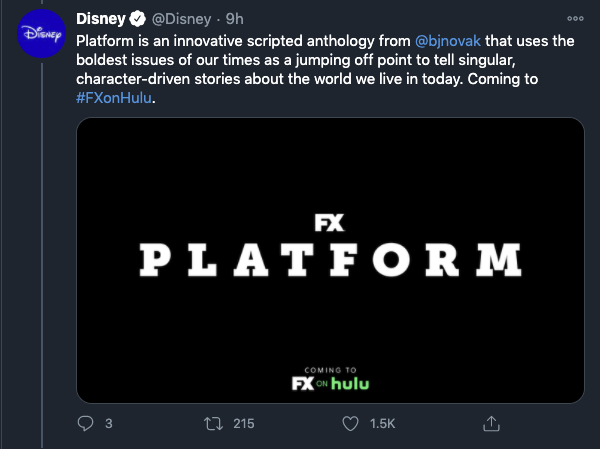 Ryan Murphy brings us American Horror stories.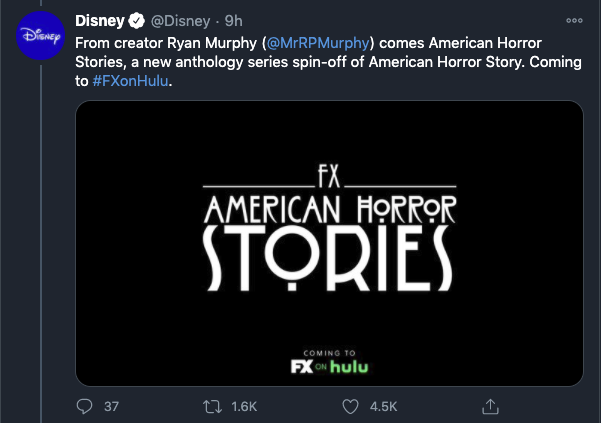 Academy Award and Golden Globe award-winner Jeff Bridges is a former CIA operative, in The Old Man.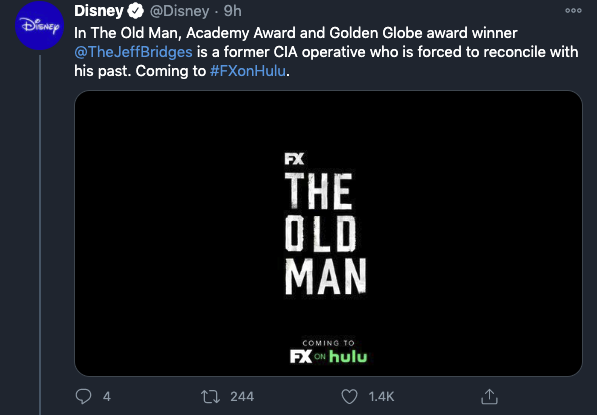 The Handmaid's Tale is coming back for its 4th season, and also renewed for Season 5!
✨The cast has a special message for you ✨
Season 4 returns in 2021 …oh and praise be, we've also been renewed for Season 5! #HandmaidsTale pic.twitter.com/B8GauXz5yf

— The Handmaid's Tale (@HandmaidsOnHulu) December 10, 2020
New seasons of Atlanta, American Horror Story, Dave, What We Do in the Shadows, Mayans, Better Things, Snowfall, and Archer are all coming to FX.
Nine Perfect Strangers, a thrilling new series to come on Hulu.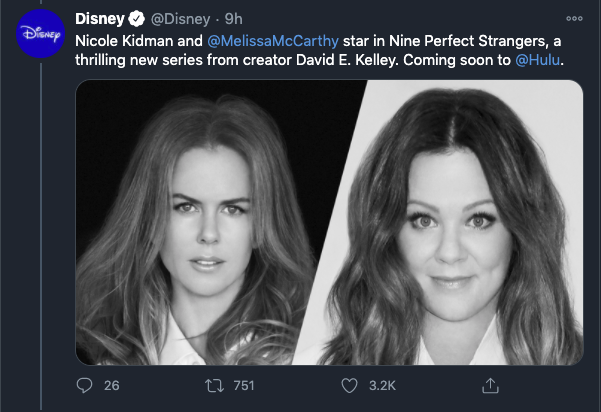 Dopesick, a harrowing new drama series is inspired by true events. Coming to Hulu and Star.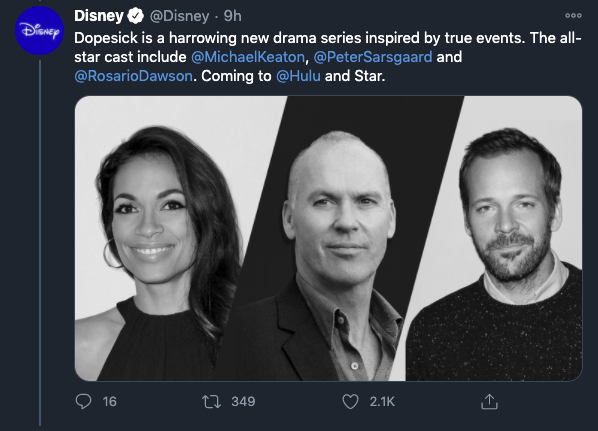 The Dropout will the story of a con artist. Coming to Hulu and Star.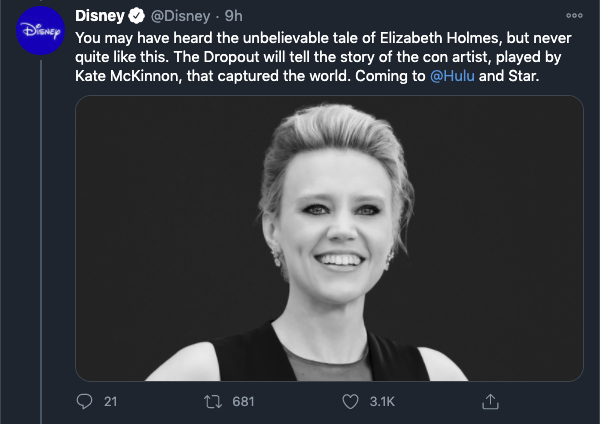 New series called Only Murders in the Building will also feature Selena Gomez, and is coming to Hulu and Star.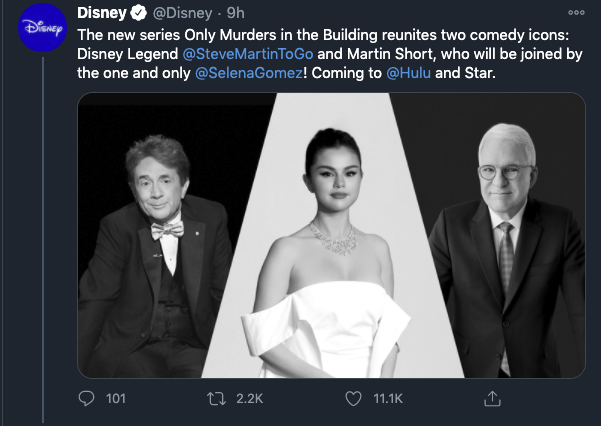 NATIONAL GEOGRAPHIC
First is the feature documentary of Cousteau, coming to Disney+.
The fourth installment of Genius will premiere on Disney+.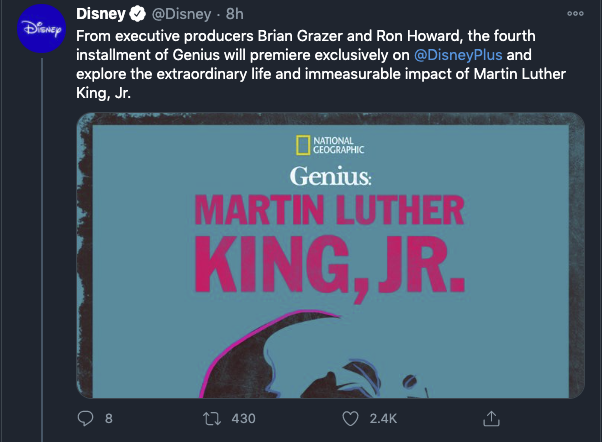 The secret of the Whales is narrated by Sigourney Weaver, coming to Disney+.
A Real Bug's Life is an adventure into a world beyond our imagination, coming to Disney+.
America The beautiful is the ambitious story of North America, coming to Disney+.
Limitless with Chris Hemsworth is one-part science and one-part adventure, coming to Disney+.
Welcome to Earth (working title) with Will Smith, coming to Disney+.
Disney has revealed the plan for the next few years fo all their fans: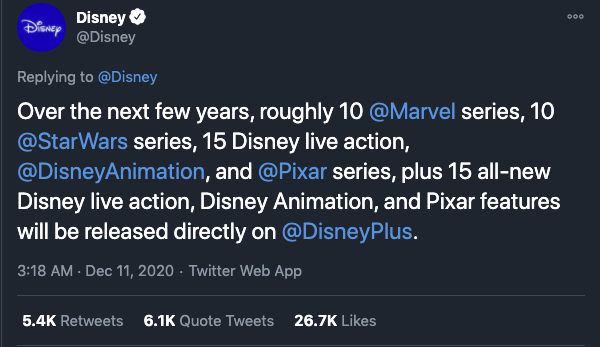 PIXAR
Disney and Pixar's Soul will be streaming this Christmas on Disney+.
Life is full of possibilities, you just have to know where to look. Watch the new trailer for Disney and Pixar's Soul, streaming this Christmas only on #DisneyPlus. #PixarSoul pic.twitter.com/5cySoDAbSZ

— Pixar (@Pixar) October 15, 2020
Lightyear will release on June 17, 2022, in theatres, so get ready to go to "infinity and beyond".
https://twitter.com/Pixar/status/1337195228797661184
Turning Red will hit theatres on March 11, 2022.
The first five episodes of the docu-series Inside Pixar are now streaming on Disney+ with more episodes in the coming months.
Popcorn, a collection of mini shorts starring favorite Pixar characters coming in January 2021.
Dug Days, an Up spin-off series following the adventures of Dug the dog.
A new series following Cars favorites Lightning McQueen and Mater coming in Fall 2022.
Pixar's first original long-form animated series, Win or Lose, coming in fall 2023.
Pixar also announced its next feature film, Luca, heading to theaters in June 2021.
STAR WARS                      
A new spinoff is being developed from the Mandalorian, titled "Rangers of the New Republic."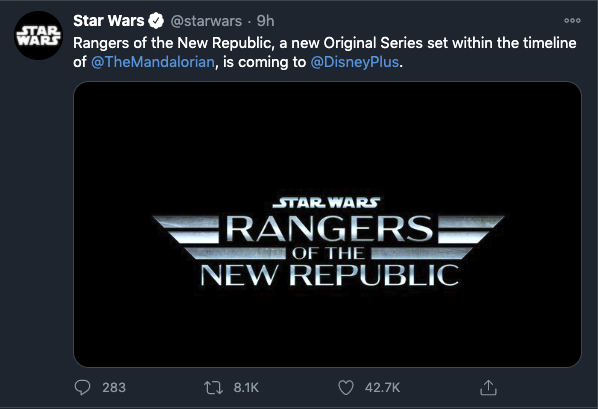 Ahsoka Tano is getting her own series, Lucasfilm head Kathleen Kennedy revealed Rosario Dawson's take on the character.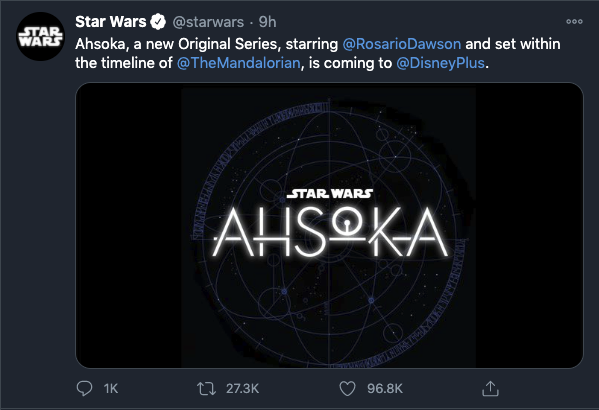 Andor, an original series set in the Star War universe is streaming in 2022.
"Everything I did, I did for the Rebellion." Andor, an Original Series set in the Star Wars universe, is streaming in 2022 on #DisneyPlus. pic.twitter.com/q2IT2qzEeR

— Star Wars (@starwars) December 10, 2020
Hayden Christensen returns as Darth Vader in Obi-Wan-Kenobi.
Hayden Christensen returns as Darth Vader, joining Ewan McGregor in OBI-WAN KENOBI. The Original Series begins 10 years after the dramatic events of Revenge of the Sith, and is coming to #DisneyPlus. pic.twitter.com/9WR2npRUkk

— Star Wars (@starwars) December 10, 2020
Star Wars: The Bad Batch is an all-animated original series from Lucasfilm Animation.
A sneak peek at Star Wars: The Bad Batch, an all-new animated Original Series from Lucasfilm Animation, coming soon to #DisneyPlus pic.twitter.com/V0jQc4XNIe

— Star Wars (@starwars) December 10, 2020
Star Wars: Vision, original series of animated short films.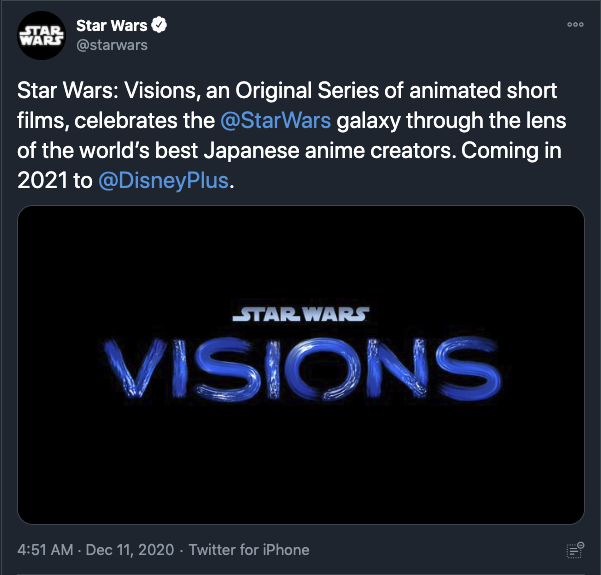 Willow, an original series from Lucasfilms starring Warwick Davis is coming in 2022.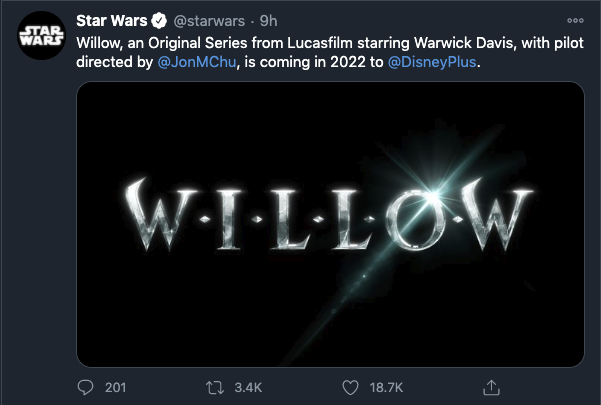 Star Wars: Rogue Squadron movie from Patty Jenkins coming December 2023.
— Patty Jenkins (@PattyJenks) December 10, 2020
DISNEY+
Some new Disney+ projects were announced during the presentation on Thursday.
The Mighty Ducks: Game Changers starring Emilio Estevez and Lauren Graham.
Turner & Hooch starring Josh Peck.
Big Shot starring John Stamos, Yvette Nicole Brown, and Jessalyn Gilsig.
The Mysterious Benedict Society starring Tony Hale and Kristen Schaal.
Hocus Pocus sequel is on the way, titles Hocus Pocus 2, with Adam Shankman set to direct.
A "modern take on the hilarious '80s comedy" Three Men and a Baby. The film will star Zac Efron and is slated for the 2022 release.
Safety, a film inspired by the story of former Clemson University football safety Ray McELrathBey debuts on Disney+ December 11th.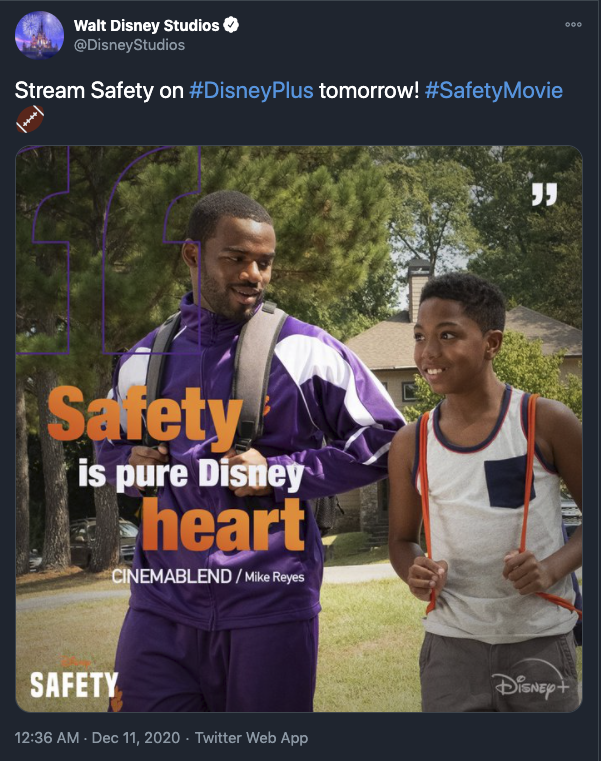 Three new original movies inspired by the real-life stories of Chris Paul, Giannis Antetokounmpo and Keanon Lowe.
Flora and Ulysses, a film that will see a cynical young comic book fan and her superpowered squirrel sidekick team-up will debut on February 19, 2021.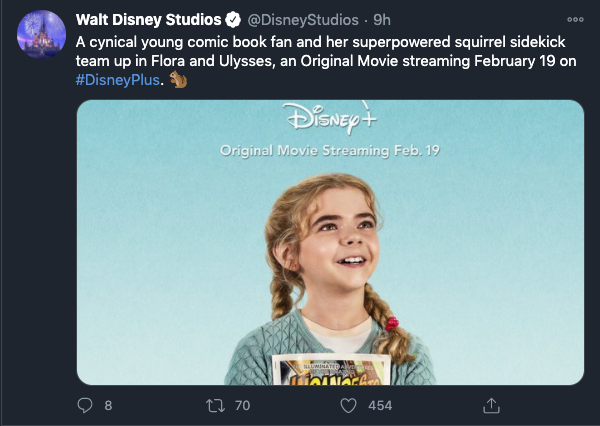 Cheaper by the Dozen from Blackish producer Kenya Barris and starring Gabrielle Union will debut in 2022.
The Diary of a Wimpy Kid franchise is getting an all-new animated film in 2021.
The next installment of 20th Century Studios' Ice Age franchise, The Ice Age Adventures of Buck Wild coming in 2022.
An animated Night at the Museum coming in 2021.
Disney's The Little Mermaid will star Halle Bailey, etc.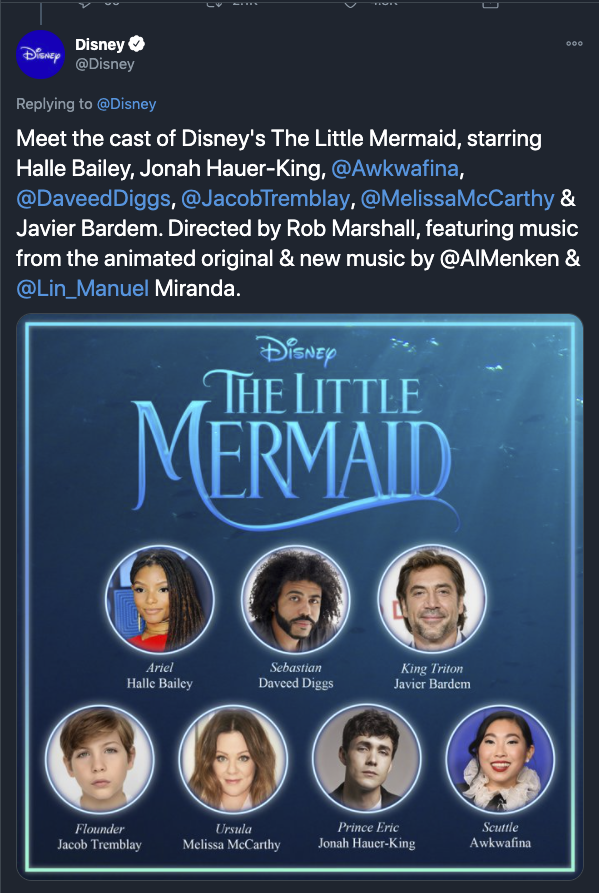 Peter Pan & Wendy is set to return.
https://twitter.com/DisneyStudios/status/1337186680869060608
Among the many announcements were a fair share of live-action remakes of iconic Disney classics, including a long-rumored live-action/animation hybrid of Chip 'N Dale: Rescue Rangers, which is set to be released on Disney+ in Spring of 2022. 
Pinnochio is also set to return.
One of Disney's all-time classics is coming to #DisneyPlus with the new live-action retelling of Pinocchio, starring Tom Hanks and directed by Robert Zemeckis. ✨ pic.twitter.com/44bHbFRhMe

— Walt Disney Studios (@DisneyStudios) December 11, 2020
Also announced for Disney+ was Disenchanted, a sequel to the film Enchanted.  It was confirmed that Amy Adams, who starred in the original film as the protagonist Giselle, will be back for the new film. Development for the film initially started back in 2010.
So much in such little time, feast your eyes, and stay prepared for everything that is on the way!