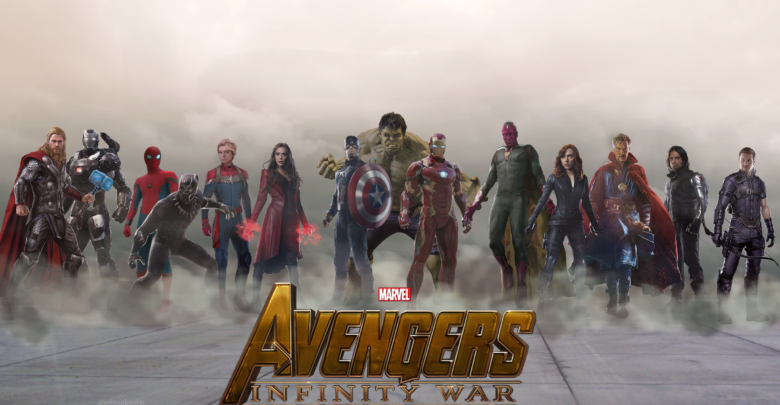 Thor Ragnarok has just hit theatres and the critics have heaped massive praise on Taika Waititi direction style and the fun elements introduced by him in the movie. The first reactions from the audience are very positive and everything from visual effects to storytelling is just impeccable. The movie is sitting on 96% on Rotten Tomatoes at present.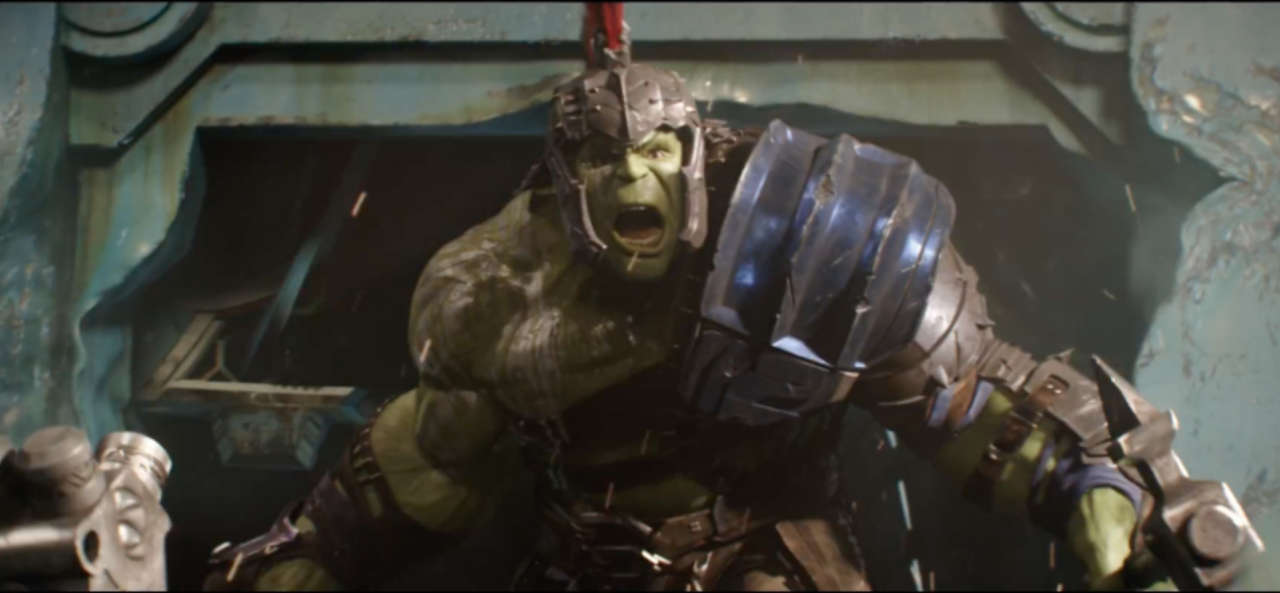 In addition to Hulk and Dr. Strange, there is a cameo of Black Widow at a critical moment in the movie. Apparently, there is a reunion of sorts of Black Widow and The Hulk who were last seen in the Age of Ultron, where Black Widow would sing "lullaby" to Hulk to calm him down and bring back Bruce Banner. After defeating Ultron, Hulk took off in Quinjet in search of solitude, and we were told that S.H.I.E.L.D lost signal and he was last seen flying over the Caspian Sea. He landed on Planet Sakaar and became a gladiator who fights in the arena, as a result his identity as Bruce Banner was lost for a considerable amount of time.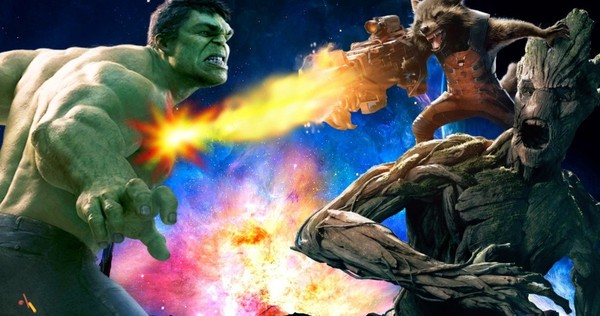 According to Mark Ruffalo, the fact that the green guy has spent so much time on another planet, he will be able to relate to Guardians of the Galaxy better. It will lead to unlikely friendships and unusual interactions. Guess what, there will be a team-up of Hulk and Rocket Raccoon in Avengers Infinity War. Here's what he said:
"All of the universes coming together is just a sight gag within itself…It's a very funny relationship that the two of them have: First of all, it's the biggest superhero and the smallest. Just keeping them in a frame together is a feat and hilarious in itself."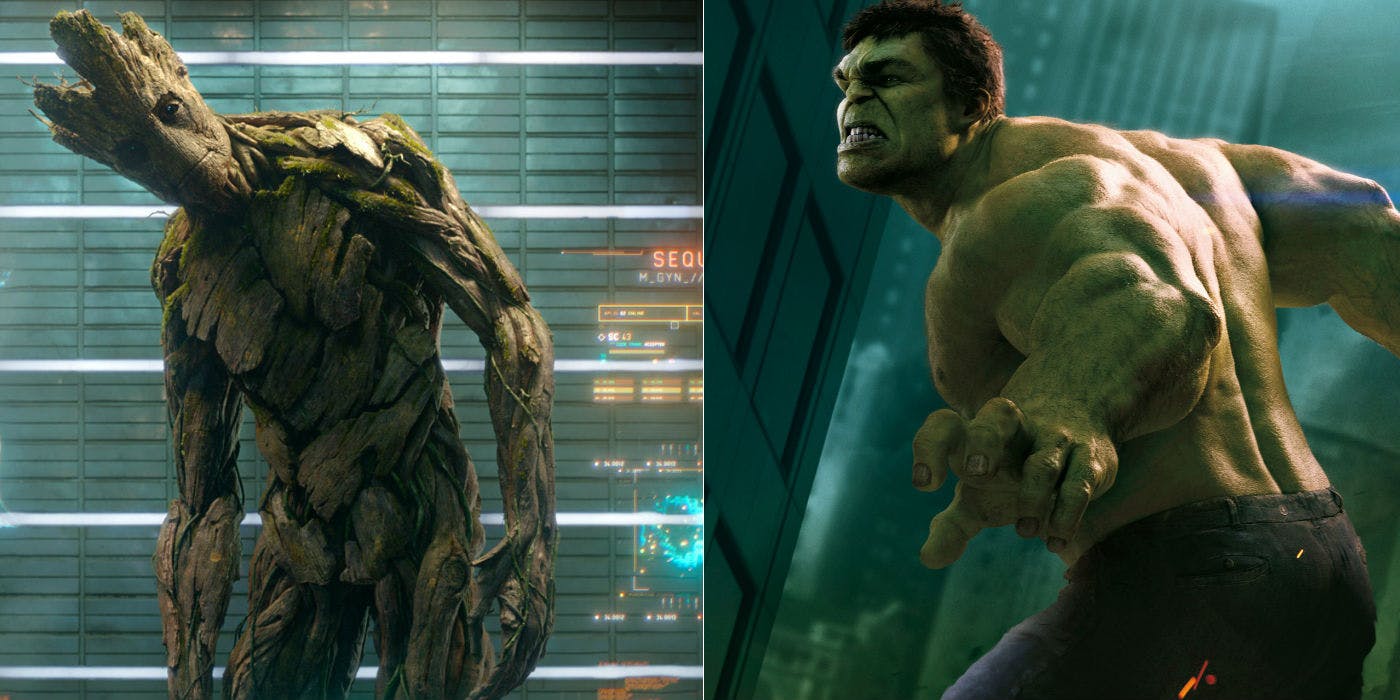 Previously, while talking to an entertainment website Screenrant, Vin Diesel said that he would most like to see Groot having a conversation with Hulk in the Avengers Infinity War. His full statement from the interview at the time of GOTG Vol. II:
"I'm excited about Baby Groot; he's just too fun. And in Infinity War, I have to talk to the Russo brothers and find out how this is all gonna go down. I know somewhere in the Marvel universe there is a moment when you will see Groot and Hulk have a few words."
He added –
"I think there's gonna be a moment that we're all waiting for, and whether you know it or not, you are waiting to see Groot and the Hulk get down".
He may have said in jest, but the beauty of MCU is that nothing is impossible. But now it's very unlikely to happen, but it will be quite a scene should it ever happen. One of the biggest crossovers that the audience is dying to see is between Avengers and Guardians of the Galaxy in the Infinity War to take down the mad Titan.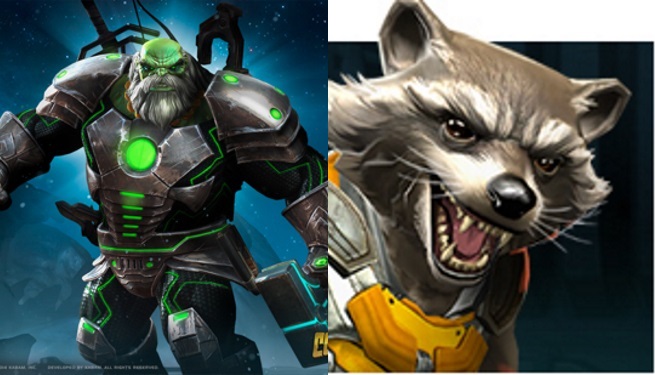 But Rocket and Hulk camaraderie could trigger jealousy in Groot. It's been teased that he may get his solo movie which is why he is no longer hanging out with Rocket, this could only separate them further. Vin Diesel had this to say:
"I know that somewhere in the universe, you are going to see Groot and Hulk battle. You can write it somewhere, you are going to see that poster: Hulk Vs Groot!"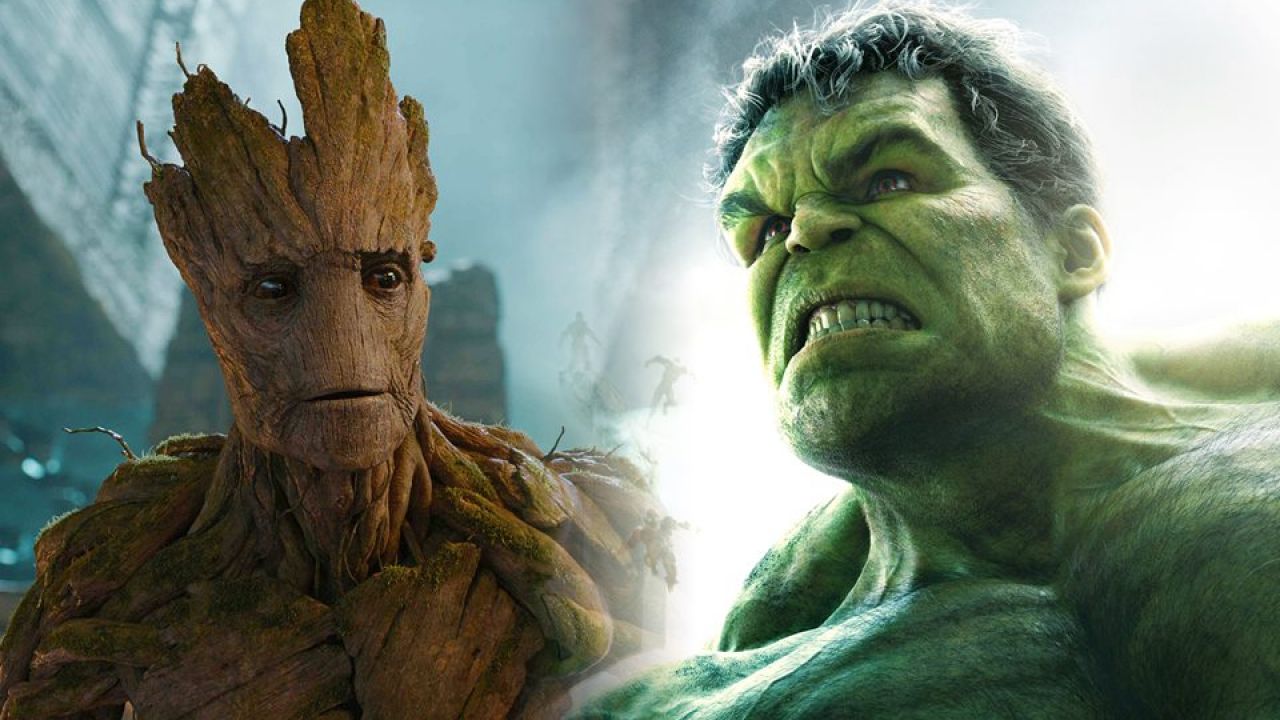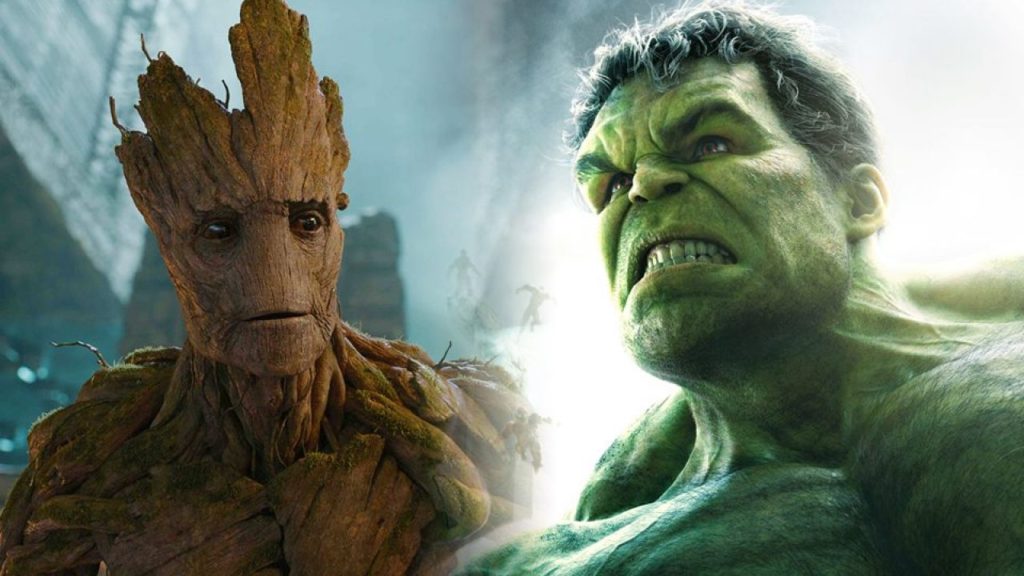 Hulk and Rocket could not be more different in terms of character traits and physicality which makes for an interesting character development. Mark Ruffalo said:
"We're consciously heading in a direction where this separation that you're seeing right now is going to be dealt with and explored".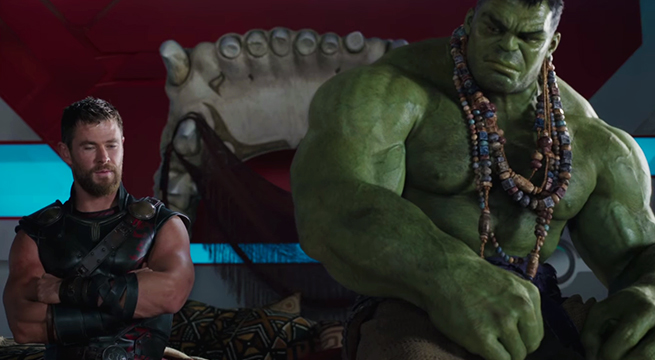 He added that his relationship with Thor is also a lot of fun in Ragnarok. He said:
"There's an oddball quality to it, Hulk's largeness and simplicity of thinking and Thor's otherworldly, god-like naivete. And Banner and Thor together: The least superhero of them all with the most superhero of them all. It's so silly and goofy and fantastic, of course you're going to have high jinks."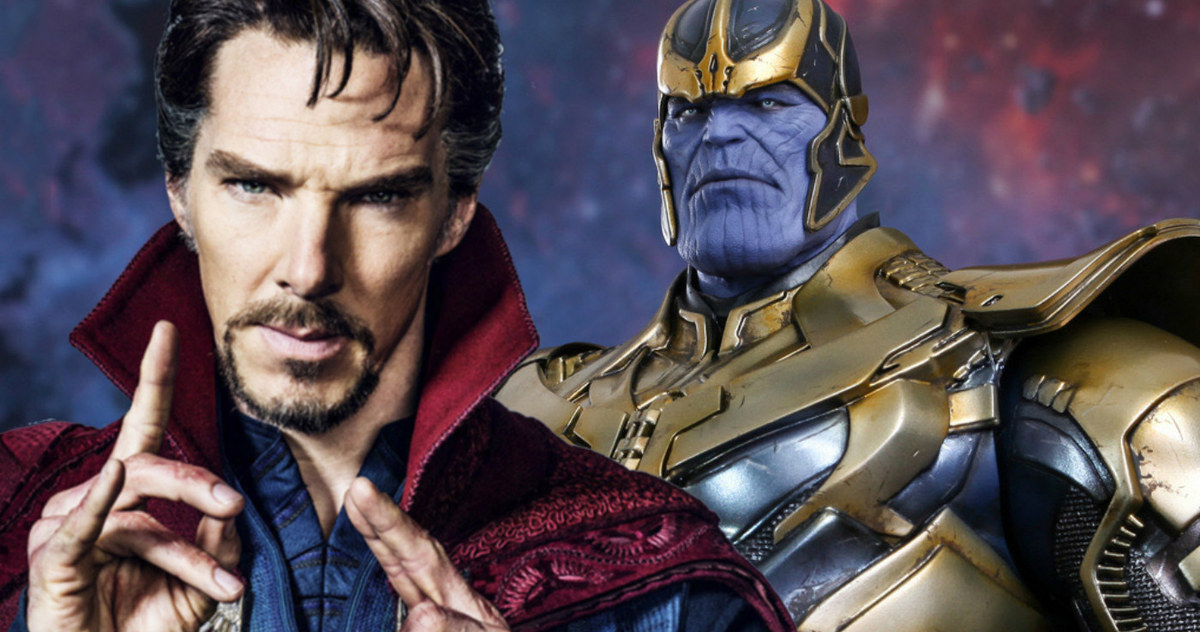 The hype around Avengers Infinity War is real and is building up rapidly with new stuff coming out almost every week. Benedict Cumberbatch has appeared in plenty of set photos that came out recently. A new video has come out on the internet which shows Dr. Strange fighting unseen forces, summoning his magical abilities, blocking an attack forming an X with his hands. This powerful invisible force pushed his arms down and brought him to his knees. It is very much possible that he is fighting the Mad Titan himself. The reason for this attack could be the retrieval of "Time stone" a.k.a Eye of Agamotto.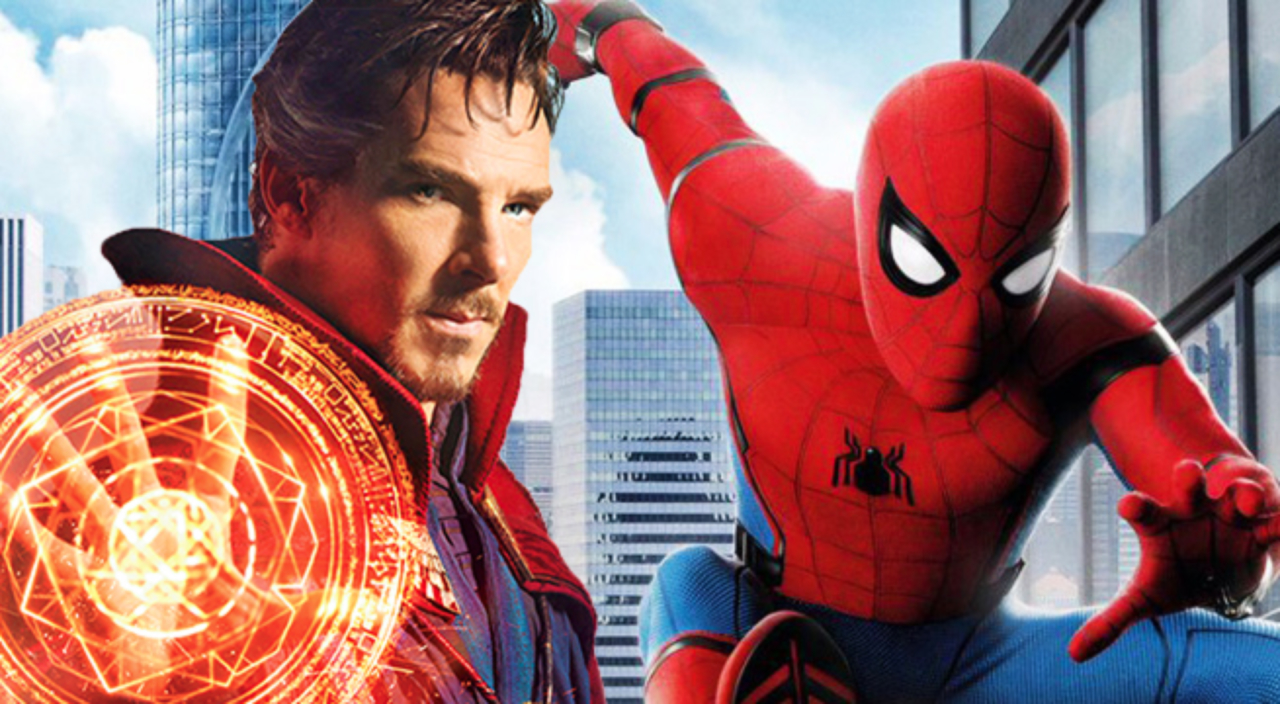 In another batch of set photos of Avengers Infinity War, an unusual pair is found next to each other on the streets of New York – the Sorcerer Supreme Dr. Strange and web-slinger Spiderman. They both live in New York City and will pair up against Josh Brolin's Thanos. On being asked about the relationship between Peter Parker and Stephen Strange, Tom Holland said "We're good friends. We're the Londoners and the New Yorkers." Joe Russo, the Co-director had this to say: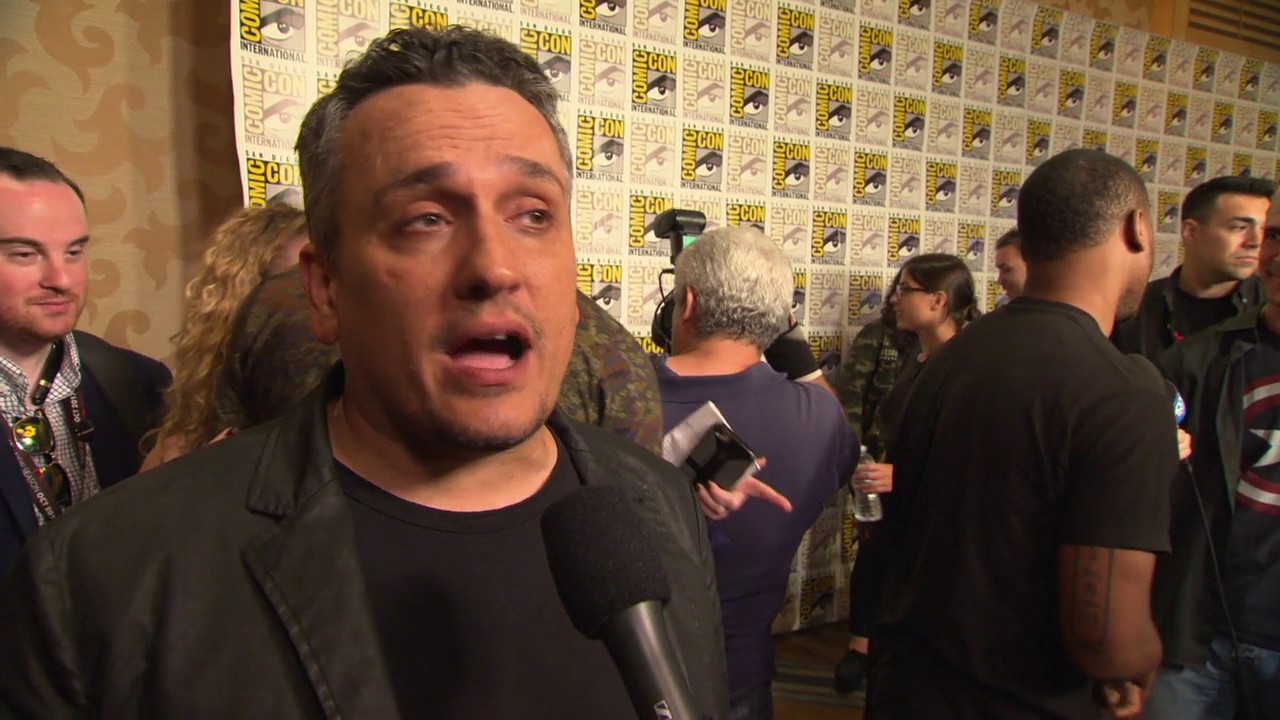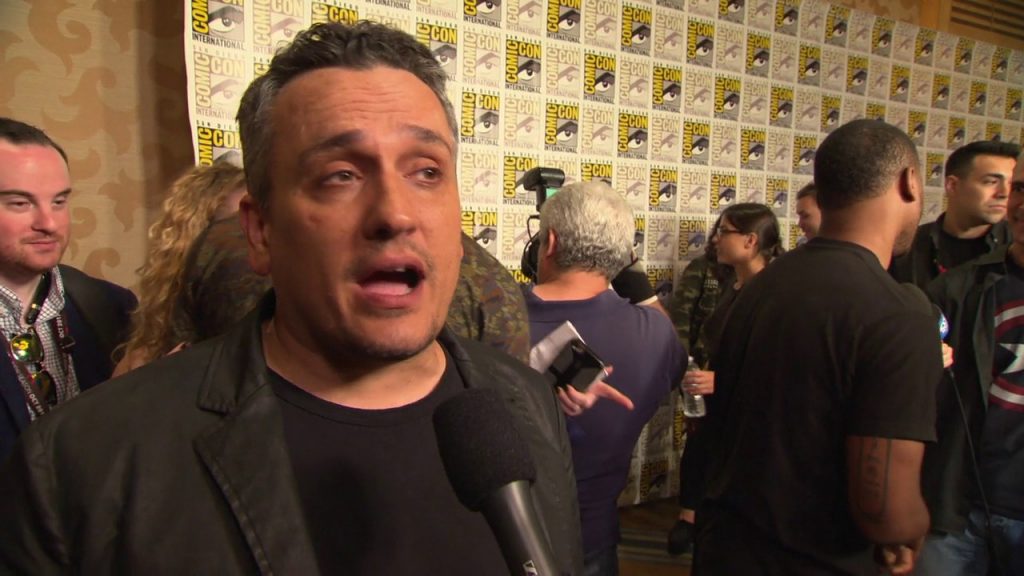 "They both have a proximity to each other if that's a hint that I can give. Anybody who's a Marvel fan would know that they both reside in the same city, and I think Tom and Benedict have a really wonderful chemistry and we wanted to exploit that."
Although the cast is stacked up with superhero heavy-weights, the most important comic-book character present in the movie is Thanos. Till now, he has been teased in Marvel movies in post-credits of Phase 2, 3 films, but Infinity war will be the first major project where he is going to be the big villain hell-bent on total destruction.
But he can do that only if he takes possession of powerful Infinity stones that are scattered across the realm. Anthony Russo, the co-director of the movie described it as a heist movie where Thanos will spend time strategizing in order to steal Infinity stones. In an interview with CNET, Russo Brothers spoke about how they were inspired by heist movies for Avengers Infinity War. Here's what they said: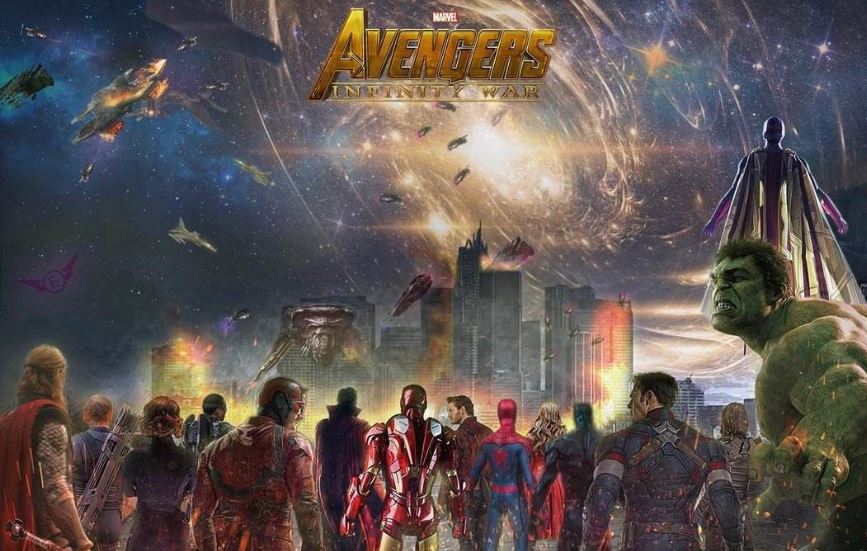 "With "Infinity War," the biggest new element to the movie is Thanos and the fact that he's entering the storytelling in a very bold, strong way, to the degree that he's almost one of the leads. We've shaped an interesting narrative around him that in some ways leans heavily on a heist film in the fact that he's going after the infinity stones in a much bolder, successful way than he has in the past. The entire movie has that energy of the bad guy being one step ahead of the heroes. We looked at a lot of movies that had that heist-style energy to them, and that brought some inspiration".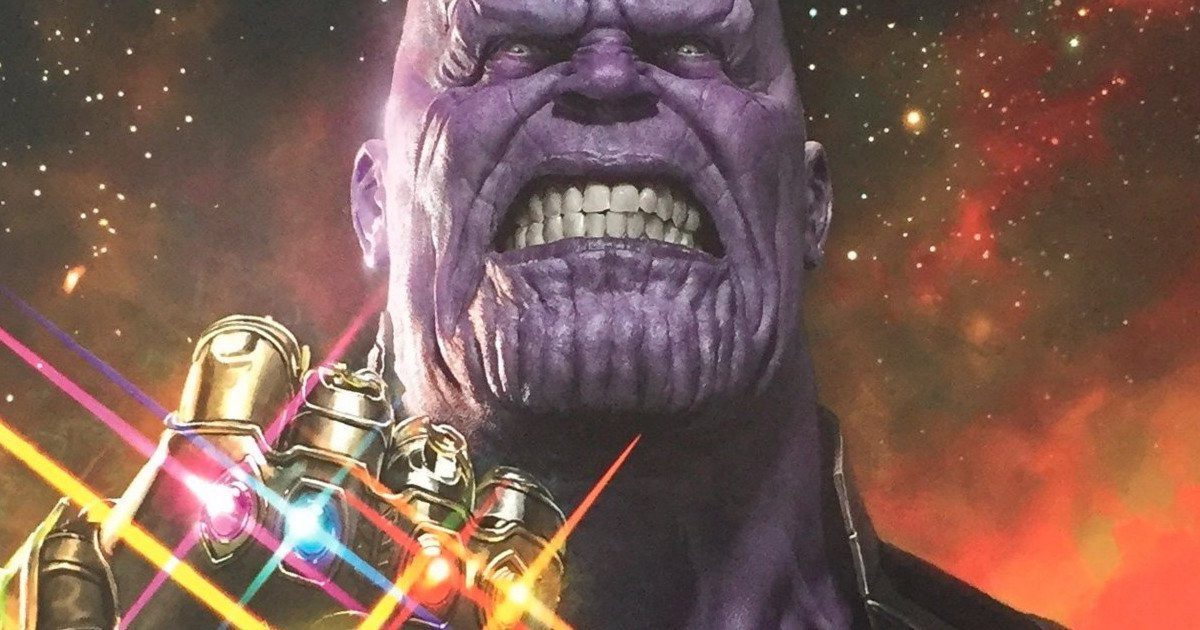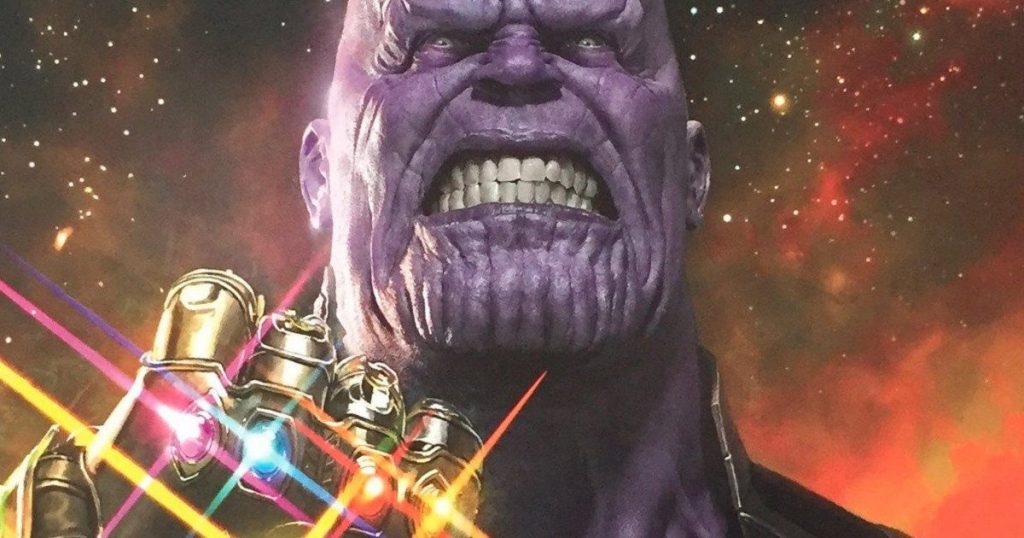 It will be very interesting to see the most powerful cosmic creature stealing stuff to pursue his sinister ends. It will inject a totally different energy into the MCU than any other Marvel movie. Everyone will be rooting against the mad Titan while he keeps on accumulating more power through Infinity stones. He will have more hands-on and direct approach as he can't trust anybody as they failed to meet his expectations.
He will bring big guns in the form of "Black Order" who are a team of ruthless mercenaries and their "Outriders" who are genetically engineered for a single purpose, find new worlds, invade and conquer it for Thanos.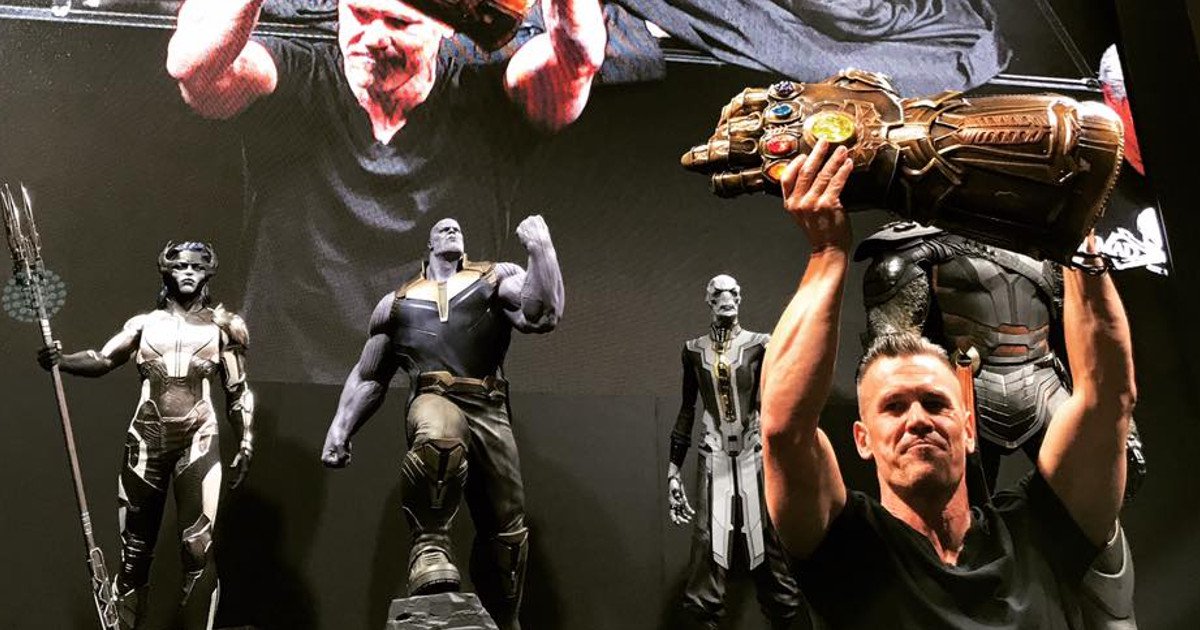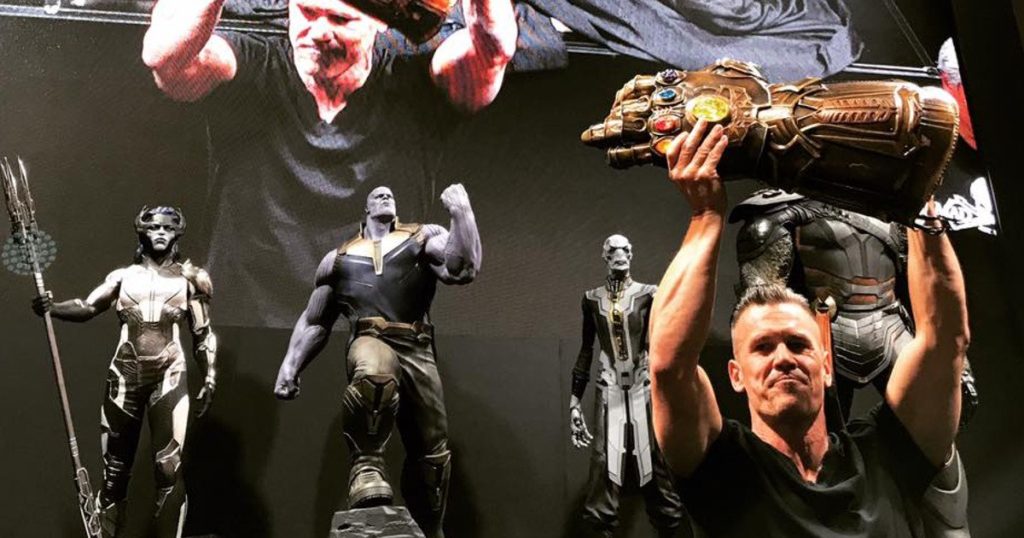 At Disney's D-23, the Black Order of Thanos (also known as Thanos Children) was revealed including Corvus Glaive, Proxima Midnight, Ebony Maw and Cull Obsidian who was Black Dwarf. In a departure from comics, the members of Black Order were introduced as "children of Thanos". They made their first appearance in 2013's New Avengers #8 created by Hickman and Mike Deodato Jr.
These cosmic creatures were brought together by Thanos to serve as leaders in an inter-galactic campaign for universal domination. They followed the orders of Thanos and destroyed many worlds for him until they found out that Infinity Stones are with "The Illuminati", a secret society/group with members like Iron Man, Black Panther etc. created to keep the Infinity gems safe.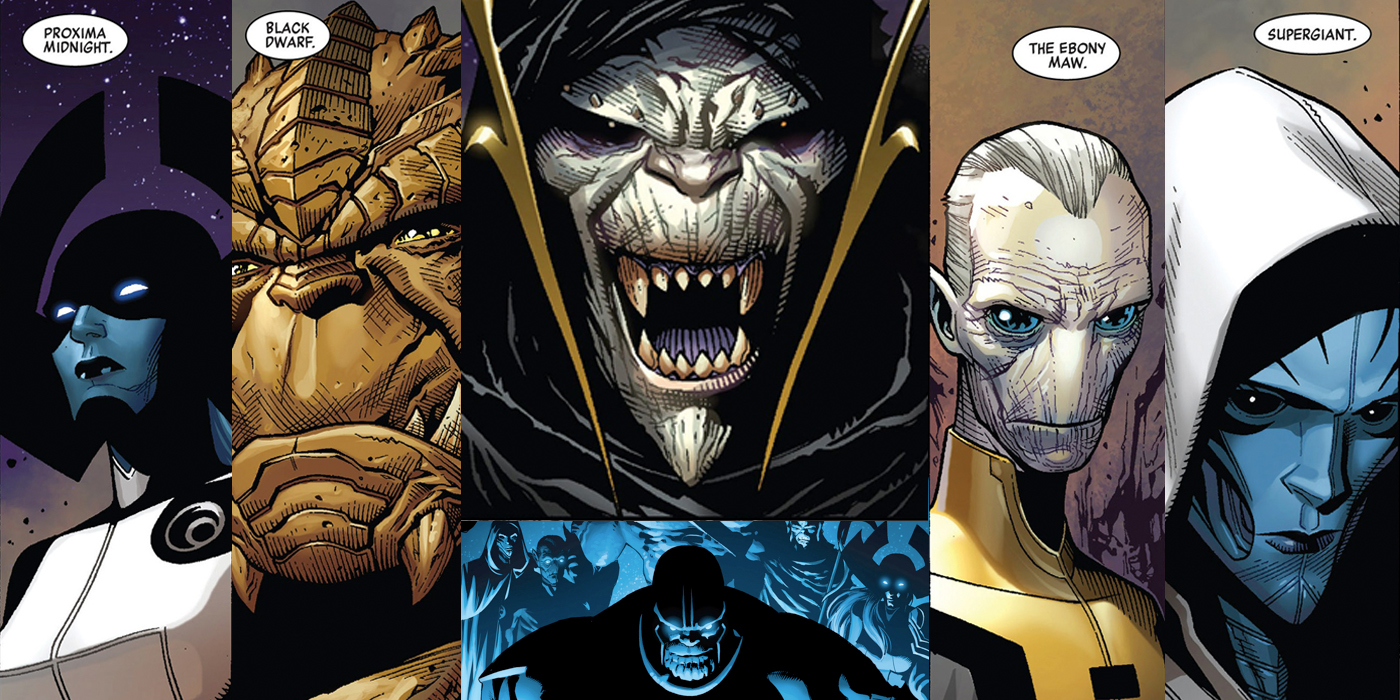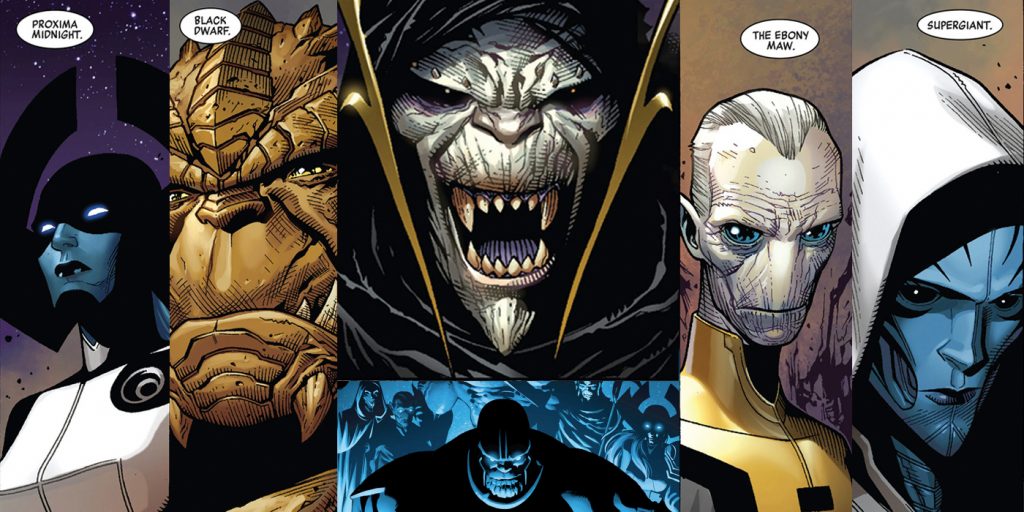 This group of ruthless aliens picked up by the Mad Titan from Black Quadrant will be sent to Earth to kill Thanos' son Thane and then retrieve Infinity stones from Wakanda in a violent way. On one hand, Thanos' children Gamora and Nebula have rejected the overtures made by father, on the other hand, the Black Order is firmly behind Thanos all the way.
Here's the official synopsis of the movie:
"As the Avengers and their allies have continued to protect the world from threats too large for any one hero to handle, a new danger has emerged from the cosmic shadows: Thanos. A despot of intergalactic infamy, his goal is to collect all six Infinity Stones, artifacts of unimaginable power, and use them to inflict his twisted will on all of the reality. Everything the Avengers have fought for has led up to this moment – the fate of Earth and existence itself has never been more uncertain".
The movie is slated to release on May 3, 2018. CHEERS!
Don't Miss: 15 Characters From Marvel That Are More Powerful Than Thanos