General
Benedict Cumberbatch And Martin Freeman Brood For New Official Sherlock Portrait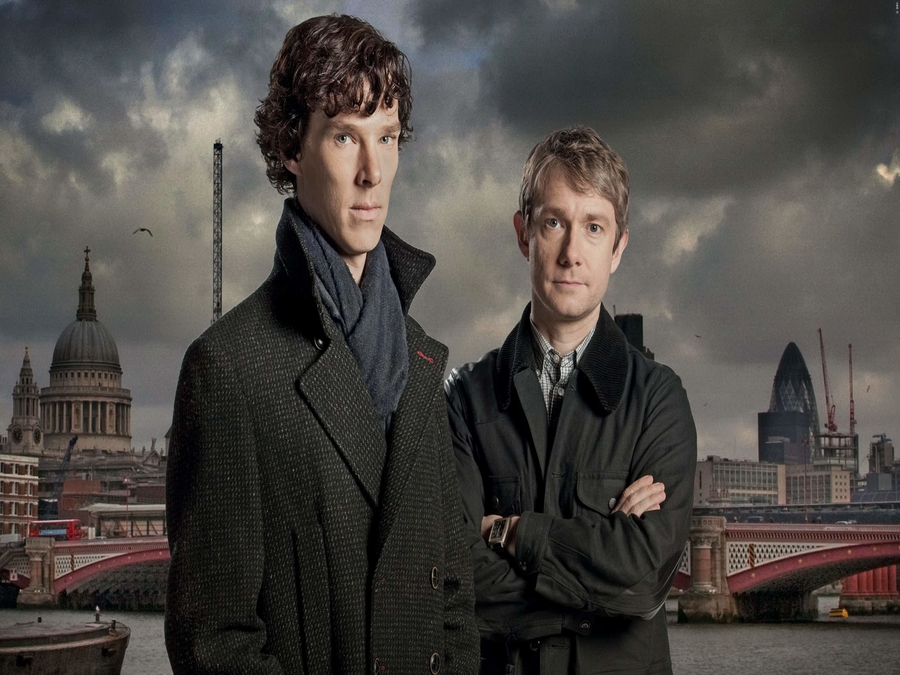 Sherlock released a new portrait of its stars Benedict Cumberbatch and Martin Freeman for season 4 of the very successful BBC series, making fans sigh with relief that the beloved characters will come back to television soon. The show sees its premiere for season 4 in 2017.  Stars Cumberbatch and Freeman have become  in-demand actors for the past few years- all due to Sherlock's success, it has become hard for the actors to shoot for the series every year. Cumberbatch has been keeping busy with Marvel Studios Dr.Strange and Freeman has starred in Tolkien's The Hobbit prequels. This morsel of a shot has most definitely gotten fans of the series revved up for the upcoming season.
The boys will be back soon! Here's the first official picture of #Sherlock and John from Series 4. pic.twitter.com/MqGfuUWb96

— Sherlock (@Sherlock221B) August 31, 2016
The picture sees Sherlock actor Benedict Cumberbatch broodingly intense stare into the camera, with what seems like a bit of curiosity in the mix. What must be going on inside the famous detective's mind? Martin Freeman who plays Dr.Watson looks on to the side, maybe looking into the safety of the situation, as the army man has been known to do.
The last that was seen of the duo, they were stuck in Victorian threads for the Christmas special, The Abominable Bride. The new portrait leaves the clue that the story will be more on the present time. The trailer that was released seemed to go darker with more action and suspense, as the ragged looking Sherlock and Watson try to make sense of the dangers that are at bay.
The Game is over…for now. #Sherlock pic.twitter.com/CyYnQsv6yj

— Mark Gatiss (@Markgatiss) August 5, 2016
Rumors have circulated that this may be the last season of the Sherlock series. With co-creator Mark Gatiss posting a picture on his twitter with the caption "The Game is over…for now" But fret not, Sherlock's other creator, Steven Moffat told The Telegraph in July that while Season 4 "absolutely could be" the last but thinks it's unlikely" that the show is "completely finished." Time will only tell if this sad rumor is true or not. Hopefully not, if those actors just stop being so busy!