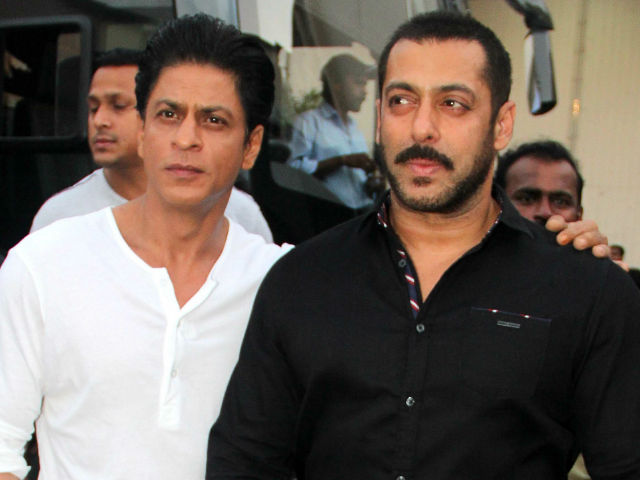 A lot of stir has been created around the comments made by Salman Khan in which he compared himself to raped woman while shooting for his upcoming film Sultan. When his "new-friend" Shah Rukh Khan was asked should Salman apologize for his comments or not? This is what King Khan had to say:
In the last few years I have come to realise that I have made so many inappropriate comments myself. I don't think I am someone to sit in judgement for anybody else's comment. To be really honest, it is not about taking sides.
Shah Rukh further added,
I myself speak such a lot (inappropriately), who am I to judge him on this? Personally speaking, I don't think I am anyone to comment on this. I am so inappropriate myself. I have said some really wrong things also," SRK, who has made the films Karan Arjun and Hum Tumhaare Hain Sanam with Salman, told reporters on Thursday.
A few hours later Shah Rukh tweeted this post, affirming his support for Salman Khan:
Bhai bhai on bike bike. No pollution…bhai says "Michael Lal Cylcle Lal." pic.twitter.com/GdD6RwSe9V

— Shah Rukh Khan (@iamsrk) July 1, 2016
Last year SRK was criticized for his statement on religious intolerance in India. A few days back Salman Khan said the following for his wrestling scenes in his upcoming movie, Sultan:
When I used to walk out of the ring, after the shoot, I used to feel like a raped woman. I couldn't walk straight."
Salma has been summoned by National Commission for Women on 8th July. Previously, he failed to appear in front of NCW and sent a lawyer's reply.
Now, after accumulating all the previous stories here is another fact. Both actors, SRK and Salman made these comments just weeks before the release of their respective films. Is this the new propaganda for publicizing your film? You make a controversial statement, media picks it up and delivers it in 1000 different ways and your film gets a lot of traction. We have been treating these mega-stars as icons of our country. Isn't this evidence enough to stop treating them as GODS? Bollywood Celebs have reduced some major issues in India to a mere joke and made them a tool for their publicity. Let us put an end to this, so such controversies do not get much air!