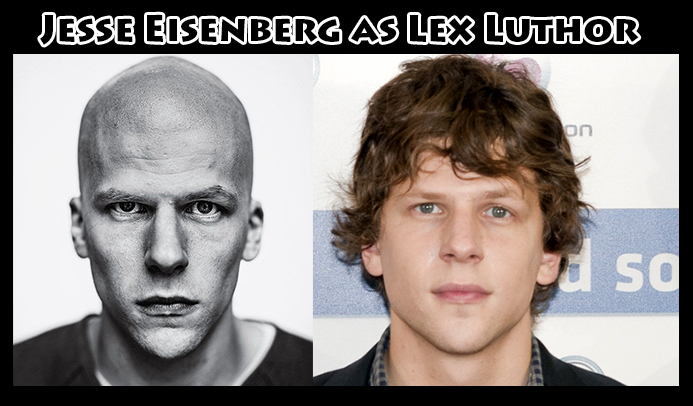 Jesse Eisenberg is one of the most versatile actors I've seen in today's time. I always used to relate him as "Mark Zuckerberg", I soon started following all his movies be it Now you see me, Batman Vs Super: Dawn of Justice, American Ultra to name a few. He really knows how to carry the character to another level altogether. Another movie that we are really looking forward to with Jesse Eisenberg leading the role of Lex Luthor in Justice League. Yes, you heard me right, it was recently announced at the MCM London Comic Con that Jesse will be cast as Lex Luthor in Zack Snyder's next movie.
There were a lot of rumors post Batman v Superman: Dawn of Justice if DC Comics would re-cast Jesse for the next series. A statement from Jesse was a bit surprising "I don't know if they are so settled on where my character goes. I only hope I have another opportunity to work with these wonderful people and play this interesting character".
Though Jesse is still awaiting a final call from Zack for Justice League saying "I'm kind of in wait," he said. "They just started filming Justice League, so I'm kind of like waiting for my crack at it".
"I don't know what I'm allowed to say because I feel like there's probably some drone following me from DC, and if I say anything wrong I get, you know, picked off. But yeah I think so, and I love it, and I love everybody who's in it. You know, it's a really talented group of people."
Jesse did go on saying that he would like to re-vamp the role and develop the character in the next film, making it an ideal character.
"I wanted to make these people real and relatable, interesting and engaging, and not just, you know, a kind of surface 'bad person'," he said.
"To me, the most interesting acting is when actors can bring you into another side of the person. When you feel like you are not seeing the purpose of them for the plot.
"That they're not just delivering a message, that they're actually showing you some kind of humanity."
We do know that next Justice League is already in production and we can't wait to see Batman, Superman, Wonder Woman, Flash, Cyborg and Aquaman in one big screen at the same time. However, a movie is not a movie until there's a bad guy to kill and who better than Jesse Eisenberg Playing Lex Luthar. Fingers crossed!
Justice League Part One is set for release on November 17, 2017, with Part Two following on June 14, 2019.