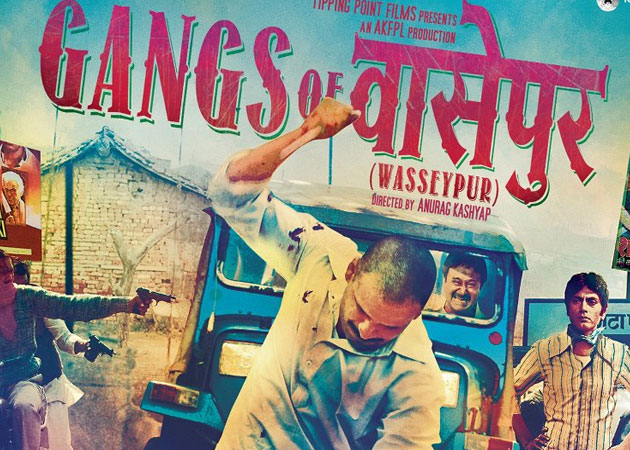 When we talk about brilliant direction, Anurag Kashyap always tends to cross our mind. It's the subtle & crisp way of his which moves us around & makes us form several layers in our mind. Movies are a brilliant way to showcase your ideas and messages to the public & Kashyap truly bosses this medium. Here are some of his top movies which you should watch right now if you haven't already. This is just a random list. He's respected by not only the Bollywood gang but he's got international acclaim for several movies.
That Girl In Yellow Boots
That Girl In Yellow Boots is a 2011 Indian thriller film by director Anurag Kashyap, starring Kalki Koechlin and Nasseeruddin Shah. The film was first screened at the Toronto Internation Film Festival in September 2010, followed by the Venice Film Festival after it played in several festivals worldwide including the South Asian International Film Festival. The commercial release however took place a year later in September 2011, both in India as well as in the US. The film opened to mostly positive reviews. Roger Ebert of the Chicago SunTimes gave it 3.5 out of the 4 stars, and he also noted that 'The film's value is in its portrait of Ruth, and her independence as a solo outsider in a vast, uncaring city.' In his Huffington Post review, Kia Makarechi wrote, "an unnervingly realistic portrait of unimaginable pain – is one with an ending you'll wish you could forget." Nupur Barua of fullhyd.com rated it 7 out of 10, and said that besides the Kashyap-esque tone of despair and melancholy, That Girl in Yellow Boots is Anurag Kashyap's best till date, adding that you can watch it "only if you can handle the unspeakable". Parmita Borah, on EF News International wrote, "Kalki Koechlin carries That Girl in Yellow Boots on her shoulders and does so with great panache and élan." Shivesh Kumar of IndiaWeekly awarded the movie 3.5 out of 5 stars.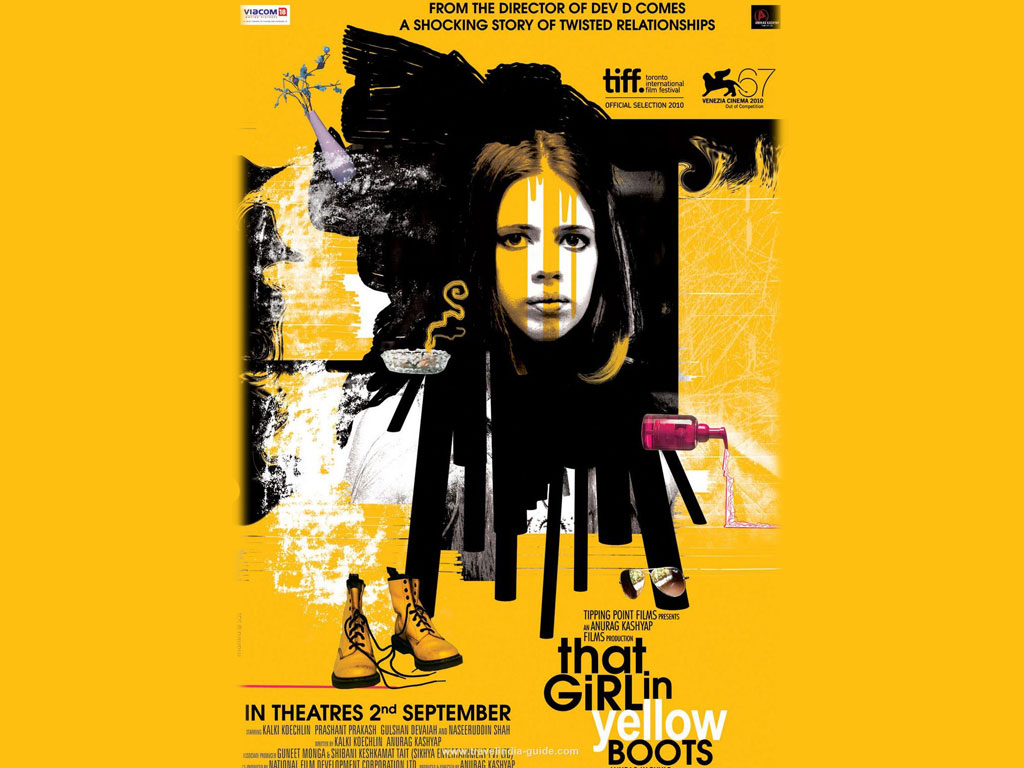 Dev. D
 Dev. D is an Indian romantic black comedy drama released on 6 February 2009. Written and directed by Anurag Kashyap, it is a modern-day take on Sarat Chandra Chattopadhyay's classic Bengali novel Devdas, previously adapted for the screen by P.C. Barua and Bimal Roy and more recently by Sanjay Leela Bhansali. Dev.D was embraced by the media, critics and public. The film is set in contemporary Punjab and Delhi, where familial ties are negotiated by the traditions of patriarchy and marriages are reduced to a game of power and "honour". Reviews to the film were mostly positive. The widespread acclaim was chiefly due to its fearless visual style, its experimental soundtrack and the innovative narrative structure which included dividing the script into chapters as in the films of Quentin Tarantino. Rony D'Costa of Box Office India gave it 4 stars out of 5, stating "Missing Dev D would be an Emotional Attyachar to oneself." Raja Sen of Rediff.com gave Dev.D 3.5/5, calling it a 'fantastic visual ride', and ranked it No 2 in his list of the best movies Of 2009. Times of India reviewer Nikhat Kazmi termed the film a "brilliant breakthrough for Bollywood" and rated it 5/5. Shubhra Gupta of Indian Express praised the performance of Abhay Deol and the movie overall. Hindustan Times praised the film for its "slick style and adventurous interpretation that pushes the boundaries of Hindi cinema" and rating it as 3.5/5. Noyon Jyoti Parasara of AOL India was "completely bowled out by the movie" and stated, "go and watch Dev D and be blown away by a sample of what Anurag Kashyap is capable of as a director. ShahRukh Khan praised Abhay Deol's efforts and said that Abhay is contributing to the new era of Indian film industry."
Gangs of Wasseypur series
 Gangs of Wasseypur series  is a 2012 Indian crime film co-written, produced and directed by Anurag Kashyap. Centered on the coal mafia of Dhanbad, Jharkhand and the underlying power struggles, politics and vengeance between three crime families, the Part 1features ensemble cast with Manoj Bajpai, Nawazuddin Quershi, Huma Quershi, Richa Chadda, Tigmanshu Dhulia in the major roles and its story spans from the early 1940s to mid-1990s. Both parts were originally shot as a single film measuring a total of 319 minutes and screened at the 2012 Cannes Director' Fortnight but since no Indian theatre would volunteer to screen a five plus hour film, it was divided into two parts (160 minutes and 159 minutes respectively) for the Indian market. The film received an A certification from the Indian Censor Board. The film's soundtrack is heavily influenced by traditional Indian folk songs.
Part 1 was released on 22 June 2012 in more than 1000 theatre screens across India. It was released on 25 July in France and on 28 June in the Middle East but was banned in Kuwait and Qatar. Gangs of Wasseypur was screened at the Sundance Film Festival in January 2013. Gangs of Wasseypur has won four nominations, including best film and best director, at the 55th Asia-Pacific Film Festival.
The combined film won the Best Audiography, Re-recordist' of the final Mixed Track (Alok De, Sinoy Joseph and Shreejesh Nair) and Special mention for acting (Nawazuddin Siddiqui) at the 60th National Film Awards. The film collected four Filmfare Awards, including Best Film (Critics) and Best Actress (Critics), at the 58th Filmfare Awards.
Although not a huge hit by any financial standard, the meagre combined budget of ₹18.5cr allowed the 2 films to be commercially successful, with net domestic earnings of ₹50.81cr (of the 2 parts combined). It is considered by many as a modern cult film.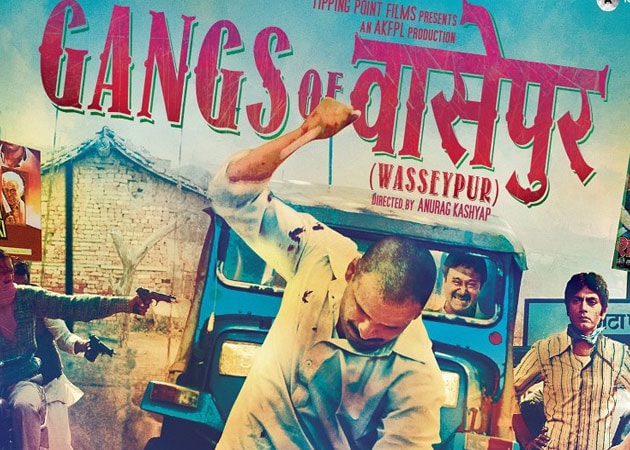 Black Friday
Black Friday is a 2007 Indian crime fil. written and directed by Anurag Kashyap based on Black Friday – The True Story of the Bombay Bomb Blasts, a book by Hussai  Zaidi about the 1993 Bombay Bombings. The film's creative consultant, Chandramohan Puppala, attempted to recreate those events and the intense feelings that followed them. It won the Grand Jury Prize at the Indian Film Festival of Los Angeles and was a nominee for the Best Film (Golden Leopard) award at the Locarno International Film Festival. The film was so controversial that the Indian Censor Board did not allow it to be released in India for three years and was finally released on 9 February 2007 after Supreme Court of India allowed it following the verdict in the '93 Bombay blast case was delivered by TADA court. The film has been appreciated by critics all over the world. Black Friday has an 86% fresh rating on Rotten Tomatoes.
Matt Zoller Seitz of the New York Times described it as "epic and raw, and cut out from the same bloody cloth as Salvador and Munich. Kirk Honeycutt of Hollywood Reporter compares the film's "journalistic inquiry into cataclysmic social and political events" to that of Gillo Pontecorvo's classic The Battle of Algiers. He remarks that the film is without any lurid sensationalism and is objective.
David Chute of LA Weekly described it as "a rigorously naturalistic docudrama about a complex police investigation." Ethan Alter of Film Journal International describes it as a "potent reminder that Indian Filmmaking isn't limited to Bollywood super-productions." According to Maitland McDonagh of TV Guide's movie guide, "its assertion that religious terrorism is about more than simply faith is food for thought." According to Ted Murphy of Murphy's Movie Reviews, "Kashyap keeps the action moving and the overall movie turns out to be engrossing."
Black Friday received overwhelmingly positive reviews from Indian critics. The film is widely considered to be director Anurag Kashyap's masterpiece.
Rajeev Masand gave it 4/5 stars and said "The actual blast scenes are shot in such a languid style, exactly the way a bystander would have experienced it. Believe me, no film yet has brought me so close to giving it a five out of five rating, but because it's just a little short of true greatness, I'm going to go with four of five for Anurag Kashyap's Black Friday. This is the kind of film to send to the Oscars."
Taran Adarsh gave it 4/5 stars and said "Some films leave you stunned and speechless with sheer power. BLACK FRIDAY, directed by Anurag Kashyap, is one such film. On the whole, BLACK FRIDAY is an outstanding piece of work. One of the finest products to come out of Mumbai, this one is a hard-hitting film that has the courage to say what it says. Do yourself a favor: Watch BLACK FRIDAY. Hindi cinema at its best."
Nihil Kumar from Apun Ka Choice said, "Taking least possible cinematic liberty and retaining objectivity throughout the film, Anurag Kashyap tells a compelling and disturbing story in 'Black Friday'. Strongly Recommended." Sanjay Ram from Business Of Cinema said, "It simply states the point and that too in a very objective fashion." Khalid Mohamed from Hindustan Times said "The docu-drama structure is so skillfully employed that you're gripped."
Nikhat Kazmi from The Times of India gave it 5/5 stars and said "It's powerful, pointed and hard-hitting cinema that needs to be seen. Not for entertainment, but for soch-vichar. And no, let's have no state, city, town, village, panchayat, self-appointed moral-political custodian acting as a super censor, this time please." Rediff said "There are moments in the second half when the filmmaker seems to lose the vice-like grip by which he holds viewers but that's excusable since the film has to stay within the framework of its reality theme.
Ugly
Ugly is a 2014 Indian neo-noir psychological thriller film written and directed by Anurag Kashyap. The film was screened in the Directors' Fortnight section at the 2013 Cannes Film Festival. It also opened in the 2014 New York Indian Film Festival. The film stars Girish Kulkarni, Ronit Roy, Tejaswini Kolhapure Vineet Kumar Singh and Suvreen Chawla in pivotal roles. It also features model turned TV actor Rahul Bhat in an important role and TV actor Abir Goswami in his last film appearance before his death in 2013. The circumstances that led to the birth of Kali, the little girl, was separately made as 'Kali Katha': the prologue, and was released on YouTube. The digital poster of the film was released on 8 May 2013.
Produced by DAR Motion Pictures and Phantom Films, the film was theatrically released on December 26, 2014 after a delay about the inclusion of a warning about smoking. Upon release, the film received critical acclaim and has grossed over ₹138 million worldwide.
Upon release, Ugly received widespread critical acclaim. The film was premiered at the Cannes film festival and received what Filmfare called a "great response" as a result of standing ovation. The film released in France in May 2014 with Business of Cinemastating that it had a "brilliant script and amazing performance."
On 23 December 2014 a special screening was held in Mumbai. FirstPost said, "Ironically, Ugly looks beautiful. It's all dark, dank and disgusting, and yet impossible to look away from."
Koimoi gave 4/5 stars praising the direction and scripts.Times of India gave 4/5 stars saying " Anurag Kashyap is in top form in this suspense thriller." Rediff.com gave 4.5/5 star saying it is Kashyap's finest work. HindustanTimes, Glamsham and Deccan Chronicle gave the film 4 to 4.75 stars out of 5. Yahoo and Zee News gave the film 4/5 stars