Uncategorized
10 Touching Quotes By Ruskin Bond That Will Brighten Your Day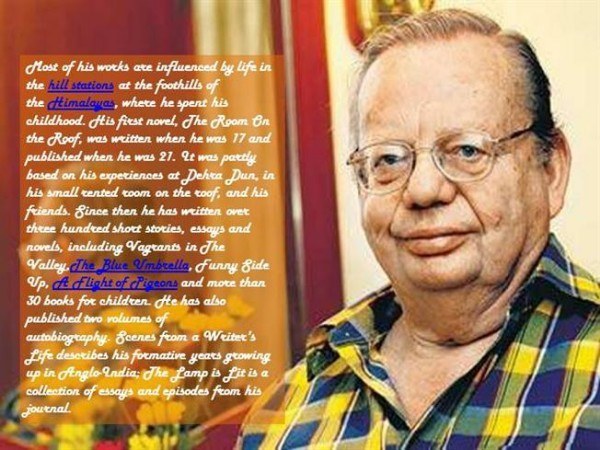 Writing a tribute to Ruskin Bond is writing a tribute to childhood. Ruskin Bond isn't just the most prolific author to write in English in India, but is also the author who made children across the country fall in love with the beauty of words, helped them see the magical in the mundane, and elevated the little sorrows and skirmishes of daily life into something enchanting. Ruskin Bond is nostalgia. Re-reading any of his works will evoke that feeling of reading on a rainy day when school gets cancelled, the happiness of meeting characters imbibed with so much warmth and life, that it is like meeting old friends again. It is laughing again at old jokes, wry wit and uproariously funny situations. And it is to rediscover that sense of simplicity and purity in the little things that sometimes makes you want to run off to answer the magical lure of the hills. We've listed some of his lines that touched us, made us laugh or made us appreciate this occassionally tiring business of being human.
"and when all the wars are over, a butterfly will still be beautiful."
―Ruskin Bond,Scenes from a Writer's Life
"Red roses for young lovers. French beans for longstanding relationships"
―Ruskin Bond,Ruskin Bond's Book Of Nature
"It is always the same with mountains. Once you have lived with them for any length of time, you belong to them. There is no escape."
―Ruskin Bond, Rain in the Mountains: Notes from the Himalayas
"live close to nature and you'll never feel lonely. Don't drive those sparrows out of your veranda; they won't hack into your computer."
―Ruskin Bond
The India I Love, does not make the headlines, but I find it wherever I go – in field or forest, town or village, mountain or desert – and in the hearts and minds of people who have given me love and affection for the better part of my lifetime.
– Ruskin Bond, The India I Love
Happiness is as exclusive as a butterfly, and you must never pursue it. If you stay very still, it may come and settle on your hand. But only briefly. Savour those moments, for they will not come in your way very often.
I am still on my zigzag way, pursuing the diagonal between reason and heart.
-Ruskin Bond, Rain in the Mountains: Notes from the Himalayas
Yes, I'd love to have a garden of my own–spacious, and full of everything that is fragrant and flowering. But if I don't succeed, never mind–I've still got the dream.
Ruskin Bond, Rain in the Mountains: Notes from the Himalayas
"All glory comes from daring to begin."
―Ruskin Bond,Scenes from a Writer's Life
"The world keeps on changing, but there is always something, somewhere, that remains the same.
―Ruskin Bond