The news feed flooded with the snaps of the upcoming Deepika Padukone starrer "Tamasha". This Friday, Bollywood is ready to release the most ravishing actress, Aishwarya Rai Bachchan with her come back movie "Jazba". Later in the month, we would witness the cute chick Alia; make a bang entry at the box office, screaming "Shaam Shandaar". Yet again, it is time to celebrate the birthday of another beauty queen giving tough competition to the young Bollywood. "Inn aankhon ki masti ke mastane hazaron hai", many of us still hum this song from her movie "Umrao Jaan". It is none other than the actress who was once called as the "Ugly Duckling of Bollywood".  It is Rekha's Birthday that we are heading towards.
There are very few Veteran actors who gel with the latest generation of actors in the Bollywood industry. Rekha is one such personality, who has touched and inspired many actors and actresses, be it her style statement or the jovial nature. She has acted in more than 180 films and has bagged many awards and honours in her 40 years career. She still stands as an undefeated tigress of the Bollywood industry.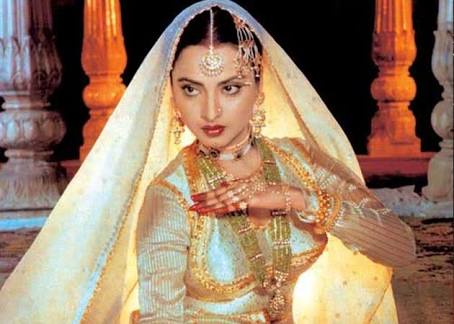 Image Source: www.ndtv.com
PC & Rekha- It is rare to see the veteran artists compliment the new generation. It was the IIFA awards 2012 held at Singapore, where the diva was affiliated with the Lifetime Achievement award. Priyanka Chopra paid a special tribute to the actress with her dance performance. After the performance PC said "Every time I see her, the whole room stops, everything becomes fuzzy, soft beautiful sitar plays in the background and I look at her and I say wow. This was the only reason I wish I was a guy." She even described Rekha as an epitome of grace and beauty, naughty at the same time. She is a woman who gave true meaning to the word "sexy".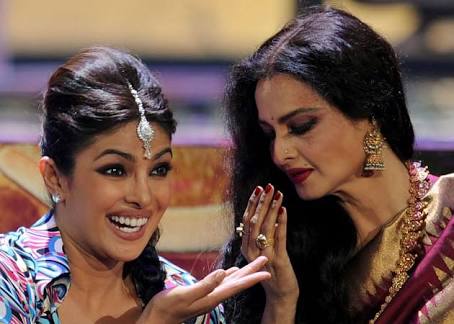 Image Source- movies.ndtv.com
Vidya Balan & Rekha- The actress has been always compared with the veteran actress, Rekhaji. Vidya said in her interview, after the success of her movie "Kahaani", "Rekhaji has been a source of inspiration for me. I love her styling, the way she portrays the Indian look. She has given a new identity to the Kanjeevaram sarees, true Indian woman". People have often compared Vidya Balan with Rekha.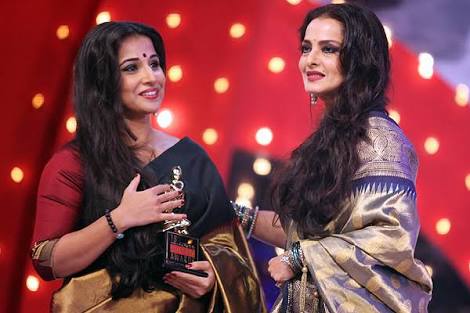 Image Source- archive.indianexpress.com
SRK & Rekha- King of Bollywood has been complimented by a number of actors and actresses. At numerous awards shows, he has received awards many times by Rekhaji. He described her as timeless beauty and filled with never ending charismatic appeal. He quoted at an award function, "We have grown too old for her now, and it is difficult keeping up with you Rekhaji".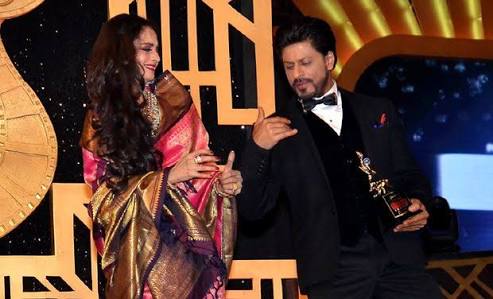 Image Source- www.deccanchronicle.com
Sonam Kapoor & Rekha- Sonam Kapoor worked in the remake of the famous Rekha starrer movie- Khoobsurat. The veteran actress stands as an inspiration to the new generation actress. Sonam said "Rekhaji has been close to family and has always been a source of inspiration. I don't think I can do justice to anything Rekha has done". Her signature style can be copied by many actresses, but it would define her best.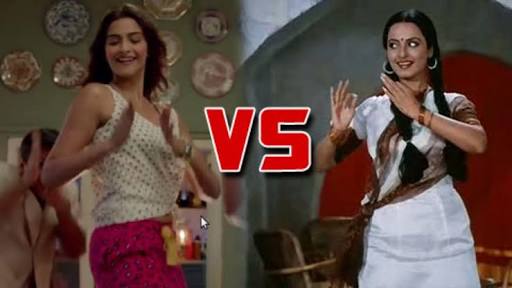 Image Source- www.dailymotion.com
Mira Nair, the director of Kama Sutra (1997) – Rekha starrer, describes her as "Like Marilyn Monroe is shorthand for sex, Rekha is shorthand for charisma".
Image Source: www.filmfare.com
"Wishing the diva of the Bollywood, a very happy birthday"