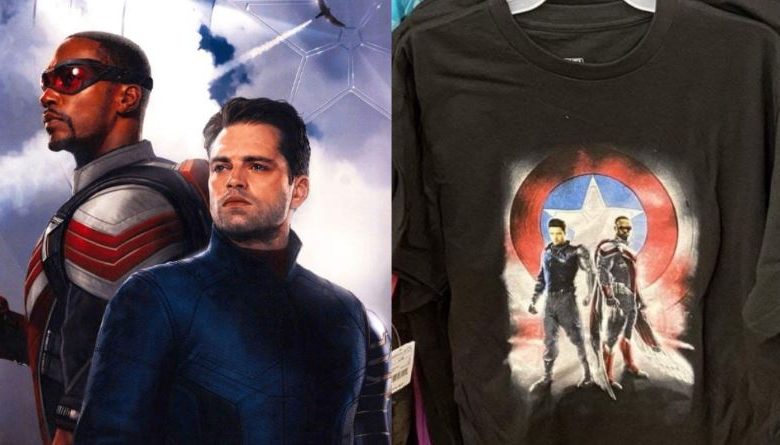 Marvel has been quiet about their forthcoming projects until now due to the setbacks that the pandemic caused. It is obvious that The Falcon and the Winter Soldier has been delayed because its proposed Disney+ release date was last month. But, it's great that things are back on track. The Direct managed to get their hands on a production document which confirms The Falcon and the Winter Soldier is scheduled to restart production in Atlanta this week. So, if the leftover production gets wrapped by the end of this month, then there's still a chance for the series to arrive by December. Another reason why we believe that we're pretty close to the release of the upcoming Disney+ series is because its merchandise has now been spotted in stores. Here, take a look at the new suits of Sam & Bucky:
https://twitter.com/SpinelessOyster/status/1300103318300233732?ref_src=twsrc%5Etfw%7Ctwcamp%5Etweetembed%7Ctwterm%5E1300103318300233732%7Ctwgr%5E&ref_url=https%3A%2F%2Fcomicbook.com%2Ftv-shows%2Fnews%2Ffalcon-and-winter-soldier-merchandise-available-at-walmart%2F
The suits actually look great on this T-Shirt, but if you zoom in, you'd see that the colour pallet on these suits is different from what we've seen so far on the posters, concept arts, in set photos and other merchandise. Here, take a closer look at the suits once again: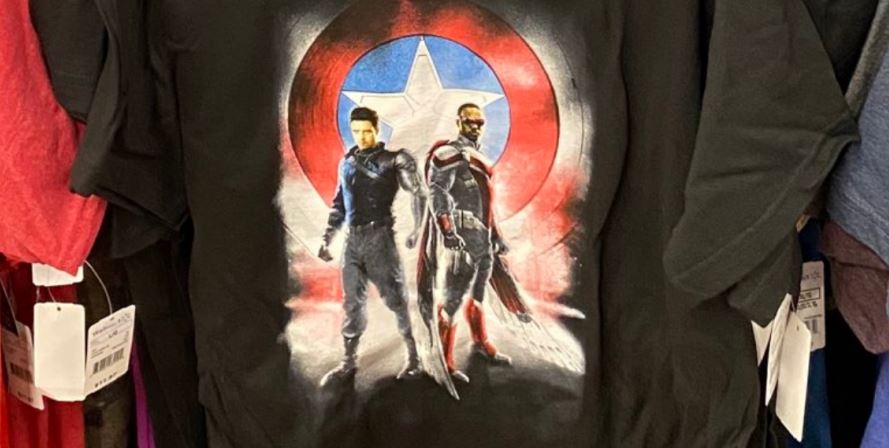 Falcon's suit here seems white, red, and grey. It actually looks like a much better version of the suit that Hank Hall aka Hawk wears in DC's Titans series. But actually, the area of Falcon's suit which seems grey has actually been lightened in color. The suit is actually going to be white, red & black instead of the white, red & grey color scheme that's noticeable here. The same goes for Bucky. His vibranium arm seems much more silver than it actually is. We saw a very dark grey & golden arm in Infinity War & Avengers: Endgame. In fact, the new concept arts almost make it seem black. So, these colors that have been lightened on the aforementioned T-shirt will actually be much darker in live action. Bucky's grey pants also fall in this category. On-screen, they'd actually be black.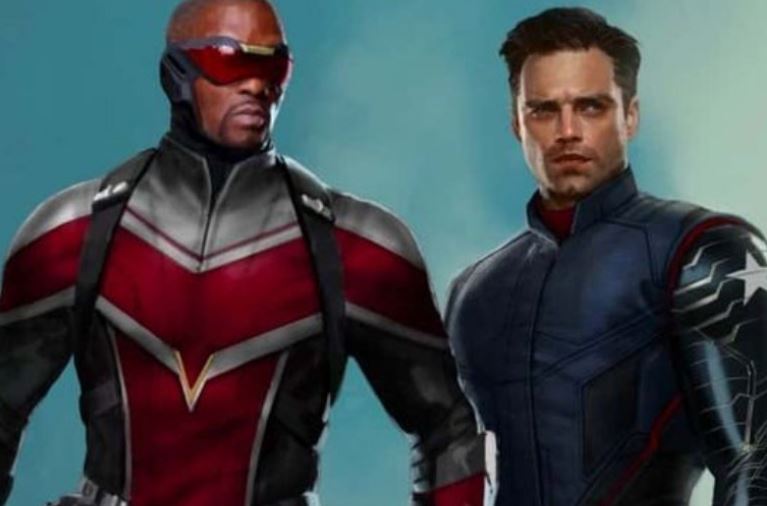 The thing that we love about Bucky & Sam's suits is that they'd be changed once again by the end of Season 1. That's because Sam will be chosen as the new Captain America while Bucky might go as the White Wolf. One interesting factor about Bucky's new vibranium arm is that it has a couple of neat tricks that are yet to be shown. Infinity War & Avengers: Endgame had no time to explore them, but now that an entire series is partly devoted to Bucky, we will get a proper look at his character and everything related to him.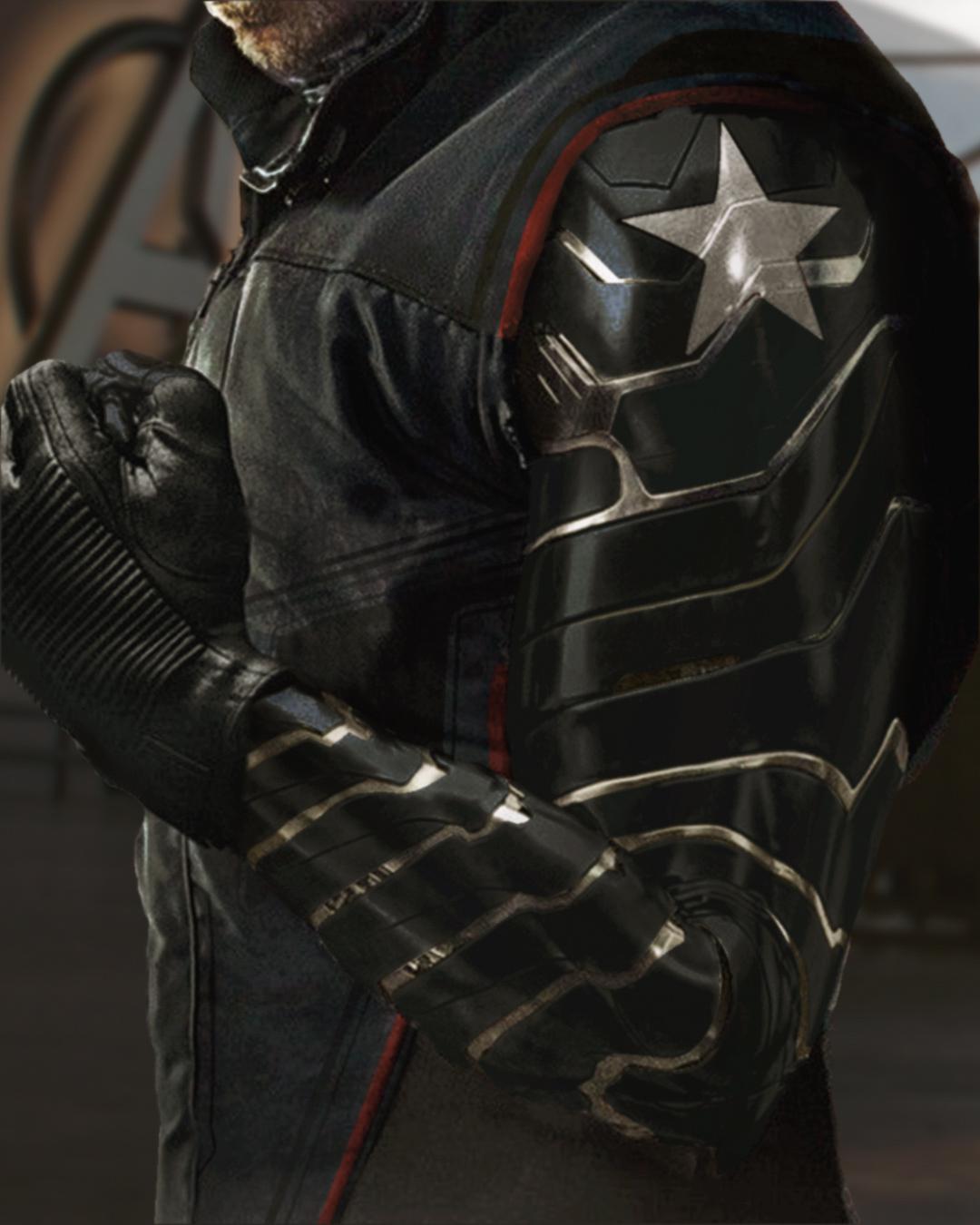 Here's what Sebastian Stan said about his new arm in the past:
"The one from Wakanda has a couple more features that we haven't explored yet. So I think I like that one, but I miss the old star. I do. There was something about that. I don't know, maybe I'll have to get it back."
Captain America: The Winter Soldier is still considered to be one of the best MCU movies till date. We're excited for The Falcon and the Winter Soldier because Sebastian Stan compared the upcoming series to The Winter Soldier. He said:
"It felt like both. In a lot of ways, it felt like a movie. What I loved about it was that, tonally, it was very much in the same world that Captain America: The Winter Soldier was, which was one of my favorite experiences that I've ever had, period. So, in a sense, it was grounded and very much in the world as we know it. But, it's also really jam-packed with a lot of massive, massive action scenes mixed with deep focus on character. These characters are getting so much more mileage for all of us to explore them. We can put them in situations that we've never been able to put them in before because you now have six hours as opposed to two."
The Falcon and the Winter Soldier is yet to find its release date, but let's hope that Marvel will address these Disney+ matters real soon. In fact, we should get a new trailer in October if the show is set to arrive this year or in early 2021.