The first Avengers Infinity War trailer was just amazing. It has shattered the previous records of the most viewed trailer in first 24 hours. The trailer finally showed The Mad Titan, Thanos, coming to Earth and starting his assault on the heroes along with his Black Order and the army of aliens.
The Infinity gems are the most powerful objects in the entire MCU. The Mad Titan will locate all the Infinity gems, assemble them and create an all-powerful Infinity gauntlet, cause a world-wide catastrophe that will force Team Avengers and Guardians of the Galaxy to join forces and fight against the mad Titan.
Although the Infinity war cast is stacked up with superhero heavy-weights, but the most important comic-book character is Thanos. Till now, he has been teased in Marvel movies in post-credits of Phase 2, 3 films, but Infinity war will be the first major project where he is going to be the central antagonist pursuing his sinister ends.
In the trailer, we see Nomad Cap leading his new team of superheroes and warriors at Wakanda to prevent Black Order (Children of Thanos) from possibly getting their hands on the sixth Infinity Gem. Iron Man is seen in the Hulkbuster suit, Spiderman donning Iron Spider suit, Thor meets Guardians of the Galaxy for the first time and Thanos is stealing Infinity stones one by one and is preparing for an all-out assault.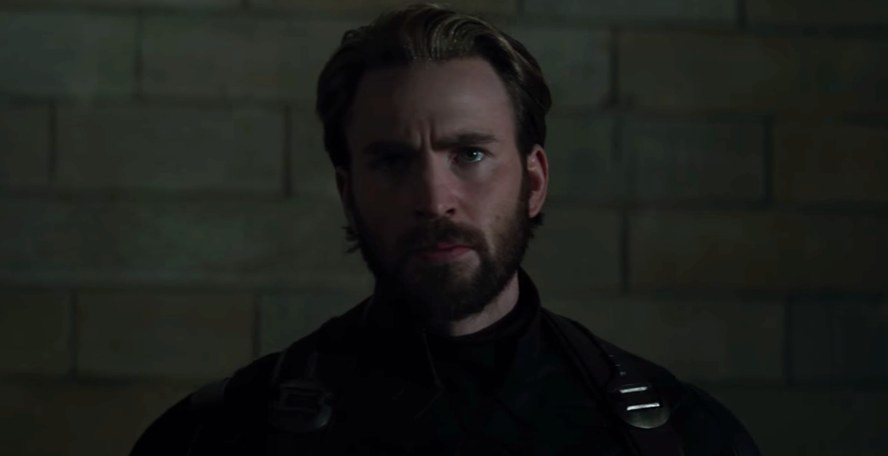 There were many breath-taking moments in the trailer but after watching the trailer multiple times, a particular scene caught our attention and it has everything to do with Captain America who is featuring a new look and new weapon for combat, his new shield.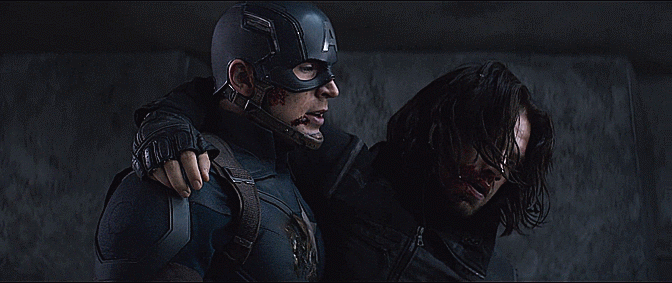 Steve Rogers dropped his shield when Iron Man says, "You don't deserve it; my father made that shield" and walks away with Winter Soldier at the end of Captain America: Civil War. But the upcoming movie is all set to give him a new shield and it won't be a typical circular shield like before.
A few weeks ago, the poster of Avengers Infinity War showed Steve Rogers sporting a beard and he is not in his usual attire of Captain America, instead, he is wearing Nomad suit from comics. Russo Brothers told Huffington Post that dropping his shield "is him letting go of that identity. It's him admitting that the identity of Captain America was in conflict with the very personal choice that he was making."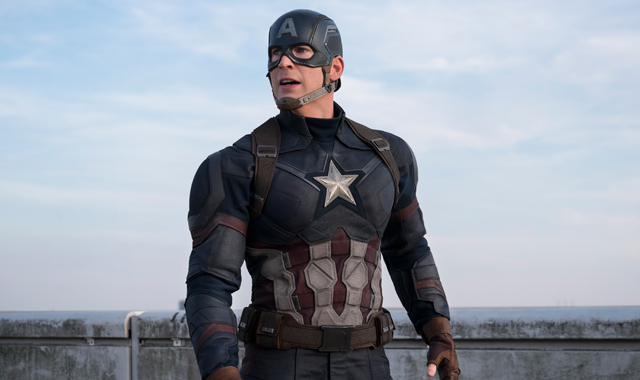 So how will the Super Soldier fight the Mad Titan? Well, according to the poster, he will take on the new alias Nomad which he adopted during 1970's in Marvel comics. So yes, he will be fighting against Thanos and his ruthless alien invaders but as someone else.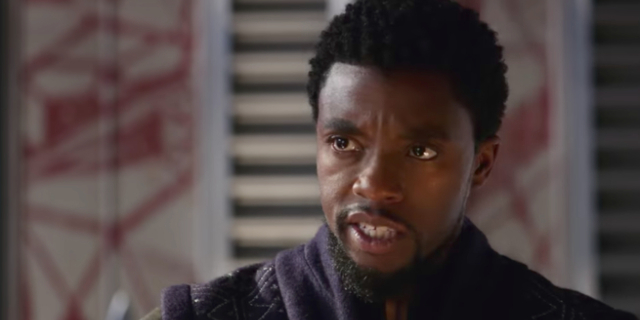 We saw king T'Challa ordering his loyal soldiers to "Evacuate the city, engage all defenses and get this man a shield." The man referred in here gotta be Steve Rogers as he is the one who uses the shield while fighting.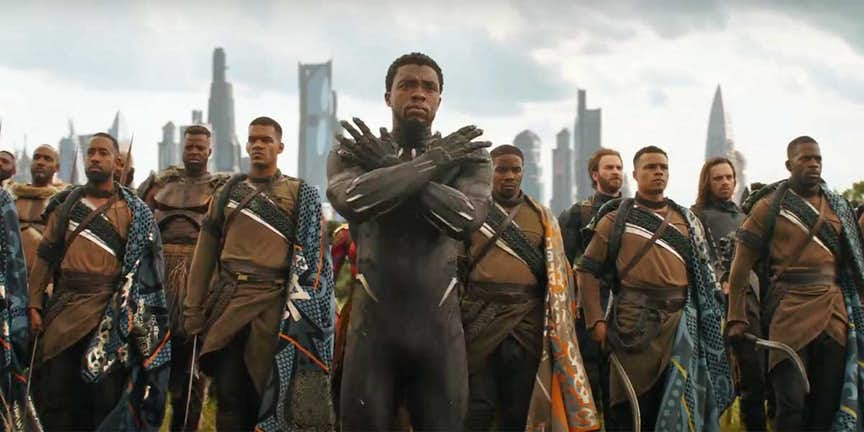 Later in the trailer, we saw two armies marching towards each other. One of Thanos' aliens and the other Wakandan army joined by Black Panther, The Hulk, Black Widow, Winter Soldier, Falcon, War Machine and Captain America who is in the middle and what's easily missed here was the thing on Captain America's wrist. He is wearing some kind of gauntlet on each forearm which appears triangular in shape.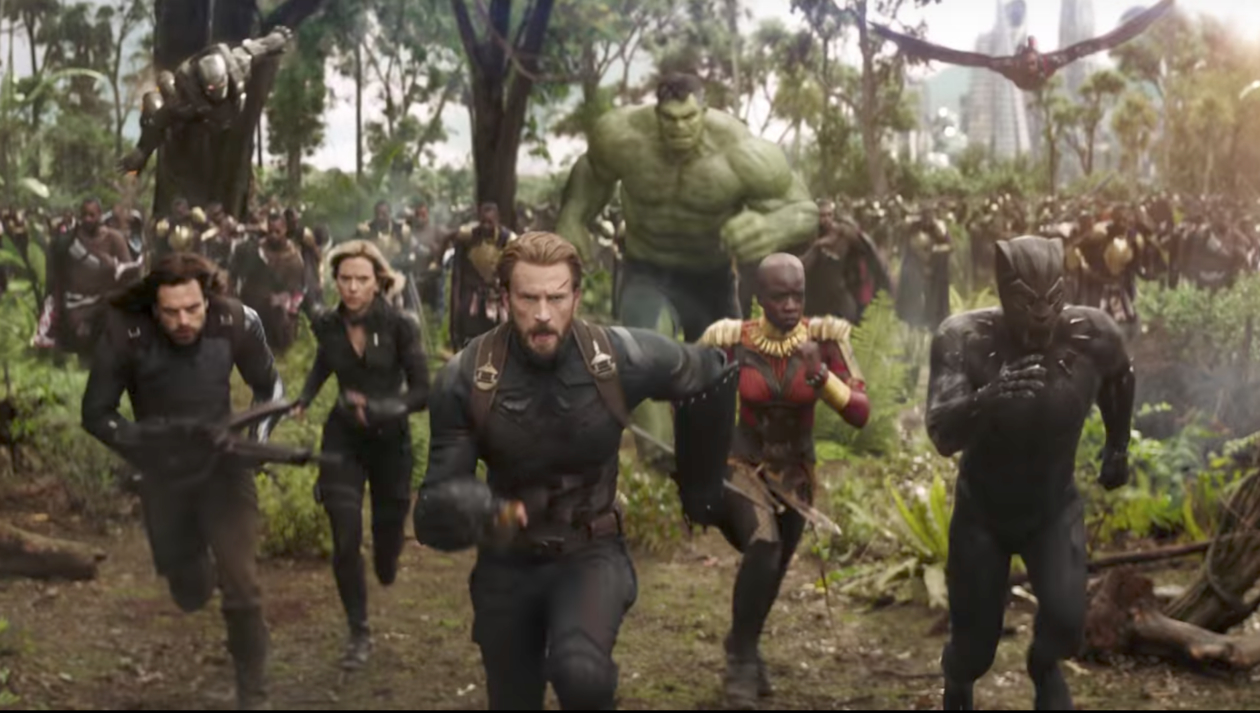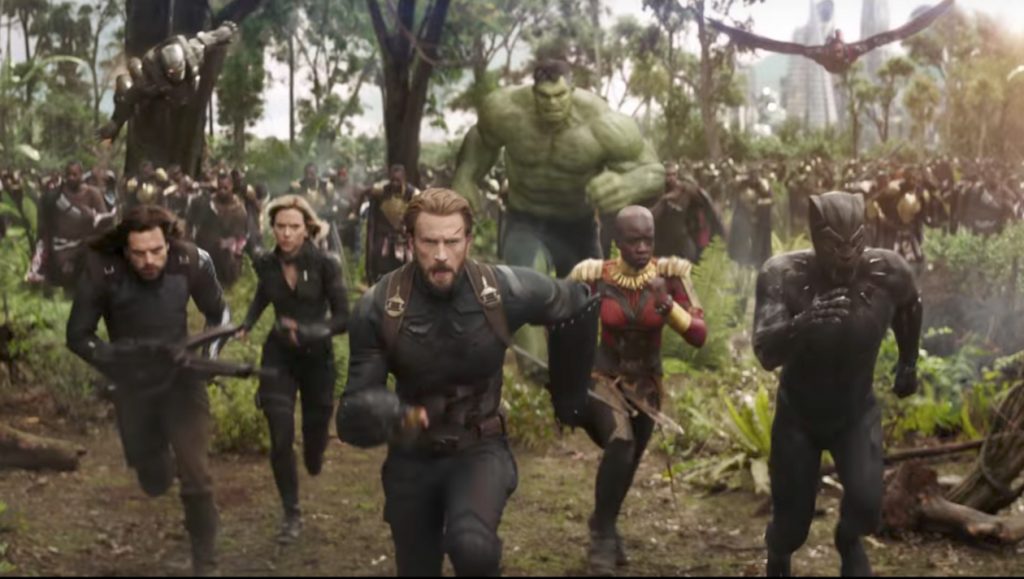 This is a new type of shield that Captain America is wearing that can be modified into a triangular shield if you pair both of them together. It's the same kind of shield that was featured in the Captain America: Steve Rogers where Steve Rogers regains his super-soldier serum after the events of "Avengers: Standoff" and gives his circular shield to Sam Wilson. While he adopts a new one which can be separated into two pieces.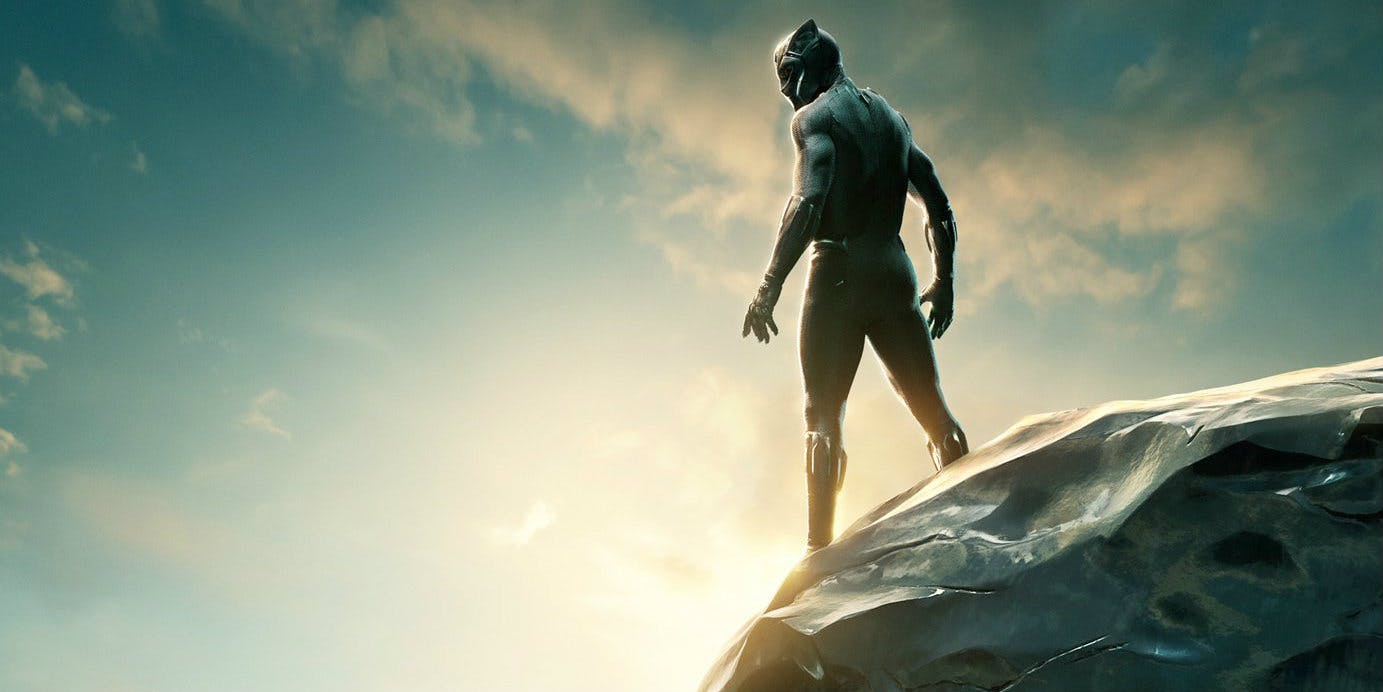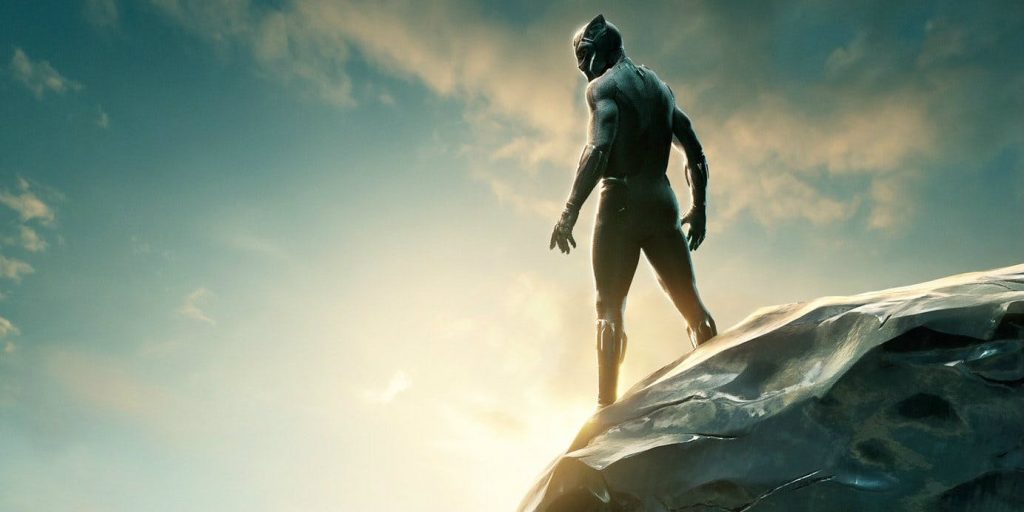 There is no doubt that if Black Panther has ordered his men to forge a new shield and they don't make it. And a country full of rare Vibranium metal, it's just a normal thing to see another shield being made in no time.
While we didn't see any more visuals of him wearing those gauntlets, we hope to see him using his new shield in the next trailer.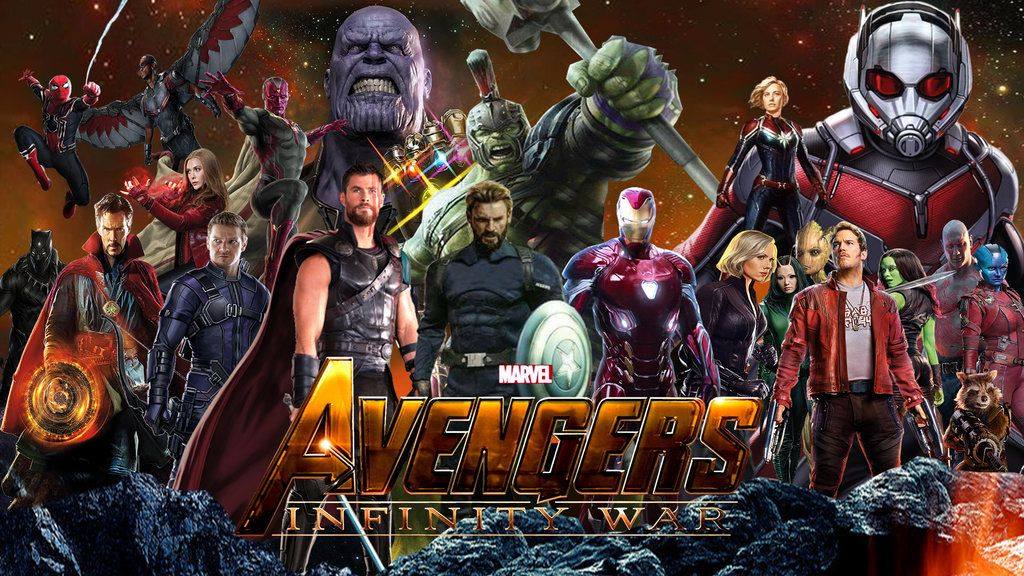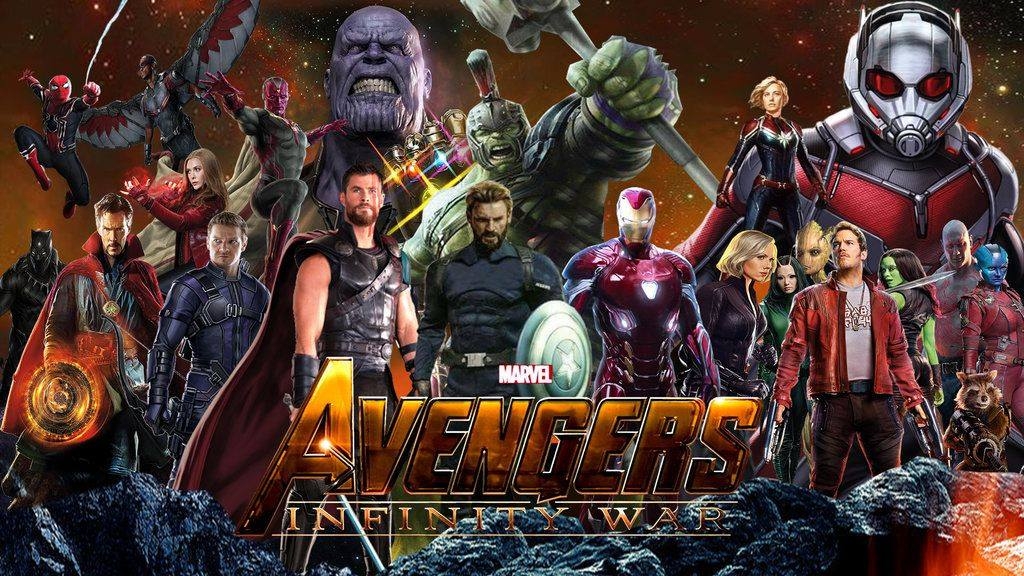 Marvel Studios has recently released a brand new synopsis of the movie:
"An unprecedented cinematic journey ten years in the making and spanning the entire Marvel Cinematic Universe, Marvel Studios' "Avengers: Infinity War" brings to the screen the ultimate, deadliest showdown of all time. The Avengers and their Super Hero allies must be willing to sacrifice all in an attempt to defeat the powerful Thanos before his blitz of devastation and ruin puts an end to the universe.

Anthony and Joe Russo direct the film, which is produced by Kevin Feige. Louis D'Esposito, Victoria Alonso, Michael Grillo and Stan Lee are the executive producers. Christopher Markus & Stephen McFeely wrote the screenplay. "Avengers: Infinity War" releases in U.S. theaters on May 4, 2018."
Here's the old synopsis of the movie:
"As the Avengers and their allies have continued to protect the world from threats too large for any one hero to handle, a new danger has emerged from the cosmic shadows: Thanos. A despot of intergalactic infamy, his goal is to collect all six Infinity Stones, artifacts of unimaginable power, and use them to inflict his twisted will on all of reality. Everything the Avengers have fought for has led up to this moment – the fate of Earth and existence itself has never been more uncertain".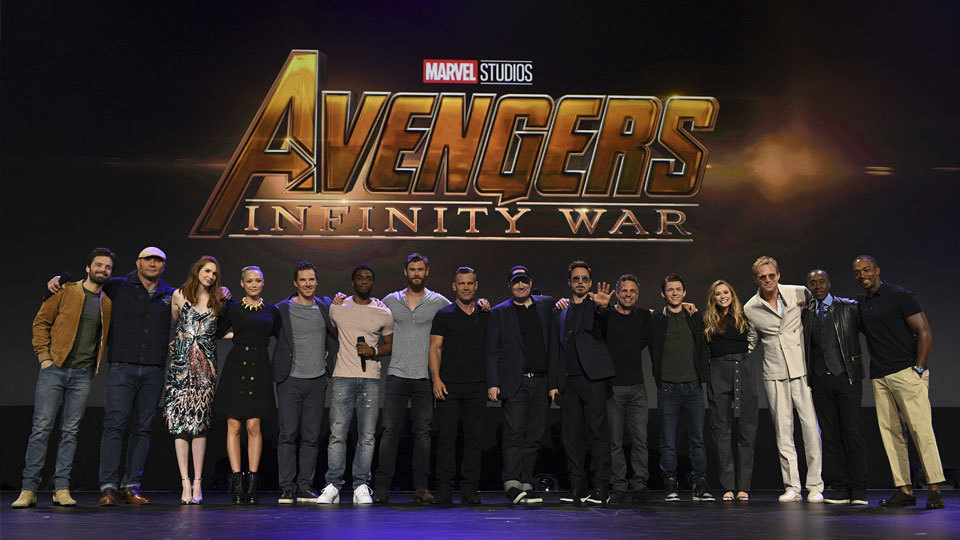 The cast of the Avengers Infinity War includes Robert Downey Jr (Iron Man), Chris Evans (Captain America), Jeremy Renner (Clint Barton), Scarlett Johansson (Black Widow), Chris Hemsworth (Thor), Tom Hiddleston (Loki), Mark Ruffalo (The Hulk), Benedict Cumberbatch (Doctor Strange), Chris Pratt (Star Lord), Tom Holland (Spider-Man),Chadwick Boseman (Black Panther), Dave Bautista (Drax), Vin Diesel (Groot), Bradley Cooper (Rocket Raccoon), Elizabeth Olsen (Scarlet Witch), Paul Bethany (Vision), Sebastian Stan (Winter Solder), Zoe Saldana (Gamora), Josh Brolin (Thanos) and others.
Avengers Infinity War to arrive in theaters on May 4, 2018 in US market whereas a week earlier in India and other international markets. CHEERS!
Don't Miss: 17 Funniest X-Men Timeline Memes That Only Its True Fans Will Understand