MCU
Superheroes
20 Crazy Fan Reactions For Hawkeye Episode 5's Biggest Reveal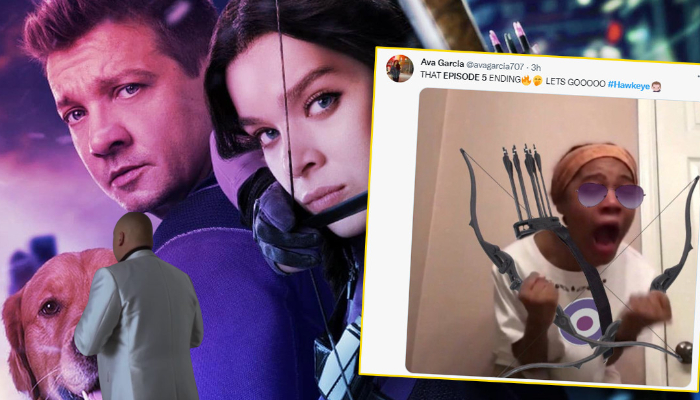 The Disney+ Hawkeye series is absolutely coming to leagues with the past shows that we have gotten which are canon to the MCU. One of the biggest reveals was definitely the reveal of Yelena Belova in the series as we finally got to see her in the recent episode. And now we're totally loving Kate Bishop and Yelena Belova in the show. There were so many things that just blew everyone's mind, so check out these mind-blowing fan reactions for Hawkeye episode 5 from Twitter:
1. Hard To Watch!!
#HAWKEYE EPISODE 5 SPOILERS❗
.
.
.
.
.
.
.
.
.
.
.
.
.
.
.
.
when yelena was part of the blip and came back she INSTANTLY LOOK FOR NATASHA TO TELL HER SHE'S OKAY. pic.twitter.com/xi5DuzJY5d

— jane (@missdanystorm) December 15, 2021
2. Woah!!
https://twitter.com/treystar679/status/1471046043219505156
3. Oh yeah!!
me after hawkeye episode 5
pic.twitter.com/KZGYny8jCQ

— Ella ⧗ (@widowxhag) December 15, 2021
4. That's Right!!
New #Hawkeye Episode 5 starts in 30min Bro! My video will post later this morning, bro! pic.twitter.com/wN5HkuirRF

— Charlie Schneider (@AwesomEmergency) December 15, 2021
5. So Good!!
#Hawkeye episode 5 so good it all makes sense now and next week we'll see EVERYONE teaming up against you know who hehe im smiling https://t.co/hKvYA3bhQP

— R (@ready2rizqitall) December 15, 2021
6. Hehe!!
NO SPOILERS but this is my face at the end of Episode 5 of #Hawkeye pic.twitter.com/6zL5nTUCzu

— Paul (Never Been Confused with the Wrestler) White (@Limacher78) December 15, 2021
7. Literally!!
https://twitter.com/ghostofmane/status/1471037719765823489
8. Unmatched!!

9. OMG!!

10. Favorite Duo!!
11. Let's Go!!

12. Seriously!!

13. So Many Emotions!!

14. Haha!

15. Damn!!

16. Oops!!

17. Finally!!

18. Intensifies!!

19. Exactly!!

20. Sad Part!
Did you relate to these reactions for Hawkeye episode 5? What was your reaction? 
Hawkeye stars Jeremy Renner as Clint Barton, Hailee Steinfeld as Kate Bishop, Florence Pugh as Yelena Belova, Fra Fee as Kazi, Vera Farmiga as Eleanor Bishop, Alaqua Cox as Maya Lopez, Zahn McClarnon as William Lopez, Brian d'Arcy James, and possibly, Vincent D'Onofrio as Kingpin.
Follow us on Facebook, Instagram & Twitter for more content.
Also Watch: