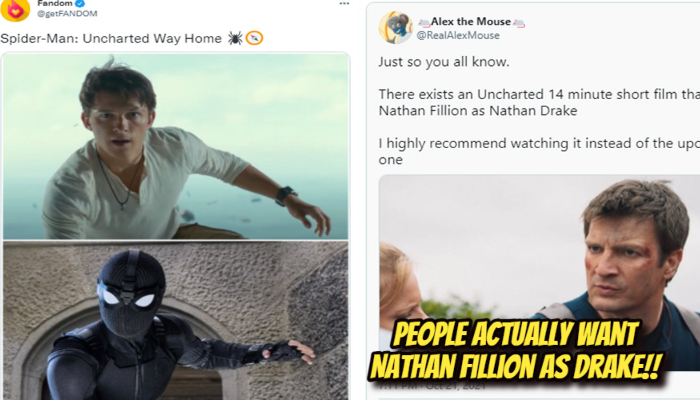 Sony Pictures' Youtube channel finally released the long-awaited Uncharted trailer yesterday. And it was worth the wait! The trailer features Tom Holland as Nathan Drake and Mark Wahlberg as Drake's best buddy, Victor Sullivan, aka Sully. Joining them is Sophia Taylor Ali as Chloe Frazer. Also, there are few hardcore fans who want Nathan Fillion to play the role of Nathan Drake instead of Tom Holland. Check out the fan reactions to the new Uncharted Trailer:
1. Excited!!
Crazy to think back to the days we were putting the finishing touches on the first game. Excited that a whole new audience will get to meet Nathan Drake and co! https://t.co/YeJxL3rzpi

— Neil Druckmann (@Neil_Druckmann) October 21, 2021
2. Awesome!!
tom holland as nathan drake, everyone #uncharted pic.twitter.com/j41V9UDN52

— kat (@lovethundr) October 21, 2021
3. Wow!!
The #UnchartedMovie plane scene is straight out of 'Uncharted 3' ✈️ pic.twitter.com/uRA9MwaxVO

— Culture Crave 🍿 (@CultureCrave) October 21, 2021
4. Oh Yeah!!

5. That's Right!!

6. LOL!!

7. Very Sexy!!

8. Spider-Man Pose!

9. Fantastic Choice!!

10. Haha!!

11. Literally Same

12. Better!!

Reactions Asking for Nathan Fillion as Drake:
1. Bring Back Nathan Fillion!
before we get the first trailer for the Uncharted movie i wanna bring back this incredible Uncharted Short Film with Nathan Fillion pic.twitter.com/xDsAwW7SoN

— Craig (@CS11__) October 20, 2021
2. Exactly!!

3. Yes!!

4. Totally!

5. Perfect!
Nathan Fillion making time to star in this fan film tells you just how much he loves the character https://t.co/tttZpUvFVT

— leslie (@lesbobomb) October 21, 2021
6. Just look At Him!

7. Highly Recommended!

8. Role Was Made For Nathan Fillion!
Did you relate to these fan reactions to the new Uncharted Trailer? Do you also want to replace Tom Holland with Nathan Fillion? Let us know in the comments.
Follow us on Facebook, Instagram & Twitter for more content.