Travel
Hill Stations Near Pune You Might Not Want to Miss
Hill Stations Near Pune
Known as the "Oxford of the East", Pune is well-known as an educational hub. Over the years, Pune has progressed as a commercial center as well adding several feathers to its already laden cap. But the one question lingers where do the Puneites go when they need to get away from the mundane routine of life?? Hill stations near Pune of course. These lungs pump fresh life into your life leaving you reinvigorated.
Lavasa: A private city that transformed the landscape, Lavasa is the urban hill station. Easily accessible to the many families and travelers by road, Lavasa offers numerous options to enjoy the cool climes both outdoors and indoors as well. The city is based on the Italian town of Portofino. The city stands over an area of 25000 acres and covers 7 hills providing the most enthralling views.
Lonavala: Standing in the middle of Pune and Mumbai lies the very beautiful hill station of Lonavala. Waterfalls, hills and lakes add to the natural beauty of the town. A haven for trekkers and hikers, Lonavala is just 66 kms from Pune.
Mahabaleshwar: The immaculate spread of the hills following one another, the rivers and streams of water gushing through the hill sides, waterfalls emerging out of nowhere, strawberry farms add to the romantic feel of the quaint hill station of Mahabaleshwar.
Bhandardara: Nature's blessing tucked high up in the Sahyadri ranges lies the town of Bhandardara. The cascading waterfalls, tall and majestic hills, captivating views. it is the perfect getaway for visitors.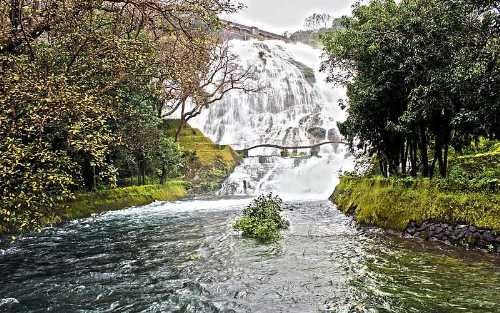 Other hill stations near Pune include Panchgani, Khandala, Matheran, Igatpuri, Malshej Ghat and others.
The monotony of life gets a lift when you visit the hill stations near Pune. It is a well-known fact that the Western Ghats are filled with stunning locales and panoramic views that will leave you with wonderful memories.
Also read: List of Places to Visit Near Panvel You Must Check Out