Available Now: Shyama Sangeet Mp3 Download
Amar Chetona Chaitanya Shyama Sangeet is sung by Anuradha Paudwal, Pannalal Bhattacharya and Kumar Sanu and it belongs to the Maago Anandomoyee Dipaboli Bangla Album. The music of this Diwali Special Bengali Kali Puja Song is composed by Robbin Ganguli. Given below are the details for Shyama Sangeet Mp3 along with the download link.
Song Title: Amar Chetona Chaitanya kore
Singer(s): Anuradha Paudwal, Kumar Sanu and Pannalal Bhattacharya
Musician: Robbin Ganguli
Lyricist: Sochi Dulal Chakraupadhya
Music Label: T-Series
Song Duration: 3:32 mins
About the Singer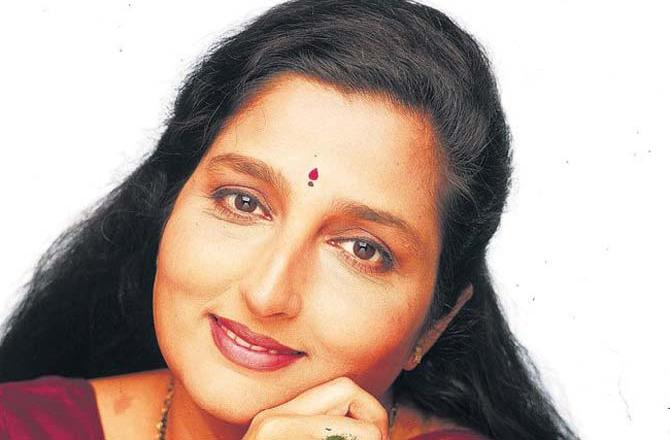 Anuradha Paudwal (born 27th of October 1954) is a female Indian playback singer who is a prominent playback singer from Bollywood. She was awarded the Padma Shri, India's fourth-highest civilian award, by the Government of India last year i.e. 2017. She is also a recipient of the National Film Award and a four-time winner of the Filmfare Award.
Lyrics of the Song
আমার চেতনা চৈতন্য করে
দে মা চৈতন্যময়ী (x2)
তোর ভাব সাগরে ভেসে আমি
তোর ভাব সাগরে ভেসে আমি
হব মা তোর পদাশ্রয়ী।
আমার চেতনা চৈতন্য করে
দে মা চৈতন্যময়ী।
অজ্ঞান মোর স্বভাব থেকে,
তোর ভাবে তুই নে মা ডেকে (x2)
জ্ঞানো চক্ষু মেলে দেখি
জ্ঞানো চক্ষু মেলে দেখি
কেমন তুই জ্ঞানদাময়ী।
আমার চেতনা চৈতন্য করে
দে মা চৈতন্যময়ী।
তোর ভাবের খেলা দিয়ে,
দে মা আমার যা কিছু সব
অভাব মিটিয়ে। (x2)
কৌতুহল মোর এ জীবনে,
নিয়ে নে মা তোর ও চরণে (x2)
মহানন্দে যাই চলে মা
মহানন্দে যাই চলে মা
হয়ে সর্ব রিপু জয়ী
আমার চেতনা চৈতন্য করে
দে মা চৈতন্যময়ী..
Amar chetana chaitanya kore
de maa chaitanya-moyi (x2)
Tor vab-sagore vese ami
Tor bhab-sagore bhese ami
Hobo maa tor podashroyi
Amar chetana chaitanya kore
de maa chaitanya-moyi
O keno mor sovab theke
Tor vobe tui ne maa deke (x2)
Gayno-chokkhu mele dekhi
Kemon tui gaynoda-mayi
Tor vober khela diye
De amar jaa kichu shob
ovab mitiye (x2)
Koutohol mor e jibone
Niye ney maa tor o-chorone
Mohanondey jai chole maa
Hoye shorbo ripu-joyee
Note: Above song is available online on the below link:
Also Listen: Mahamrityunjaya Mantra Mp3 Download For Free | Om Namah Shivay |