There are a lot of gruesome things which happen in Marvel comics, people being cut or tortured, while here are the most gruesome deaths that have taken place in the comics:
Zombies Kill Galactus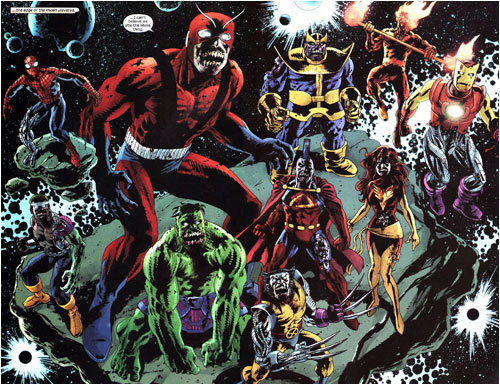 In Marvel Zombie, there was something which, well can't be called superhero stuff, as it is the Marvel superheroes who transform into zombies, Silver Surfer being the last. At that very time, Galactus comes to attack Earth, too bad for him, all the Earth's mightiest heroes literally devoured the Devourer. Spider-Man, Hulk, Giant Man, Iron Man, all zombified come to attack Galactus, after which their powers increase to such an extent that they go eat people off other planets.
Void Kills Loki

Loki, after seeing what all he had done in 'Dark Reign' come to be sorry for his actions, as this time, Void was unleashed, who put Asgard in a lot of danger, this much destruction had never been caused to their home planet. Not just that Loki using the Nors stones here, brings back the dead heroes in order for them to have a second take at Void. Witnessing what the trickster had done, Void becomes infuriated and turns towards him, before being torn into two by him, Loki apologizes to Thor for all the menace he created.
Sentry Rips Ares In Half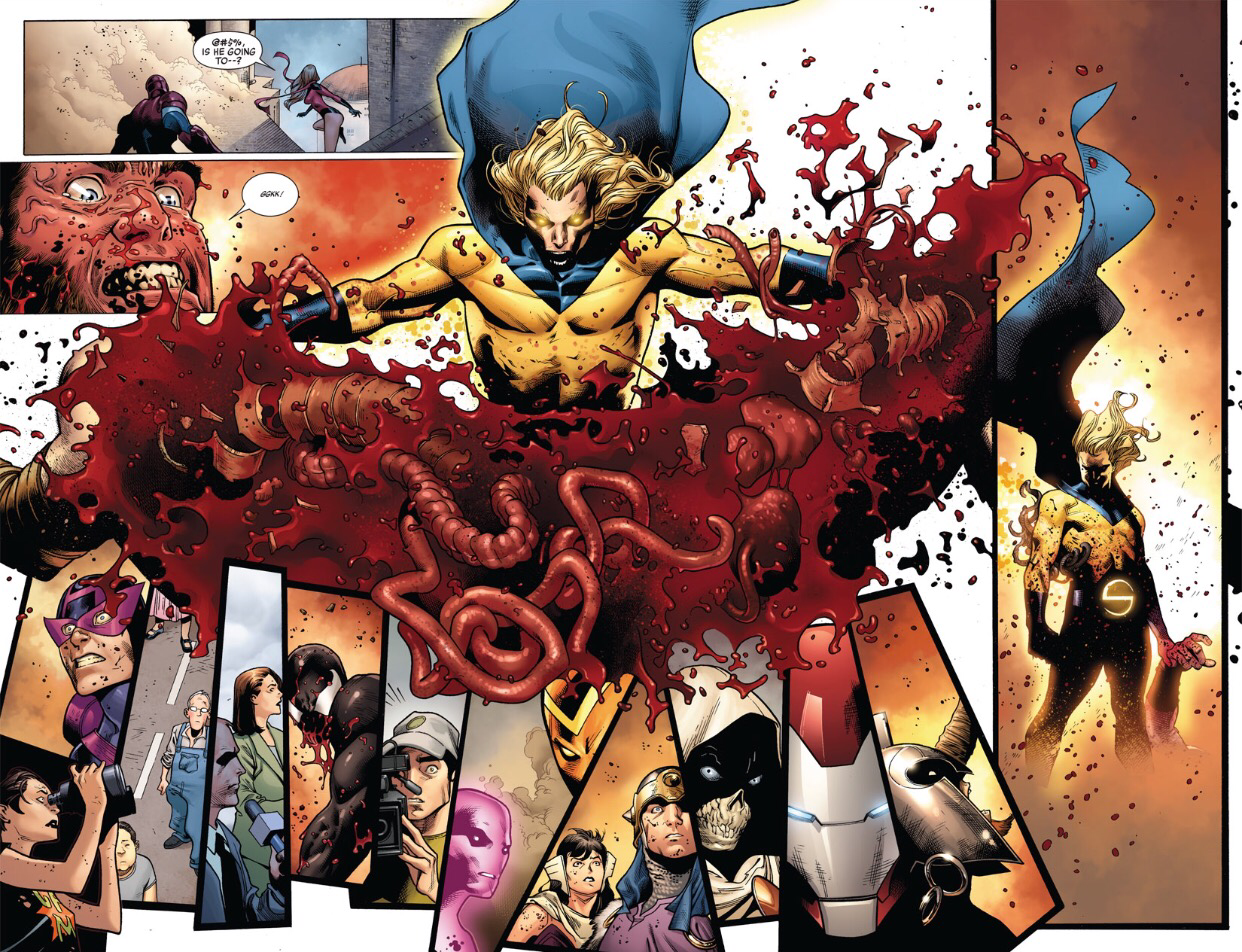 n the 2010 miniseries, Osborn strikes again taking control over the govt. and killing all those who oppose him. One of his allies Sentry is manipulated to take control of Asgard, where he is faced by the Olympian warrior, Ares. Both have a duel and in the end, Sentry rips Ares open leaving all his internal organs everywhere. This was too dark for Marvel's taste.
Wolverine's Family Killed By Hulk's Family
In " Old Man Logan" Hulk gang demands money from an area's residents and kills them if they fail to pay. Wolverine was once targeted to feed hulk with the money, which old Logan was struggling to pay. Hence Hulk threatens his family and sends Wolverine away. Wolverine returns only to find out that his wife and two children have been killed because the gang was getting "bored".
Cyclops Kills Prof. Xavier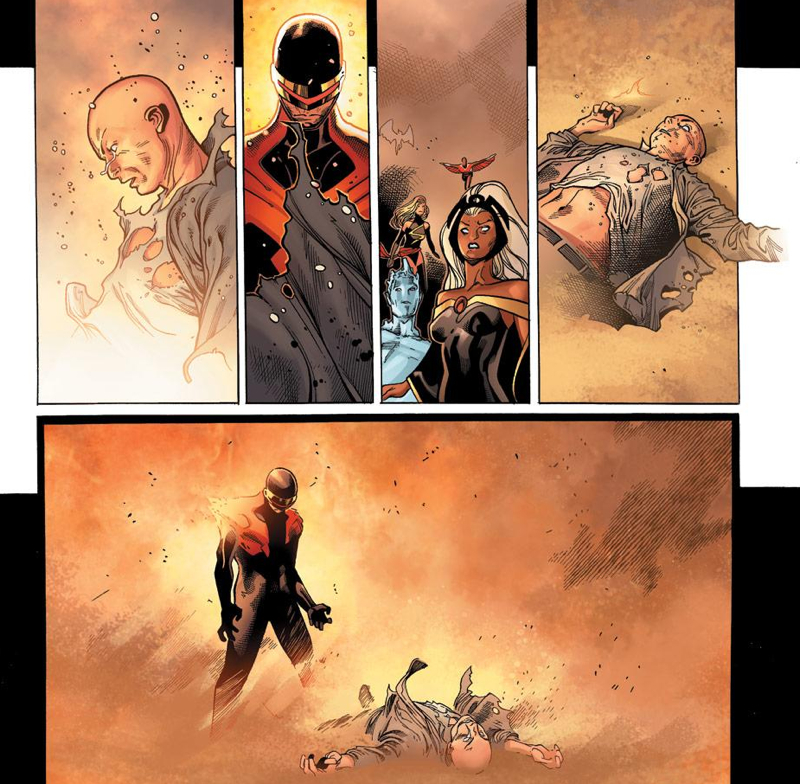 This might be somewhat of an argument again, but in the Dark Phoenix saga, when he tries to save his fellow mutants, Cyclops himself gets taken over by the Phoenix force, and under its influence kills Professor X, and gets into numerous fights with his earlier teammates. Not only that, he attacks humans and mutants alike with his new team.
Wolverine Kills His Kids
Wolverine has had it all with killing his own children. When Daken, Wolverine's son starts working for Norman Osborn in the Dark Avengers, in order to bring the bloodshed to an end, Wolvie has to kill Daken. He puts his claws inside him and then drowns him in order to stop him from regenerating, what's worse is that all this while what is going through his mind is how his life would have been with Daken by his side. Apart from this there is a group, known as The Mongrels was a group that was controlled by someone else, the group was trained into a fight with Logan and eventually lose. And that is what happens, Logan defeats them and kills them brutally, only to realize later that they were his children.
Red Skull Killed By Wolverine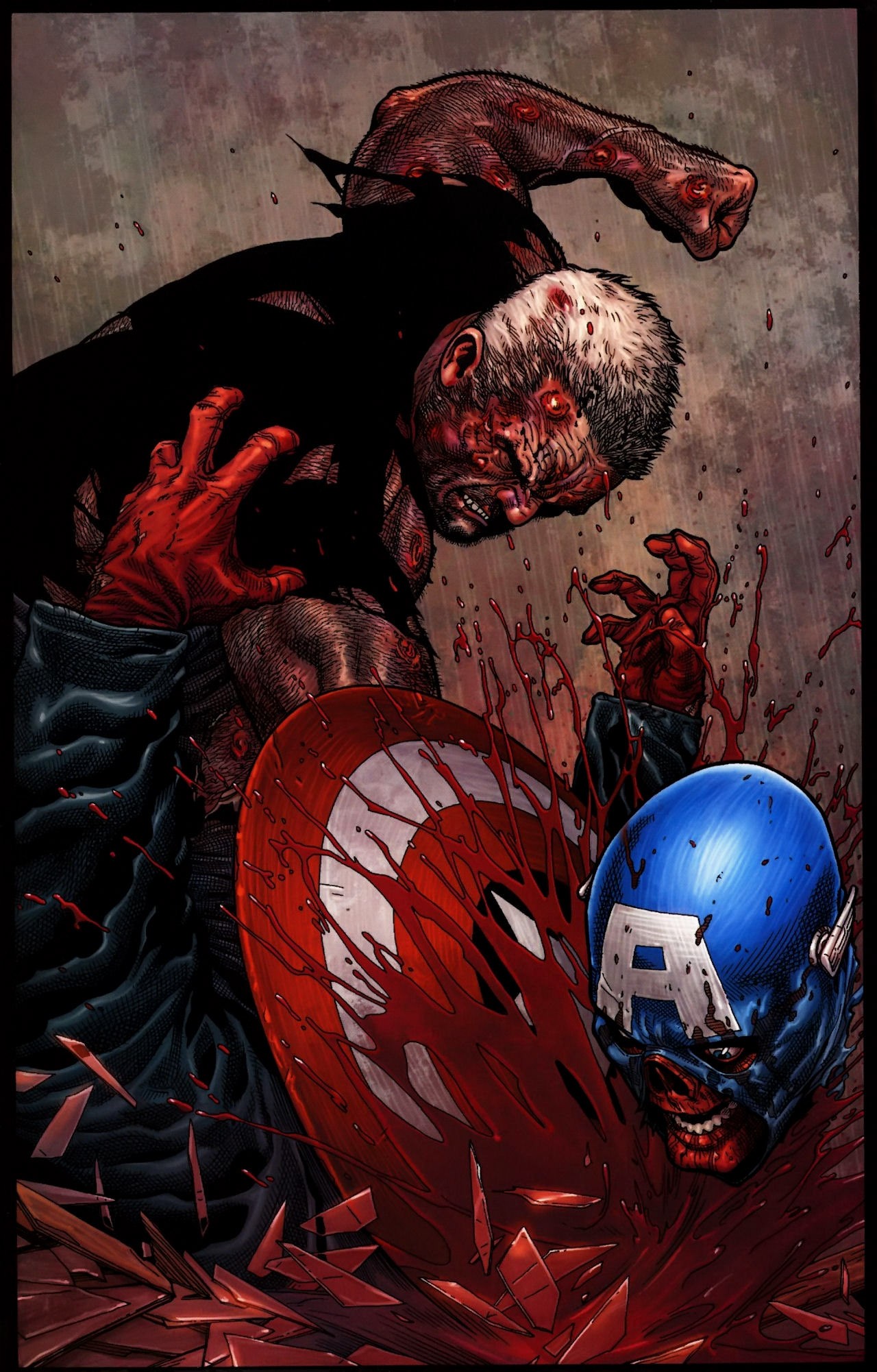 Okay, this is a pretty fucked up story, wherein Red Skull is the president of the USA, he orders S.H.I.E.L.D. agents to kill Hawkeye and Wolverine. Hawkeye dies and Wolverine regenerates, well of course he does. Enraged by what Red Skull had done to his team he now has had it all, he picks up Captain America's shield and chops his neck off with it.
Lizard Eats His Kid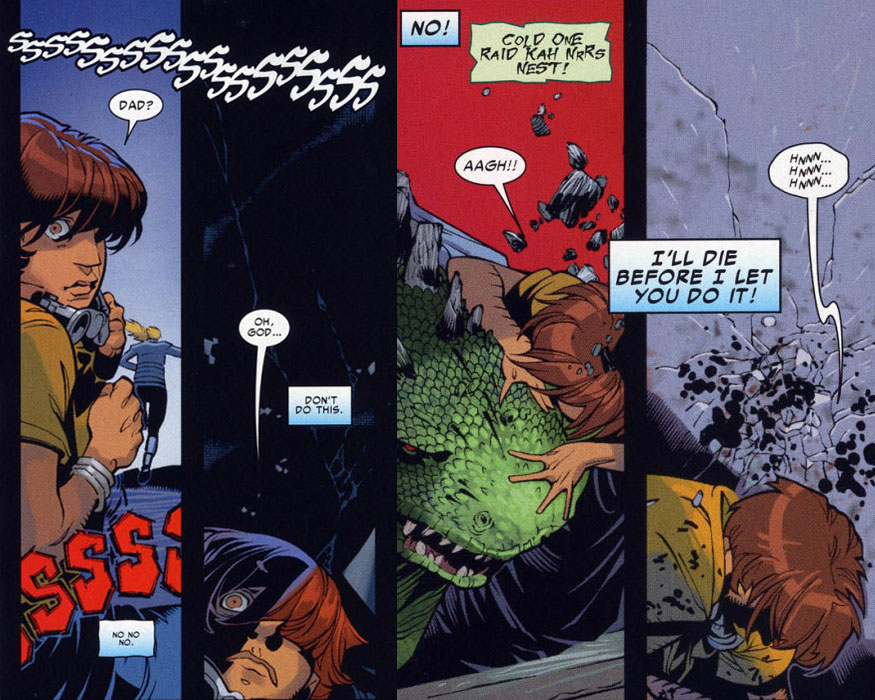 Curt had been fighting the Lizard side of his since many years. He eventually lost when Kraven's daughter put his son in his path and the Lizard tore him apart and ate him, this sure had Spidey and Connors scarred for life.
Gwen Stacy Killed By Green Goblin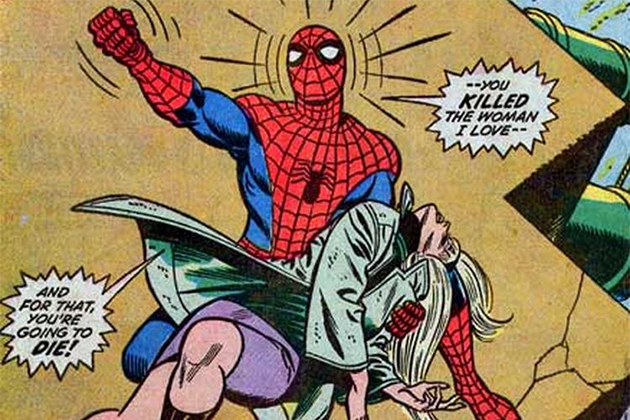 She is probably the most important character and the love interest that actually shaped what Peter Parker is like today. Gwen and Peter were an amazing couple, loving each other against all odds. Be it Peter's Aunt May's deteriorating health conditions or Gwen's father issues. But the couple still had to face something worse, that would eventually end up killing Gwen. The Green Goblin, Norman Osborn killed Gwen Stacy and ended up giving us a totally new Peter Parker. What's even worse is that she actually died because of her neck being snapped by Spidey's webbing.
Wolverine Tears Hulk From Inside
The Old Man Logan comics sure are gory as they start with the Hulk's grandchildren murdering Logan's entire family. Enraged by this, Logan takes revenge by killing all of Hulk's family but one, Hulk himself, and when they battle Hulk does something that one expects the least, he swallows wolverine whole, but due to Wolverine's healing capabilities he heals and tears up Hulk from the inside. This sure was one of the most gruesome deaths in the comics.
Don't Miss: 8 Bloodiest Fights In Comics That Shook The Fans