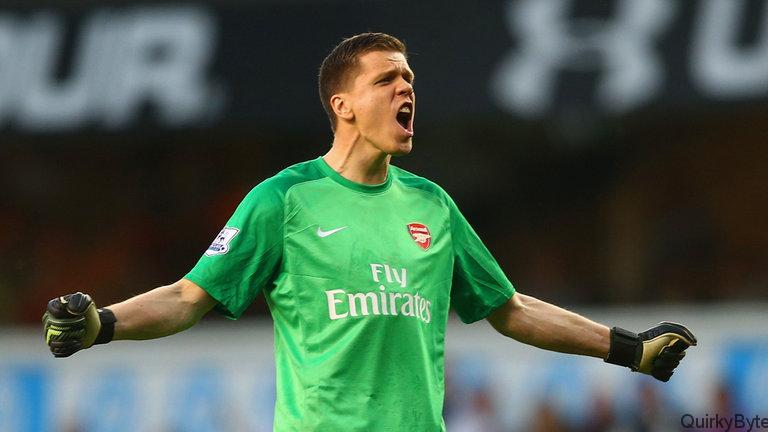 On the night of the FA Cup final, there has already been some sort of controversy in the Arsenal camp. With doubts from Arsene Wenger on who would start in the final between Wojciech Szczesny and David Ospina, the former's father has criticized the Arsenal manager.
Maciej Szczesny – a former goalkeeper himself – who compared Per Mertesacker to a rhinoceros in January, has hit out at Wenger for the treatment of his son:
"Wenger shall not be counted amongst loyal individuals. He doesn't always keep his promises and isn't always honest. He willingly claims that there is a cigarette ash on his suit jacket, whereas in fact it's his own dandruff."
"In my opinion, Wenger is always keen to blame others, but rarely sees fault in himself. I think he might have expressed his anger and frustration on Wojciech in the dressing room. If that was the case, Wojciech had to do something and deal with it. He [Wojciech] had a right to say what he thinks about it, regardless of an athlete's, his team-mates' and club's class."
Szczesny was dropped after a dreadful display in January in a 2-0 defeat to Southampton where afterwards, he was reported to have been seen smoking in the showers. David Ospina has taken his place ever since with the Pole taking over FA Cup duties like his compatriot Lukasz Fabianski did last season.
However, unlike his fellow Pole, Szczesny has been so unconvincing in Wenger's eyes that he may even debate playing Ospina for him against Aston Villa as he refused to answer who his starting goalkeeper would be.
It speaks a lot about how the Frenchman views Szczesny especially as he played Fabianski in last year's final while second choice goalkeeper Manuel Almunia kept his place for the Carling Cup final in 2008.
Of course, Wenger may very well play Szczesny but with the comments his father's made, more damage may have been done. Szczesny came out on Facebook and criticized his father, stating that he's not spoken to him in two years and that his view isn't a shared view but one wonders whether the Pole is in the right mental state to start even if Wenger does select him.
Thinking about it, while it may be unfair not to select Szczesny, would it be a big blow? While Ospina lacks the potential, frame and distribution of the Pole, Szczesny commits more individual errors and is prone to lacking in concentration – certainly traits you don't want from your goalkeeper in a final.
Just look at Arsenal's Carling Cup final in 2011 where a mix-up between Szczesny and Laurent Koscielny led to Arsenal having to wait three more years to end their trophy drought.
After a season which has seen Arsenal finish third in the league with no real progress in the Champions League, can Wenger risk not winning the FA Cup for the second year in a row?
Not only to keep winning trophies each year and making it a habit for the Gunners but they would also be the team to have won it the most if they win tonight, making it 12 wins. As for Wenger, he'd be on the verge of winning the FA Cup for the sixth time which would be a post-war record.
In the end, it's what matters for Arsenal, not any one player. If Szczesny starts and wins the FA Cup, all is well – he'd have contributed to a trophy win. If not and Arsenal still win, the Gunners would have made it three trophies in the space of a year and with consistent rumours linking them with Petr Cech, if Szczesny wants to leave after, no one will stand in his way.